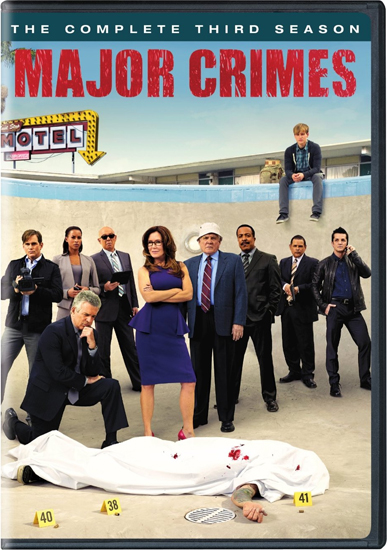 The third gripping season of Major Crimes finds our favorite squad of detectives hard at work, as they continue to solve the division's highest profile cases. The elite team is under the leadership of department head Captain Sharon Raydor, portrayed by Oscar® nominee Mary McDonnell (Dances with Wolves, Battlestar Galactica). The unit is comprised of Lieutenant Provenza (G.W. Bailey, The Closer, M*A*S*H, Police Academy), Lieutenant Andy Flynn (Tony Denison, The Closer, Crime Story), Lieutenant Mike Tao (Michael Paul Chan, The Closer, Arrested Development), Detective Julio Sanchez (Raymond Cruz, The Closer, Training Day), Detective Amy Sykes (Kearran Giovanni, One Life to Live), tech expert Buzz Watson (Phillip P. Keene, The Closer, The D.A.), Dr. Morales (Jonathan Del Arco, The Closer, Nip/Tuck), Assistant Chief Russell Taylor (Robert Gossett, The Closer, Arlington Road) and Deputy Chief Fritz Howard (recurring guest star Jon Tenney, The Closer, King & Maxwell).
Season three finds the unit involved in a series of startling and complex cases. The detectives investigate the death of a canine that inherited his deceased millionaire master's fortune; a young runaway who is found murdered in a trash can; a woman who confesses to killing her rapist; a series of young girls who disappear from a nightclub; a father and two young kids who go missing and several other captivating mysteries. The third season also brings the return of homeless teen and material witness Rusty Beck (Graham Patrick Martin, The Closer, Two and a Half Men), who is taken in — and adopted — by Captain Raydor. It's a thrilling season filled with intriguing cases and compelling stories about the lives of the officers and prosecutors who work together to rid the streets of Los Angeles of some its worst criminals.
Season 3 of Major Crimes arrives on DVD on May 26 and includes all 19 episodes from the season, in addition to unaired scenes and a gag reel. If you want to get your hands on a copy of this collection, you're in luck! We're giving away copies to three lucky winners this week. You have from now through midnight Eastern time on the night of Wednesday, May 20, 2015, to enter. Check out the form below to see all the ways you can enter.
Good luck!