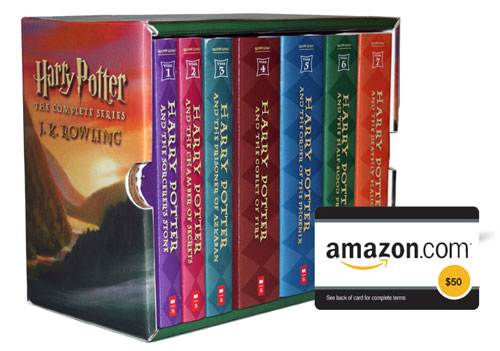 The Wizarding World of Harry Potter is opening at Universal Orlando on June 18, and Scholastic is celebrating with a national sweepstakes by giving away four family trips to the new theme park! You can get all the details and enter by checking out the official sweepstakes site: The Real Magic of Harry Potter Sweepstakes
You also can see the official Harry Potter website at: HarryPotter.Scholastic.com
Fandomania is helping promote the sweepstakes, as well as the Harry Potter series in general, with our own contest, thanks to our friends at Big Honcho Media and Scholastic. You can enter the Fandomania contest any time between now at midnight Eastern time on the night of Monday, April 26, 2010. One random winner will receive:
$50 Amazon.com Gift Card
The Complete Harry Potter Paperback Box Set (Books 1 through 7)
You can enter in two ways:
1) Leave a comment on this post and tell us which Hogwarts house (Gryffindor, Ravenclaw, Hufflepuff, or Slytherin) you think the Sorting Hat would put you into.
or
2) Follow @Fandomania on Twitter and tweet the following message: "Follow @Fandomania and retweet this message to enter the Harry Potter giveaway! http://bit.ly/adYCCy"
If you do one of the above, you will get one entry into the contest. Do both, and you'll double your chances by getting two entries.
Good luck!