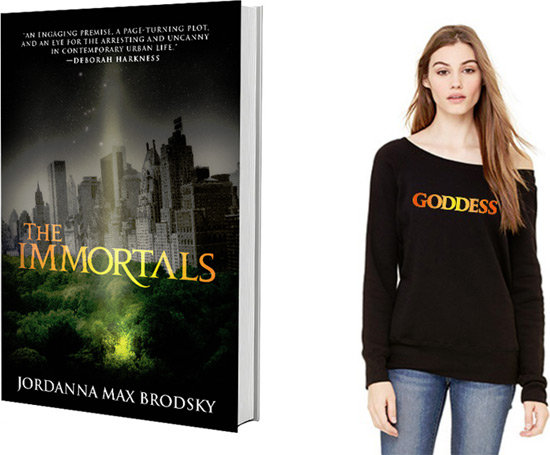 Manhattan has many secrets. Some are older than the city itself. The city sleeps. Selene DiSilva walks her dog along the banks of the Hudson. She is alone—just the way she likes it. She doesn't believe in friends, and she doesn't speak to her family. Most of them are simply too dangerous. In the predawn calm, Selene finds the body of a young woman washed ashore, gruesomely mutilated and wreathed in laurel. Her ancient rage returns. And so does the memory of a promise she made long ago—when her name was Artemis.
The Immortals by Jordanna Max Brodsky releases on February 16, 2016, and we're partnering with Orbit Books this week to bring you this great giveaway! One lucky winner will receive a Goddess prize pack, which includes a copy of The Immortals, along with a branded "GODDESS" sweatshirt. You have from now through midnight Eastern time on the night of Monday, February 22, 2016, to get your entries in. You can find all the information about how to enter below.
You can learn more about The Immortals on the official website,
Good luck!