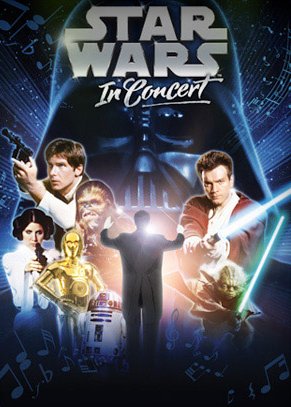 The first time Star Wars: In Concert came to our neck of the woods was a weekend we had a convention going on (and folks coming to visit us for the con), so we didn't go. I immediately regretted it & wished we had — some people at the con ducked out for a night to see it, and I was jealous! When I found out it was coming back to the area, I decided we had to get tickets. Being both an orchestra and a Star Wars dork, I seriously had to see this. I happened to be at a computer right at noon the day the tickets went on sale, and managed to snag us front row! I was super excited and so was the boyfriend, who is a big SW fan but had never seen a live orchestra perform. I told him he was in for a treat!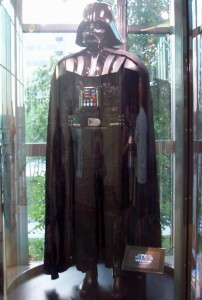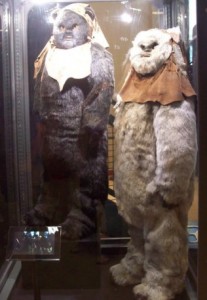 A little bit about the show: the official website describes it as "a spectacular live event…" "…with a full symphony orchestra, massive high def screens, original movie models, props, costumes, and production artwork from the Lucas Film archives." Basically, a full symphony orchestra with a chorus performs various selections from John Williams's score music (from all six movies) and specially edited clips play on a giant screen behind the musicians to tell the story accompanying the music. Dirk Brosse conducts and Anthony Daniels, who voiced C-3PO, introduces/narrates before each new segment. There are also costumes and props that travel with the show and are displayed in the venue.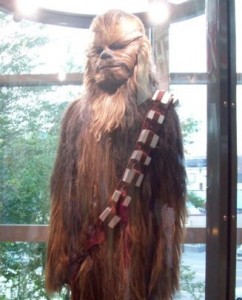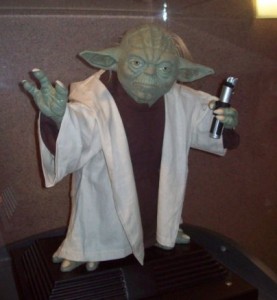 The venue we saw it at was a little over an hour away from us, so we tried to leave early. We ended up getting there only a half hour before the show started, so we had to rush through the costumes and props. I think we did get to see everything, though. Among others they had a Chewie costume, a Vader, a Yoda model, and one of my favorites, carbonite Han! I have to say — one of my favorite things we saw while checking out the props was a girl in a dress MADE OUT OF STAR WARS BED SHEETS. It was one of the most awesomely winning things I have seen in a while. She said a friend made it for her and they barely finished on time. It looked great!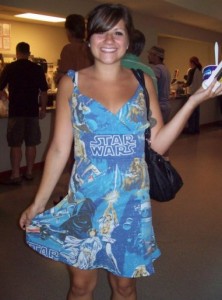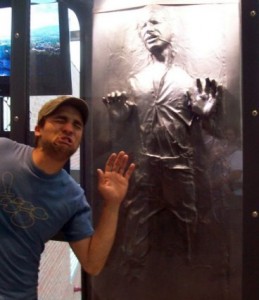 We took our seats and though I love having front row to things, I realized my neck would be hurting from looking up all night. Perfectly worth it, though. Oh, and we didn't sit down before we bought merch… I got a t-shirt and BF got a hat. The show opened with the main Star Wars theme of course, complete with the Fox fanfare at the beginning. Call me a dork, but it seriously gave me chills. This was followed by "Duel of the Fates", which made me ridiculously happy since that's one of my favorite pieces of music from SW. The remainder of part one of the show included music from the first trilogy (episodes I-III), a droids theme, and at the end came "The Imperial March," which of course was fantastic.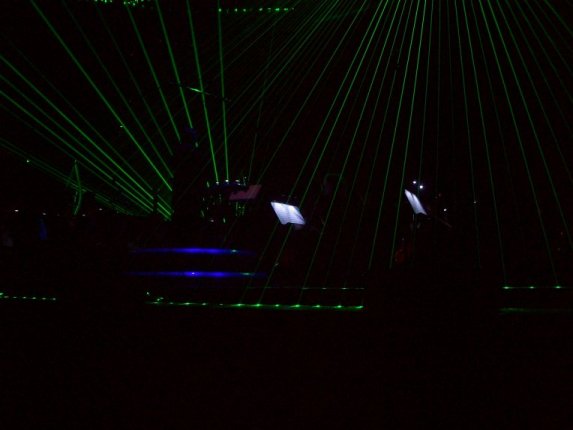 There was an intermission for about twenty minutes, then part two started with a laser show set to a medley. They had smoke machines so the lasers looked reeeeeally cool. Part two included music from the original trilogy (episodes IV-VI) such as the Cantina music and Leia's theme, and ended with that great piece from the very end of A New Hope. As each piece was played, there was a huge screen behind the musicians playing a montage of scenes related to the music. It was a nice visual touch to accompany the music, although I would've been perfectly fine just listening to the music without the clips.
In between each piece, Anthony Daniels came out & narrated a small part about the story behind the music they were about to play. He did break into C-3PO at least once and busted out a bright shiny gold vest under his jacket! He was adorable and thoroughly enjoyable. I also have to comment on the musicians, both in general and a few specific folks. I noticed just about immediately that the musicians all looked like they were having a genuinely good time with this. As a musician myself, that made me really happy, because it is an incredible rush to play something you are good at and enjoy.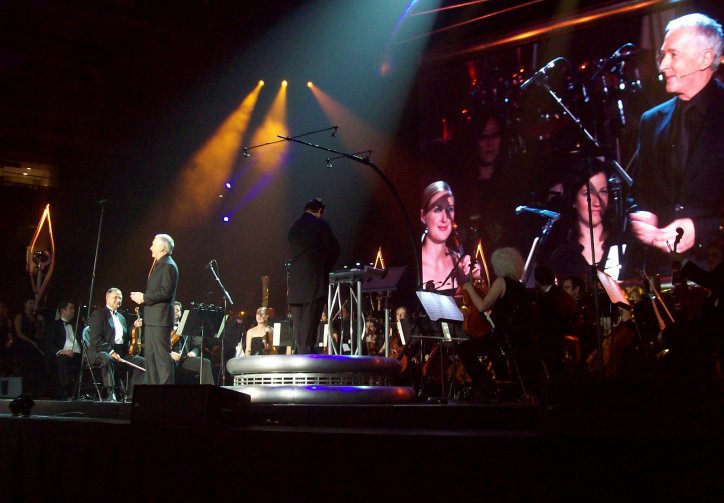 A few members of the orchestra stood out to me: first, there was a second violinist whose hair was — no joke — in Leia buns. The camera at one point panned to her on the big screen and the audience popped for her. It was amazing. Second, the dudes (and I do mean dudes) playing the upright bass were awesome and looked like they were having so much fun. The bassist who played the solo for the Cantina theme was just rocking out and having a blast. We loved him. The show ended with a rousing, very enthusiastic encore of the Imperial March, and the crowd gave a standing ovation when it was over.
All in all, the show was probably about two hours long including the intermission. We left gushing about it and vowing to go see it multiple times if it tours again. Our show was one of the last scheduled ones I believe, and right now the website says Jan 1, 2011 and "see you next year!" on the tour dates page, so I am hoping for more dates near us! I will say I probably will not aim for front row next time, just because of the neck pain of looking up for two hours straight. You really don't need to be super close for something like this. This is not a show to be missed for Star Wars fans.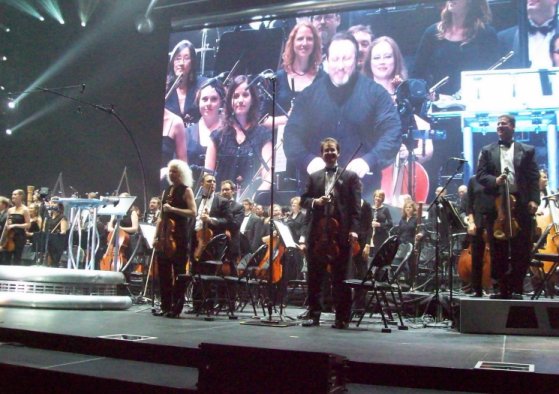 Set List:

(from Wikipedia since I didn't keep track myself)

Part One:
Opening: 20th Century Fox Fanfare, Main Title/Blockade Runner
Dark Forces Conspire: Duel of the Fates
A Hero Rises: Anakin's Theme
Droids: Jawa Sandcrawler
A Race With Destiny: The Flag Parade
Forbidden Love: Across the Stars
A Hero Falls: Battle of the Heroes
An Empire is Forged: The Imperial March
Part Two:
Laser Show: Medley
A Narrow Escape: Asteroid Field
A Defender Emerges: Leia's Theme
An Unlikely Alliance: Tales of a Jedi Knight/Cantina Band
A Jedi is Trained: Yoda's Theme
A Strike for Freedom: TIE Fighter Attack
A Bond Unbroken: Luke and Leia
Sanctuary Moon: Forest Battle
A Life Redeemed: Light of the Force
A New Day Dawns: Throne Room/End Credits
Encore: The Imperial March