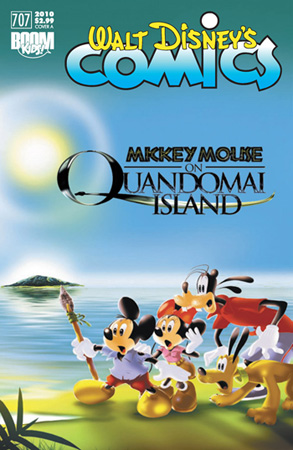 Issue: Walt Disney's Comics and Stories #707
Release Date: June 3, 2010
Letterer: Deron Bennett
Cover A: Andrea "Casty" Castellan
Cover B: Magic Eye Studios / Eric Cobain
Publisher: BOOM! Kids
Ah, Mickey Mouse and friends. They have to be some of the most recognizable characters ever. I volunteered to review this comic because I thought my daughter might enjoy it. Gee, was I wrong. I told her it was Mickey and Minnie and she tells me "Mom, I don't like Mickey and Minnie anymore." *Sigh* I guess my little girl is all grown up at seven. No more baby stuff for her! Still, Walt Disney's Comics and Stories #707 wasn't baby stuff.
The issue contained the first installments of two different stories and both were surprisingly interesting and complex in nature.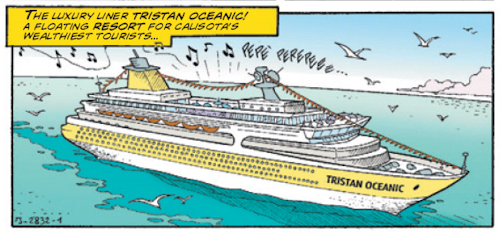 Story 1: Mickey Mouse on Quandomai Island, Pt. 1
Writer: Andrea "Casty" Castellan
Pencils: Andrea "Casty" Castellan
Inker: Michele Mazzon
The first story is "Mickey Mouse on Quandomai Island, Pt. 1," which starts with Mickey having taken Minnie on a cruise. When did those two get so serious about their relationship? Sure, they always seemed to be courting somehow, but now they're taking expensive vacations together? Another guy on the ship seems to have taken an interest in Minnie and, boy, is Mickey jealous or what?! While Minnie is busy flirting, Mickey realizes the cruise liner has cruised its way right into a storm and before they know it, they're being forced to abandon ship.
Mickey wakes up on an island, having barely escaped drowning, and here's where the interesting part really begins. The features of the island sound suspiciously familiar to one from a certain popular television program that just had its series finale. I'll give you one more hint. The title was a four letter word. Seriously, if you don't know what I'm talking about then you must have been living with your head in the sand for the last few years!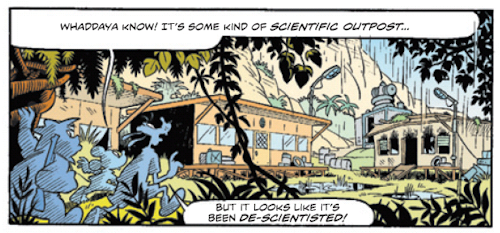 I'm rather intrigued by the storyline so far, even thought I was one of the few that didn't watch every episode of LOST with fanatical devotion. I'm curious to see just how far they are planning to go with this. It's definitely worth checking out, especially if you're missing your weekly "stranded on a deserted, creepy island" fix.
Story 1: Minnie Runs Out of Time, Pt. 1
Writer: François Corteggiani
Artist: Roberto Ronchi
The second story is "Minnie Runs Out of Time, Pt. 1," and has Minnie trying to assembly an apparently very complicated coffee maker. Can someone tell me why Minnie is always a dingbat? Just because she's a girl dressed in far too much pink does not mean she must be an idiot! Sheesh! Anyway, she plugs the thing in only to be surprised when it does something other than make coffee.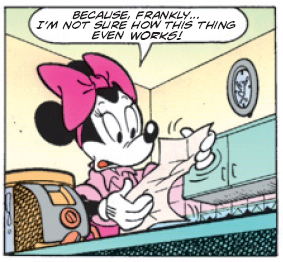 There's a lot less of this second story than the first and it is to be continued too. It also has a haunting familiarity about it, but this time I can't quite place it. Hopefully the next issue will clear that up for me because otherwise it will make me nuts forever!
In summation, when did Mickey and Minnie start starring in cartoony remakes of grown-up shows? It's not like I mind or anything, it's just surprising, I guess. The last Mickey thing I saw had them doing silly and primarily childish things, but then that was back when my little girl was not quite so grown up (just months ago!). I guess Mickey and Minnie grew up just as fast as she did.
Both stories are rather interesting, even for an adult, so I recommend this comic, especially when you're looking for something to share with your own child… just so long as your kid didn't get too big for Mickey overnight too.
Rating: 3 / 5 Stars