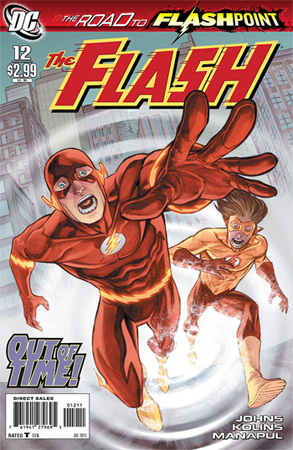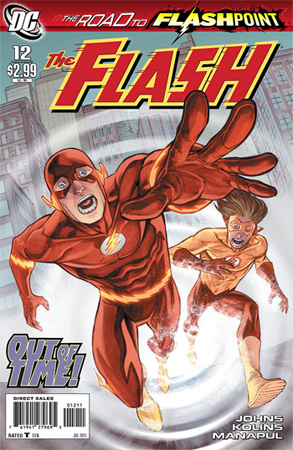 Issue: The Flash #12: "Case Two: The Road To Flashpoint, Part 4"
Release Date: May 11, 2011
Writer: Geoff Johns
Art: Scott Kolins and Francis Manapul
Publisher: DC Comics
One of the things that I always loved about Mark Waid's run on The Flash was his ability to combine very personal story lines with huge scientific concepts and make them blend together seamlessly. In the time that Johns has been writing Flash comics, both for Wally and Barry, his stories have felt like they were primarily focused on building up the Rogues' Gallery and trying to establish the respective hometowns of Keystone and Central City as characters in their own right. I think it's safe to say that ever since Barry Allen was brought back to the DC Universe that we finally have the best of both worlds, though I'd still prefer to see Wally West headline a monthly series.
The Flash #12, the last issue of the "The Road to Flashpoint" story arc and the last issue of this particular title, opens with the same parallel story construction and artist, Scott Kolins, that the previous issue ended with. Patty is faced with a fully grown Reverse Flash and Hot Pursuit is trying to remove Bart from the equation, still thinking that Bart is the cause of the temporal anomaly that we, the readers, know is going to strike sometime before the end of this issue.
Barry and HP fight for Bart's fate while Zoom narrates a little bit and prepares to age Patty the same way he aged the victims of the murders which the police have been investigating. Whatever it is that Zoom uses to age people registers with HP's equipment and he realises that Bart is not the source of the anomaly, someone else is. And conveniently, he's able to use his Tron-baton to pinpoint the source of the anomaly which leads HP, Flash, and Bart back to the police lab just in time to save Patty from being aged to death. Flash removes Patty from immediate danger and she tells him about Zoom's new ability to alter his age just as Bart and HP are starting to fight Zoom. Bart dodges all of Zoom's punches long enough for HP to tag him with his Tron-baton, but Zoom overpowers him and, upon discovering that HP is in fact an alternate version of Barry Allen, ages HP to dust. Zoom can hurt Flash immensely and screw with his life but he can never kill Barry or Zoom's own connection to the Negative Speed Force will be lost. Zoom takes great pleasure in killing HP, even though he's on "A" Barry and not "the" Barry right up until the second that Flash catches up with him. Zoom taunts Barry by telling him that everything up to now has just been a test and that he plans to make Barry's life more miserable than ever before running into a crowd and disguising himself by aging into an old man. Though it does seem that whatever age he is, Zoom has to be in red and yellow. Maybe Professor Zoom is actually Plastic Man?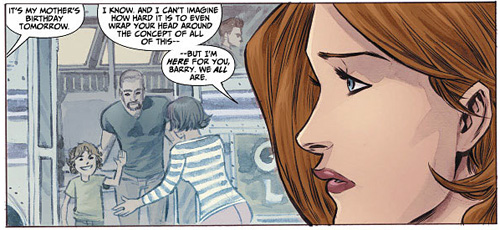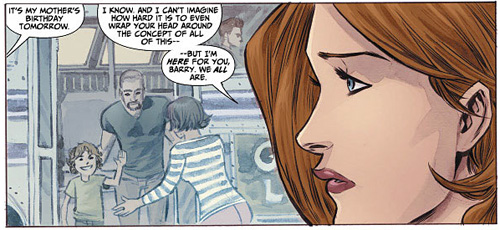 The scene changes and we find ourselves back in the police lab with Barry and Patty and Francis Manapul art. Barry and Patty are talking about why Patty left and moved to Blue Valley and Barry tries to comfort her with words that are never ever comforting. He tells her that she's an amazing woman and that she'll always be his friend. They hug just as Iris appears in the lab. Iris tells Barry that she doesn't mind Barry hugging Patty but that she's worried about him, that she thinks he's regressing in to the man she knew when they first met. She tells him that she's worried that he's running backwards, but she never says that she's worried about Geoff Johns hammering this particular metaphor into the ground. Maybe that's just me.
Barry asks Iris for one more day of wallowing before he starts anew and that day is his Mother's Birthday.
The scene changes again and so does the artist. We're back to Kolins's artwork and we see Barry standing over a grave with a bunch of flowers in his hand. The next panel shows us that the grave is (obviously) his Mother's grave and Barry is placing the flowers in front of the tombstone. The next panel shows just the grave — Barry's gone and… so are the flowers.
Next, we see two panels with lightning streaking across a cityscape. The first panel shows "normal" lightning and the second panel shows red lightning streaking the opposite way. There's a figure watching the lightning, ostensibly Zoom, saying that it all changes.
The final page of the final issue of The Flash shows the two opposing bolts of lightning blazing across each other and exploding in the sky.
So here is when I go out on a limb and state publicly that I don't think that Professor Zoom is the villain of Flashpoint. I think he's a villain in Flashpoint but I think that Johns has more to show us yet. And apart from anything else, having the Reverse Flash as the villain of Flashpoint is just too obvious. Am I right? Am I wrong? Stick with me during the summer as we find out. If I'm wrong, I'll apologise… maybe.