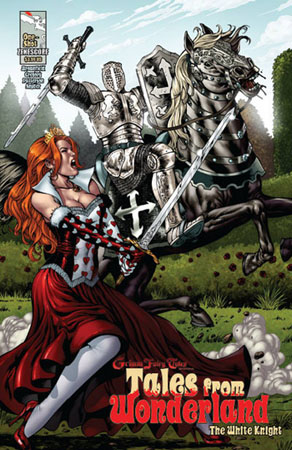 Issue: Tales from Wonderland: The White Knight
Release Date: June 1, 2010
Creators: Joe Brusha, Ralph Tedesca, Raven Gregory
Writer: Troy Brownfield
Pencils: Tommy Patterson
Inker: Belardino Brado
Colors: Jeff Balke, Alex Owens, and Jason Embury
Letterer: Crank!
Cover A: Al Rio & Jose Cano
Cover B: Marat Mychaels & Kieran Oats
Publisher: Zenescope Entertainment
A few years ago, I was nosing through my local comic store and picked up my first Zenescope comic. I was impressed by two things. The first thing was the artwork. Getting those gigantic melons on the heroine and making it seem like they are not totally getting in the way of her combat tactics was quite an achievement. Also, the way the heroines wore nothing more than a chainmail bikini and a couple weapons while the men wore full armor, cloaks, gloves, boots, and other clothing designed to protect them from the enemy and the cold seemed like the natural way of things. Zenescope women obviously are far tougher than than Zenescope men. It was an unabashed feminist statement, and I like that (the other thing was the talented writing. I liked that too).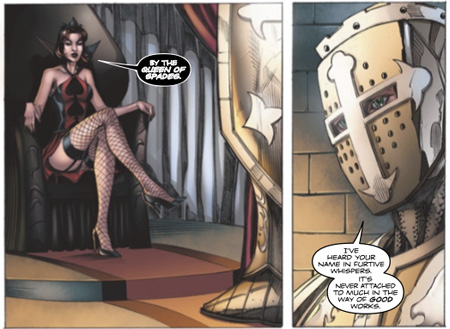 Although prodigious mammary glands and tight storytelling can get your independent comic book company pretty far, at some point you have to expand your appeal. You still might want to push your feminist agenda by writing stories in which the heroines are so tough they show up to the fight wearing bedroom gear, while the men are so wimpy they still have to rely on full body armor. But at some point a percentage of your readership will get bored when every female character's primary appeal is that she knows how to fight without letting her planet-sized jugs get in the way. I personally don't get sick of it, though it's understandable why some people do.
So it's good news that the penciler Tommy Patterson knows that there are other body types in this world (for example, there are svelte women with only moderately large breasts). He hasn't been able to get the hero out of full body combat armor, but then again this is a tale about the White Knight, so the armor is kind of necessary.
Anyway, it's an original, creative story with great art. The hero of our story is Leon du Lac, the offspring of Lancelot and Guinevere and their ongoing refusal to take a cold shower. Merlin sports him away, raising him in a cave and training him for the time when the bad guys who destroyed Camelot will also come for Leon. Merlin also provides a magic mirror for our hero's getaway, just in case the combat training wasn't enough. As it turns out, the mirror leads to the eponymous Wonderland. The craziness of Wonderland would drive Leon mad, but he finds the white armor. By donning this armor, he can fend off the madness of the world around him and be a champion for the weak and vulnerable at the same time.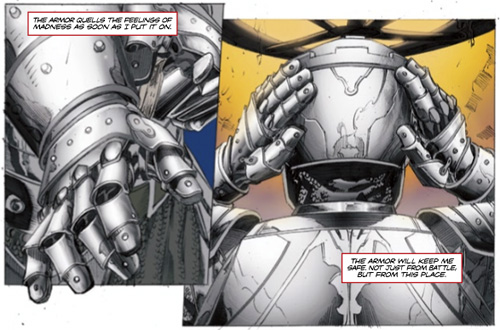 He defeats the Queen of Hearts's diabolical forces, for example, but that's just the beginning of his troubles. When he meets the Queen of Spades, she predicts that he will kneel before him. Leon is not so sure, but she's wearing the aforementioned bedroom gear, while he's wearing the aforementioned full body armor, so we readers can do the math. When Leon's monster slaying leads him back to the original world he came from, his luck turns, and the armor that protected him from madness in Wonderland turns him to madness in his home world.
This is a decent story from a publisher that understands exactly who its target audience is. I look forward to seeing what will happen to our hero next. This is the first Zenescope comic I've read that has a hero instead of a heroine, so it's not as predictable as you might think. If the armor is driving him mad, maybe he should adopt the same tactics that worked so well for the heroines of the other stories. Is there a loincloth in Leon's future? Only time will tell…
Rating: 3 / 5 Stars