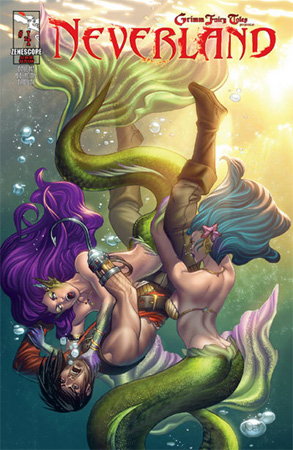 Issue: Grimm Fairy Tales Presents Neverland #4
Writer: Joe Brusha
Pencils: Jean Paul DeShong
Colors: Jason Embury
Letterer: Jim Campbell
Cover A: Nei Ruffino
Cover B: Andrew Mangum
Publisher: Zenescope Entertainment
Neverland is no longer the magical paradise sought by children who wish to stay young forever. Preoccupied now with the desire for eternal life, Pan has turned Neverland into the worst nightmare of any child unfortunate enough to end up there. For immortality comes at a heavy price: for Pan to have eternal life a steady supply of children is required, and his ruthlessness has only allowed one child ever to escape him: Nathan Cross. Now an adult, Nathan Cross is returning to Neverland to put an end to Pan's madness.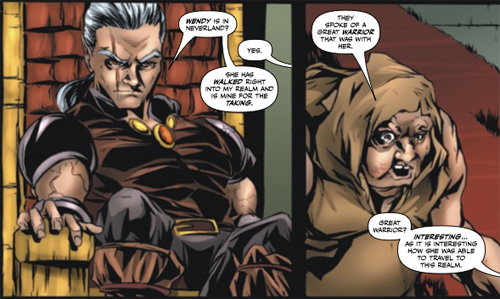 In issue #4 of Zenescope Entertainment's Neverland series, Pan learns that Wendy has returned to Neverland and is being held captive by the island's natives. Written by Joe Brusha and illustrated by Jean Paul DeShong, Neverland #4 (of 6) chronicles Pan's plan to send the Lost Boys to rescue Wendy and destroy the natives' village. This 32-page issue of Neverland also provides readers with some background on how Pan came to power in Neverland and about the forces that helped to corrupt both the land and his soul.
Although I've read a few reviews of Neverland #4 that cited the issue's illustration as problematic, I don't see anything wrong with Jean Paul DeShong's artwork. In fact, I thoroughly enjoy the way his drawing technique conforms to the Zenescope style while maintaining its own rather unique feeling. In addition, DeShong's illustrations clearly convey both the action and the emotion expressed by the characters in Neverland #4, and do so well enough that someone that doesn't read English could determine which characters are good and which are evil with little more than a quick scan of the comic's pages.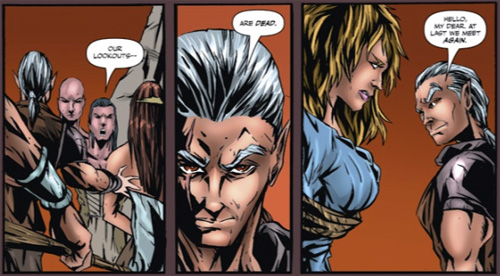 One interesting characteristic displayed in Neverland #4 involves the amount of clothing that the characters wear. As readers familiar with Zenescope's comics can attest, the company is well known for producing comic book series that highlight scantily clad, large-breasted female protagonists. Neverland #4, however, features a large cast of male characters, many of whom are fully clothed for the entirety of the issue. Similarly, some of the main female characters depicted in Neverland #4, specifically Wendy, wear a surprising amount of clothing. That is not to say that scantily clad, large-breasted women don't appear in this issue of the Neverland series; however, it is particularly interesting that Wendy is allowed to wear a relatively long skirt and a shirt with sleeves.
The Neverland spin-off was created by the same individuals that brought readers Zenescope's popular Grimm Fairy Tales comics and the Wonderland trilogy. Neverland #4 is available from Zenescope Entertainment and wherever comic books are sold. For more information, visit Zenescope's official website.
Rating: 4 / 5 Stars