Issue: Grimm Fairy Tales: Inferno #3
Release Date: September 1, 2010
Writer: Ralph Tedesco
Artist: Gabriel Rearte
Cover A: Mahmud Asrar
Cover B: Tony Shasteen
Publisher: Zenescope Entertainment
Grimm Fairy Tales regular Mercy Dante is back in the third issue of this five-part miniseries from Zenescope Entertainment, and her dangerous journey to save a man she's never met is taking her to hell and back, literally.
Mercy lived a life of revenge and death, but when Sela Mathers gave her an opportunity to redeem herself, she chose to save the life of an innocent little girl by ending her own instead. Now Sela has sought Mercy out once more, this time to wake her from her "life" in the outermost circle of hell. Sela needs Mercy's help finding another lost soul trapped in hell — a man named Brian Watson, the key to winning a battle that will determine the fate of both the human race and the world.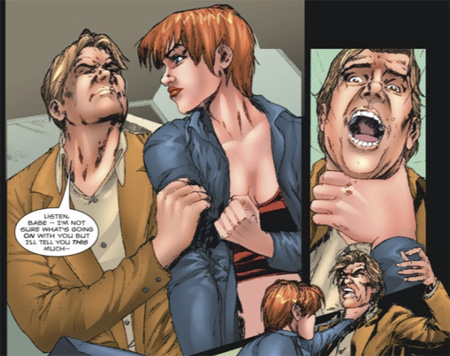 As Mercy makes her way through to the innermost circle of hell in search of Brian, and possibly redemption, she uses the skills she learned in her past life as she searches the third circle of hell for a priest who may be able to lead her to Brian.
The 32-page third issue of Ralph Tedesco's Grimm Fairy Tales spinoff gives readers a look at the demons and lost souls that inhabit the inner circles of hell in all of their gory glory. This is also the first issue in the miniseries in which Mercy is her old self again, kicking ass like she did before she met Sela Mathers. Gone is the Mercy Dante of the series's first two issues, mild-mannered and insecure. Mercy is on a mission not only to find and rescue Brian, but also to redeem herself in the process.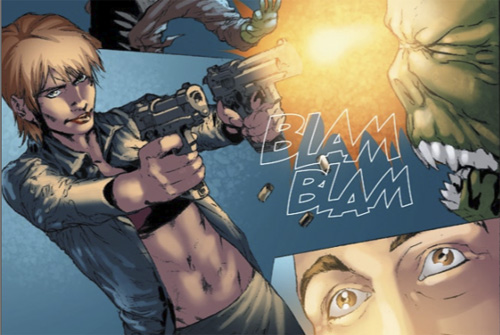 Gabriel Rearte's illustrations are characteristic of a Zenescope series, and Mercy's journey through hell is brought to life in bold, vibrant colors. Of course, readers who find Zenescope's portrayal of the female body to be stereotypical or offensive will find fault with Inferno #3 the same way they do with all of Zenescope's series, but in my opinion Mercy Dante is a shining example of female empowerment.
Mercy is depicted as a very desirable and attractive woman, but also as a woman who is able to take care of herself and have confidence in her own ability to achieve the goals she sets. The main character of the Inferno miniseries is no longer pushed around by men, and isn't afraid to get her hands dirty — not unlike many female superheroes of the DC and Marvel comic books. Why Zenescope in particular has come under fire for its portrayal of female characters is unclear to me, but I would recommend the Grimm Fairy Tales: Inferno series to female comic book readers without hesitation.
Rating: 4 / 5 Stars