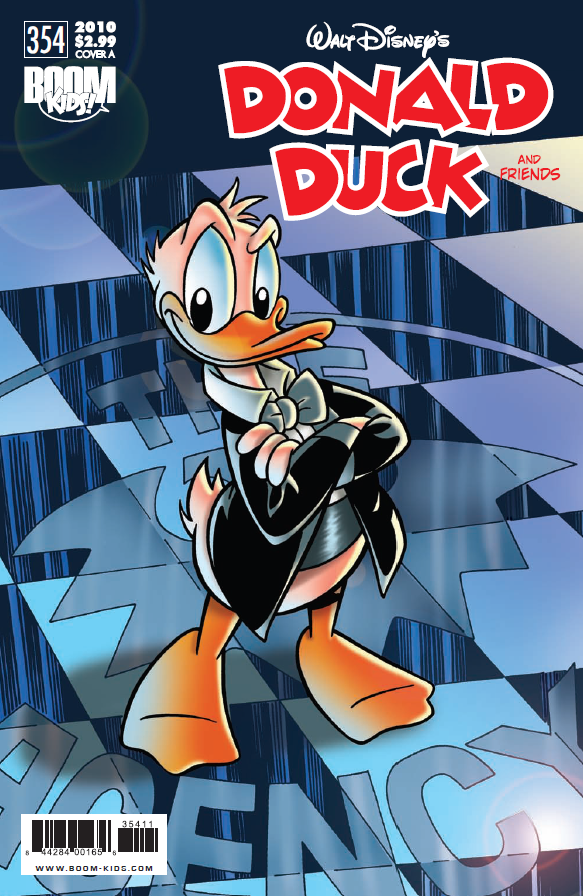 Issue: Donald Duck and Friends #354
Release Date: May 19, 2010
Letterer: Jose Macasocol, Jr.
Covers A & B: Mike DeCarlo (Colors: Magic Eye Studios)
Publisher: Boom! Kids
Who doesn't love the wacky adventures of Donald Duck? This isn't the buffoonish jerk portrayed in the cartoons that our parents and grandparents grew up with. This title is loaded with preposterous plotlines and ridiculous intrigue that's just fun to read.
Before the Premiere Part 2
Writer: Fausto Vitaliano
Artist: Giorgio Cavazzano
The main story, "Before the Premiere, Part 2," concludes the story of the Agency's daring secret agent Double Duck. His mission is to protect the Agency's former Chief (who had his memory voluntarily wiped and is now serving as a world famous orchestra conductor). The evil Organization wants to kidnap the former Chief, un-wipe his memory, and steal all his secrets. As if that wasn't crazy enough, to protect the former Chief, Donald has gone undercover as a professional triangle player. All of this setup occurred in the first part. Part two of the story centers around the true diabolical purpose behind the Organization's nefarious scheme. Can our hero foil the discordant plans before they crescendo into an unharmonious climax of untold evil?
Souvenir de Paris Part 1
Writer: Marco Bosco
Artist: Vitale Mangiatordi
The backup story is equally ludricous and zany. A female cat-burglar (duck-burglar?) is stealing secrets from a government think-tank… Donald is playing video games instead of shopping (which is getting Daisy pretty mad). Next thing we know, Daisy's debating non-stick coating with the cashier and Donald's just received a secret note from "Jay J" (the Agency's second-in-command). Donald dumps Daisy and rushes off to his secret life as Double Duck. He's quickly briefed on the cat-burglar and the stage is set for our next issue.
As I said before, these stories are just fun to read. They're ridiculous and both writer/artist teams have a good grasp of the subject matter. None of the creators are taking themselves too seriously, but neither are they talking down to the audience. The artwork is solid and engaging.
Rating: 4 / 5 Stars