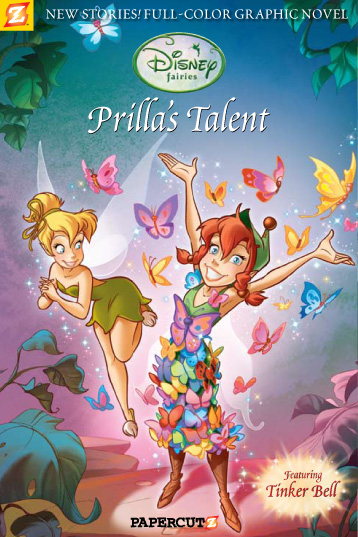 Issue: Disney Fairies: Prilla's Talent
Release Date: April 13, 2010
Writer/Creator: Stefan Petrucha
Artist: Giada Perissinotto, Caterina Giorgetti
Inker: Marina Baggio, Roberta Zanotta
Colorist: Federico Bertolucci, Andrea Cagol
Letterer: Janice Chiang
Publisher: Papercutz
Disney has teamed up with Papercutz to create a line of graphic novels geared towards the 9-12 age range of girls. The first in the series, Prilla's Talent is a collection of four short tales centered on Tinkerbell and her fairy friends and their lives in Pixie Hollow.
Disney fairies have changed their attitude since I was a child. I remember them being insecure, spiteful pranksters who had it out for poor Wendy Darling. Not so for the Disney fairy of the twenty-first century. These fairies are strong, independent and empathetic.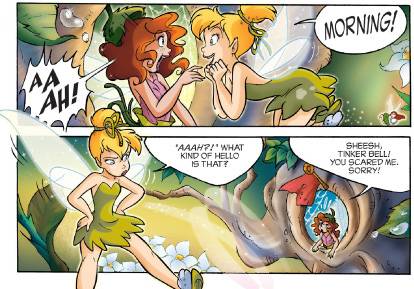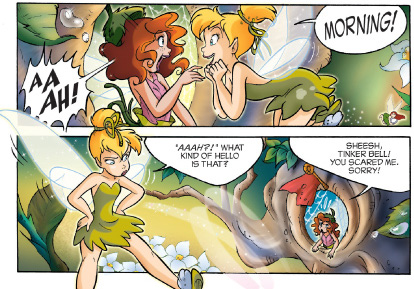 In the title story, "Prilla's Talent," Prilla, new to life in the Hollow, is having a hard time decorating her new room. Each fairy's room is decorated to reflect their specific talent. Unfortunately, Prilla isn't certain what her talent is. With the help of Tinkerbell and a few other fairy friends, Prilla soon learns the magic she possesses.
"Like the Wind" focuses on Vidia, a sharp tongued, sassy fairy who has the talent of quick flight. Soon enough she learns there is more to life than being the fastest.
"The Sound of Friendship" introduces us to Terrence, a sparrowman (male fairies are called sparrowmen in the world of Pixie Hollow). It's a big day, time for the Bluebell festival. Terrence wants to ask Tinkerbell to the dance, but isn't quite certain how to do it, especially when everyone in Pixie Hollow seems to need her help. Terrence learns the importance of patience and accepting that everything will work out in the end.
Finally, "Best of Friends" shows us the trouble that can occur between friends when communications are misunderstood.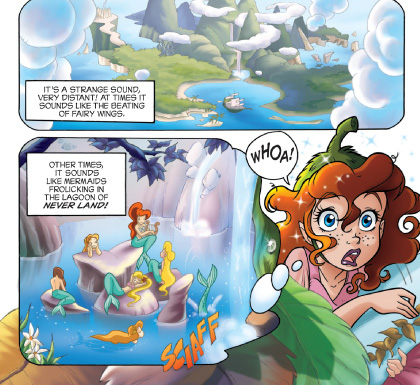 Artists Giada Perissinotto and Caterina Giorgetti do a fantastic job of capturing the essence of Disney in their rendering of the world of Pixie Hollow and the fairies and sparrowmen who live there.
The stories were original published in Italy. Stefan Petrucha, best known for his work on The X-Files series of graphic novels, does a great job of translation and keeping the core of the original storyline whole.
While the storyline was a little shallow for my liking, I feel Disney Fairies: Prilla's Talent should be top on the list for any Disney enthusiast, fairy fan, or anyone wanting to introduce the girls in their life to the magic of graphic novels and comic books.
Rating: 4 / 5 Stars