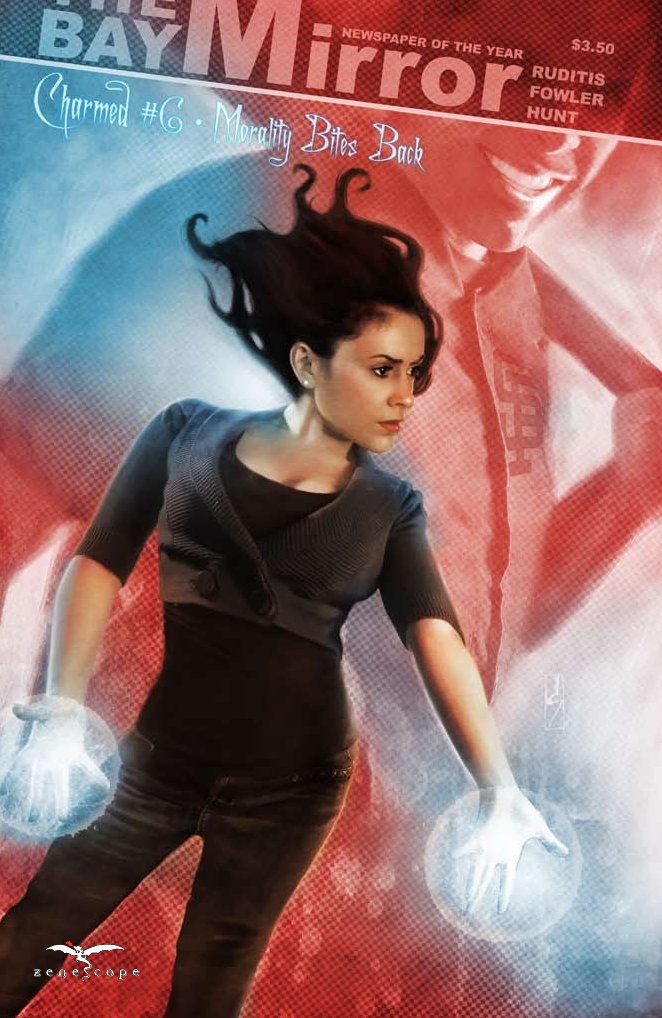 Issue: Charmed #6: Morality Bites Back
Release Date: February 2011
Author: Paul Ruditis
Artist: Tess Fowler
Cover A: David Seidman
Colors: John Hunt and Jeff Balke
Letters: Jim Campbell
Editors: Ralph Tedesco and Paul Ruditis
Publisher: Zenescope Entertainment
Fans of Charmed may recognize a familiar face in this issue, as Cal Greene of "Mortality Bites" fame has returned to the storyline. This choice of plotline has a definite exclusionary factor for new readers, but a nice celebration for those of us who have been long-time viewers. It appears we have closed the chapter on the last arc and are starting new ones.
Cal's reappearance is not the blast from the past that Phoebe was looking for, but since Cal has become Mika's new guy, she's putting on a brave face and pretending like it doesn't phase her. Well, she's doing that in public. In private, with her sisters, she's asserting the notion that Cal is an evil, evil man who must be stopped. And maybe Phoebe wants to be stopped, too, since she's supposed to kill him in less than a year with a yet-to-be discovered power. People may change, but memories last forever… even if they're memories from an alternate future.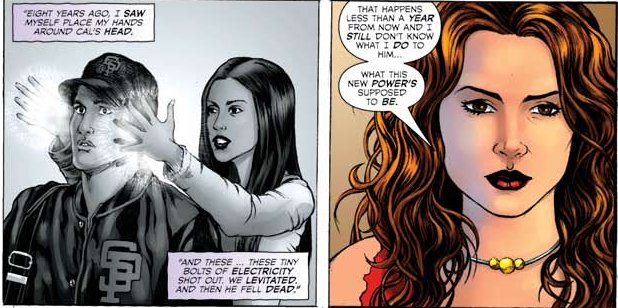 So, in order to get the scoop and figure out if this Cal has the same motivation as alternate-Cal, Phoebe uses her dinner date to chat him up. Too bad all that small talk was useless. Or maybe it was a sign that the dreaded future won't take place. Even Coop's attempts to turn the night around by taking her to Cupid's Temple are for naught, since Phoebe won't stop thinking about Cal. I particularly loved that Coop brought up Cole as an example of dark sides and love. So instead of being suspicious, Phoebe needs to trust her instincts and it will all work out in the end.
And her instincts tell her to keep digging until she uncovers something. Turns out that a woman had come forward a year earlier with claims that Cal had beaten her. Before an official report could be filed, Cal made it all go away. The victim was just the tip of the iceberg, though. The more information that is discovered, the worse it looks for Cal. He's threatened everyone who knew the truth, even Elise and the paper, and now Mika might be in danger because of that silence. But she gets off easy, since she and Cal break up without any violence incited against her aside from a few angry words. Elise was not so lucky, getting attacked at the office by Cal. However, with some mortal freezing and some glamours, the Charmed Ones managed to show the attack in living color to the public at large. Cal is put away, Phoebe saved from her vengeful actions, and the world is temporarily safe from the darkness that humans can express.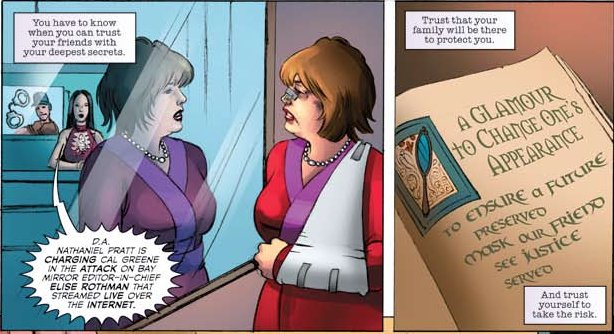 While I enjoyed the callback to the earlier canon of the show, this issue's plot was a definite detour from the larger mystical topics that normally center around the Halliwells. I'm left to wonder whether we'll ever pick up the lingering threads from last issue or if we'll embark on another large battle with new issues. For this month, we rest in the safety of history and await what else the Charmed Ones must face.
Rating: 3 / 5 Stars