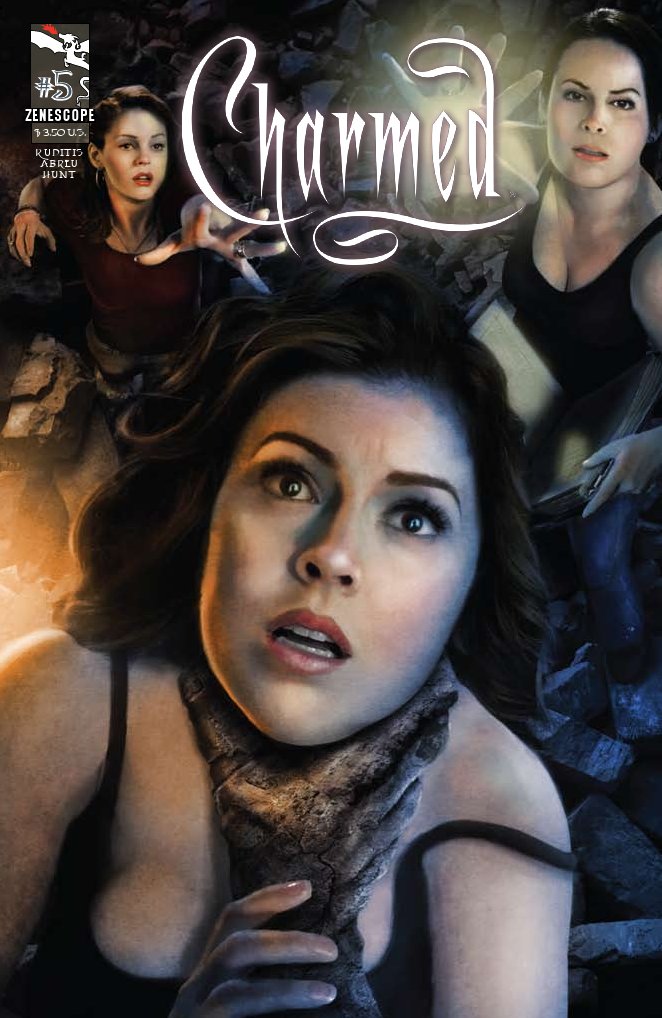 Issue: Charmed #5
Release Date: January 5, 2011
Author: Paul Ruditis
Artist: Marcio Abreu
Cover A: David Seidman
Colors: John Hunt
Letters: Jim Campbell
Editors: Ralph Tedesco and Paul Ruditis
Publisher: Zenescope Entertainment
When in doubt, run to the protective forces of the Magic School. That's the lesson we learn upon the opening of this issue of the Charmed comic. I guess if I were going up against The Source, I'd want all the protection I could get. And since The Charmed Ones have figured out that they're fighting The Source in the form of a Golem this time around, they're going to need help from everyone. So, with that in mind, they set out to make a potion with magic contributed to all the good practitioners.
Meanwhile, down below, the evil lackeys are making a brew of their own. And it's nice to see that they are not going to just blindly follow The Source with all his orders, but instead are setting out to take a bit of control on their own. My prediction is that this won't end well for them, but it's nice to see evil-doers taking some initiative now and then!

Fighting The Source is going to be a bit tricky, since he's fully armored and ready for battle. How are the sisters supposed to get to him, with his rocky, protective outer shell? Piper's got a plan. Doesn't she always have a plan? And that's when we learn that they have Excalibur in their attic. Seriously? I can suspend my disbelief far, but this is stretching it beyond the limits. Okay, fine, they happen to have the one tool that will help them with their problem. I'll begrudgingly go along with it.
I did enjoy seeing Paige going through all the white magic practitioners to collect the components that she needed for the spell. Mermaids and fairies and leprechauns alike, all the old favorites are coming out to lend a hand. And speaking of old favorites, even Billie makes a reappearance. I guess the audience needs to be reassured that if everyone else dies, Billie will still be around to fight the good fight. Either way, seeing her again gave me a smile of remembrance.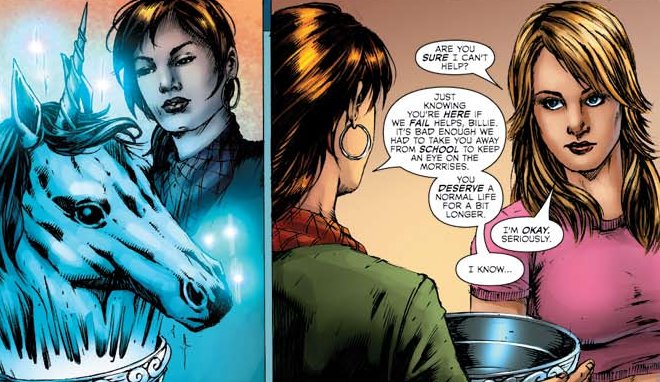 The husbands are around, too, giving moral support to the sisters and each other. Too bad the artwork is so confusing that I can't tell who is who. I'm still not loving the change in art focus that began last issue. It's hard enough keeping track of the sisters, but when you throw in all the secondary characters I need better visual connection to follow the storyline. At least the duality of the underworld versus overworld storylines makes it a bit easier, even if the evil lackeys are getting a bit too full of themselves down there.
And I finally got to see more action, which I've been longing for since this whole thing started. Good versus evil, brought to comic book form. And almost before it got started, it was all over. Quite a letdown, considering this was The Source we were talking about. But like any great story, just when you think everything is solved, a new enemy rises. Turns out that vanquishing The Source only opened the door for Neena to become the new Big Bad. And whether or not her followers know what she is, they know she's got the power to back up her claim to the throne.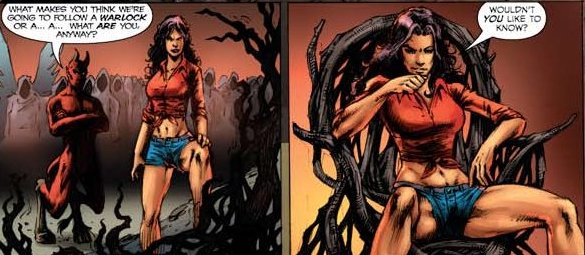 So, we're left with a nice family-time wrap-up at the end of this issue, but we're also aware that this peacefulness will be short-lived. It wouldn't be Charmed if everything was roses and kittens, now would it? Until next time, we celebrate new beginnings with the sisters and await the time when evil will come calling again.
Rating: 3 / 5 Stars