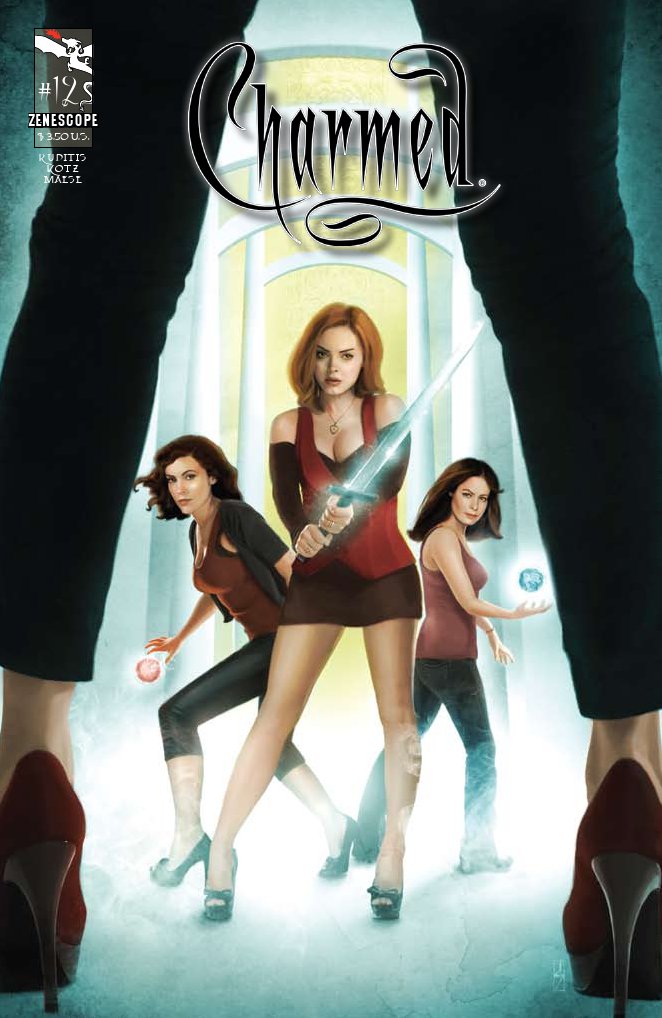 Issue: Charmed #12: "The Charmed Offensive"
Release Date: July 2011
Author: Paul Ruditis
Artist: Dean Kotz
Cover A: David Seidman
Colors: Jorge Maese
Letters: Jim Campbell
Editors: Paul Ruditis and Ralph Tedesco
Publisher: Zenescope Entertainment
As we return to the Charmed comic series, the Charmed Ones are prepping themselves for battle. Leo is still a prisoner of Rennek, but his family is determined not to leave him alone for long. Paige is off on a dream walk with her ancestors, while Phoebe and Piper are readying the weapons at their house. They'll all soon meet to wage a war against Neena and put an end to the destruction she has wrought.
I like that, despite Leo being a mortal and our assumption often being that the Charmed Ones will be the ones to save the day, it ends up that Leo is perfectly capable of staging his own rescue. He easily takes out Rennek and sets out to take down a couple of demons with the Darklighter poisoned arrows. Too bad he's locked out of the battlefield as a result of his attempts. It really is up to the sisters to win this war, but at least they'll have some help from the Warren witches, thanks to Paige. Once she reintegrates with her body, the war can truly get underway.
But just when you think you've seen everything, Leo shows back up, and now he's got wings and a sword of vengeance. Confused? I was. But also a bit giddy at the prospect that Leo has become something other. I miss Leo's powers and mortality can never keep him contained for long, so having a supernaturally-charged former Whitelighter is perfectly fine with me.

Neena, meanwhile, doesn't necessarily want to kill anyone, but she feels her hand has been forced. She's doing all this for the good of witches, or so she says. Her desire is to see her powerful children break away from the boundaries of Elders and prophecies, but instead live their own lives. It's an admirable desire, but one that she's approaching in completely the wrong way. And, so, she must be stopped.
When the Charmed Ones cannot bind Neena's powers on their own, they gain the help of all the Warren witches, and together they succeed. Their next mission is to deal with the Sphaera of Light and Dark, which Neena used to unite the two. Latin brought it forth and Latin shall banish it again. One last swipe of Leo's sword and it is done. Have I mentioned lately how much I love this version of Leo?
And that's not the end to all the twists and turns in store for us. We get treated to a little side story about how Prue isn't actually in the afterlife anymore. She made a deal to be reborn. So, somewhere out in the world, her soul exists in the body of a young girl. But even if her sisters find her, they can't reveal who she is.

The Elders agree to back off from interfering as much with the Charmed Ones and they've banished Neena to a world where she can live with her lost lover for six months out of the year, so it's a win-win for everyone involved. And best of all, for me, Leo retains his new powers! Seriously, winged-Leo is my new favorite in the Charmed universe. But as one plot closes, another opens. It turns out that Cole has actually been working with the Warren witches to earn redemption and get help with moving on. But his journey isn't over yet because they want him to find Prue. And another chapter begins.
For the most part, I really enjoyed this issue. It was a bit text-heavy at the end, with plot twists one after another, but it kept pace and opened the possibilities for a new arc in the story. If I had one complaint, it would be about the colors. They seemed extremely washed out for this edition, but I got so involved in the story that it wasn't that distracting. Overall, this was a great way to end one storyline and start another. I'm excited to see how the hunt for Prue goes. Plus, if we get some more winged-Leo, I would not complain.
Rating: 4 / 5 Stars