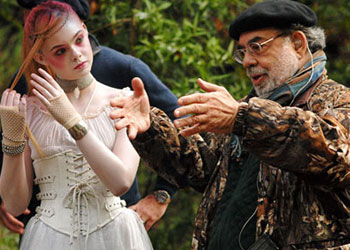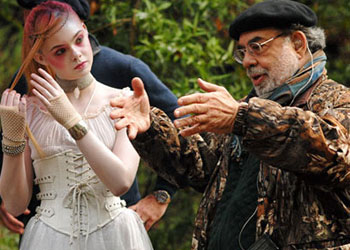 There's bad news and there's good news for this year's Comic-Con. O.K., first the bad news:
Peter Jackson has announced that there will not be a presentation of The Hobbit. According to his Facebook page, Jackson doesn't feel The Hobbit is yet at a point where it can be shown. Go on, cry. Get it out of your system. As a consolation prize, Jackson posted a new video blog of the first block of shooting, saying "So please enjoy this — at least you don't have to travel to San Diego to see it!"
As for the good news, Francis Ford Coppola will show portions of Twixt, the story of a writer who is caught up in a murder. Doesn't sound that exciting until we learn that Twixt is meant to be an interactive experience incorporating both 2-D and 3-D elements. We suspect a little horror to be forthcoming in Twixt. THR reports that it brings Coppola back to his roots in horror, which were planted during the 1960s under the tutelage of Roger Corman. Besides, Coppola's spokesperson, Nicolette Aizenberg, said in a press release, "The film's story is inspired by Edgar Allen Poe, Nathaniel Hawthorne, and Coppola's own vivid dreams."
Coppola hasn't attended Comic-Con in 20 years, not since he presented his adaptation of Bram Stoker's Dracula, so this will be an historic opportunity for filmmakers, cinephiles, fanboys, and stars, to mingle with the likes of this iconic director.
Speaking of stars, Twixt stars Val Kilmer, Bruce Dern, Ben Chaplin and Elle Fanning ("Super 8"). You can see it this coming Saturday, July 23rd, at Hall H, the main stage at the annual Comic-Con gathering.