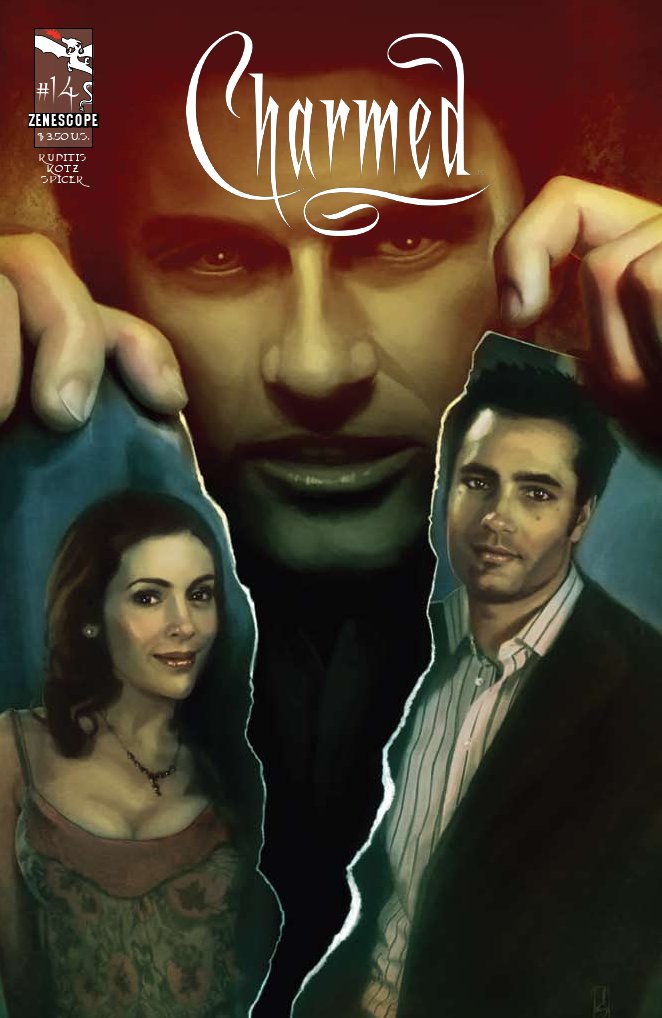 Issue: Charmed #14: "Cupid's Harrow"
Release Date: September 2011
Author: Paul Ruditis
Artist: Dean Kotz
Cover A: David Seidman
Colors: Michael Spicer
Letters: Jim Campbell
Editors: Paul Ruditis and Ralph Tedesco
Publisher: Zenescope Entertainment
Despite my desire to start an arc soon, the comics give us another one-shot with this issue with just a tease of the arc to come. This time it's Coop and Phoebe who get the spotlight. I wonder if we're going to go through each sister and her family before the larger arc comes into play.
We start off with Coop comforting a grieving mother at her daughter's funeral, Coop gathering the dead child's soul as a new cherub recruit. But it soon becomes evident that his balance of work and family is not going so well. Perhaps it's not the job that's weighing him down, but more the fact that he misses his own family. Not Phoebe and the kids, but the family he lost long ago. The way Coop describes it, I got the feeling he died almost as soon as he was born, thus becoming a cherub and later a cupid. This will make it much harder for Phoebe to track down information on his family tree, but she's nothing if not determined. If her husband wants to know his family, he shall.
However, Cole seems to be working against her investigation. He's been freezing up Phoebe's computer as she tries to do archival searches on Coop's possible family ties. But she pushes on. Even her boss giving her another assignment won't halt her search. Lucky her, the two situations might be even be related. Two birds, one stone. The senator's daughter is getting married to a man named Coopersmith, which may well be a relative of Coop. Phoebe's boss would like her to write an article about the event, but before she can present the newspaper announcement to Phoebe, Cole rips it out of her hand and throws it across the room. That doesn't deter the Charmed One for long. When Phoebe tries to do more computer searches to make the connection between her husband and the family, Cole unplugs her computer in a final attempt to stop her. Why does Cole want to keep her from finding out the truth? That's the question that needs to be answered.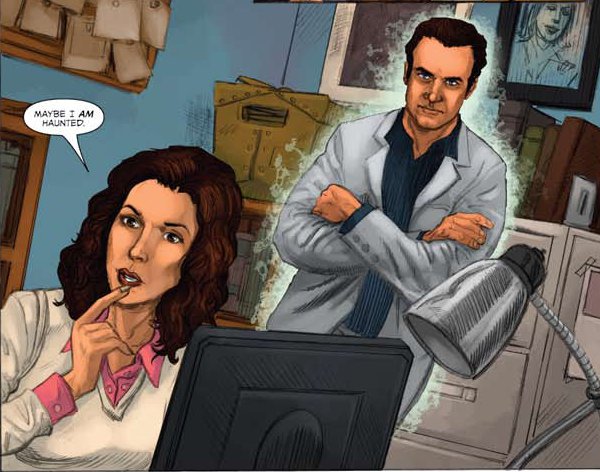 Tying all the sisters into this mystery, Piper is hosting the daughter's rehearsal dinner. Well, she wasn't, but then Phoebe stepped in and made the strong suggestion that the family change their original arrangements and come to Halliwell's instead. What's a lie or two on the path towards the ultimate truth? But Cole will not be deterred. He keeps trying to prevent Coop from making it to the party and then the wedding. Judging by the result of Coop's interactions with the family, I'd say Cole had the right idea. Madness is spreading everywhere because Coop used his powers on someone in his family line. There are rules about this for a reason.
We end the issue with Cole being basically called out for his stalking behavior. He can't pay his dues and prove that he's worthy of moving on if he's following Phoebe all the time. Cole must do his duty and find Prue, as has been ordered. I'm more than ready to get more deeply into that storyline. Where is Prue? Will Cole find her? What will the Charmed Ones think if their dead sister is discovered somewhere on Earth? I'm excited to see it play out!
Rating: 3 / 5 Stars