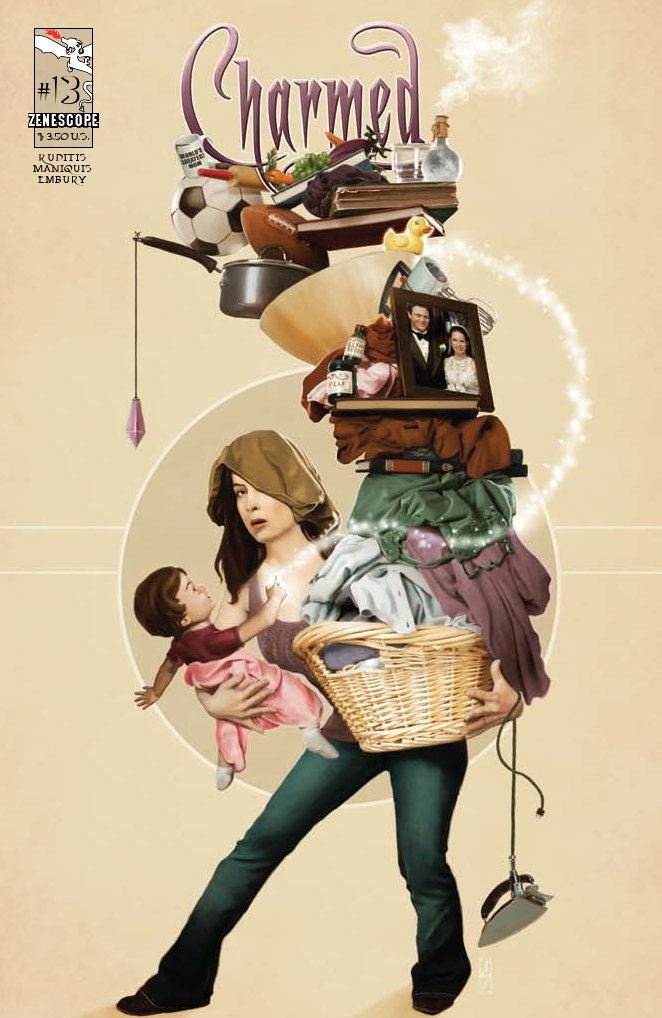 Issue: Charmed #13: "Piper's Place"
Release Date: August 2011
Author: Paul Ruditis
Artist: Reno Maniquis
Cover A: David Seidman
Colors: Jason Embury
Letters: Jim Campbell
Publisher: Zenescope Entertainment
This issue of the Charmed comic was a one-off story that dealt with Piper and her family. The big pressures of demons and monsters sometimes have to take a back seat to what's really important, and that is family. Piper's trying to balance opening her business with the pressures of motherhood. Leo's helping out by taking care of the kids while she's dealing with the sign painter and the million other things she's got going on.
Wyatt, meanwhile, is dealing with his own little issues. I knew he was up to something with that look on his face in the beginning and his refusal to go to sleep, but I didn't expect him to go busting out the Book of Shadows. He misses his Mommy and if she needs to be in three places at once, he'll make that happen.
The next morning, Leo's suspicious because Piper's acting unlike herself, but when three Pipers show up it's a clue that something is amiss. After confronting the kids and finding out that Wyatt did it, Piper goes from being annoyed to embracing the multiplicity. Think of the potential! She can get housework done, get her business affairs in order, and still have time to have coffee with her sister. It's genius! Well, not quite.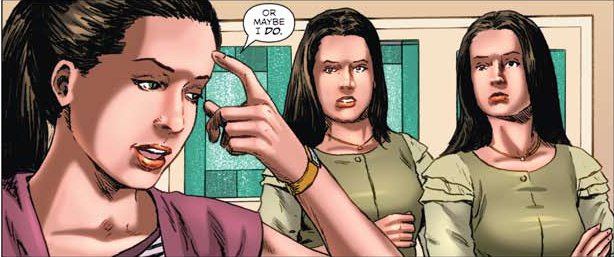 Phoebe is concerned about Wyatt using magic for his personal gain. It's a rightful concern and one that Piper should have, but instead she's understanding of her son's motivation. Maybe she should have checked that spell out herself because it's not going the way she thinks. Piper's continuing to split — where one Piper came to the café, two Pipers are leaving. And they've been splitting elsewhere, too. How many Pipers exist now? We don't know, but we do know that she seems to be everywhere many times over. And the effects of her multiple existences are putting her health in danger, not to mention her personality.
But all is well! A quick talk with Wyatt, a little laying on of hands with the Book of Shadows, and all the Pipers disappear except the one that counts. And it looks like it's just in time for the opening of Piper's new restaurant, Halliwell's. A nice wrap-up to a closed-end storyline. Perhaps next time we'll see the beginning of an arc, but for now it was a nice trip through the daily life of Piper.
Rating: 3 / 5 Stars