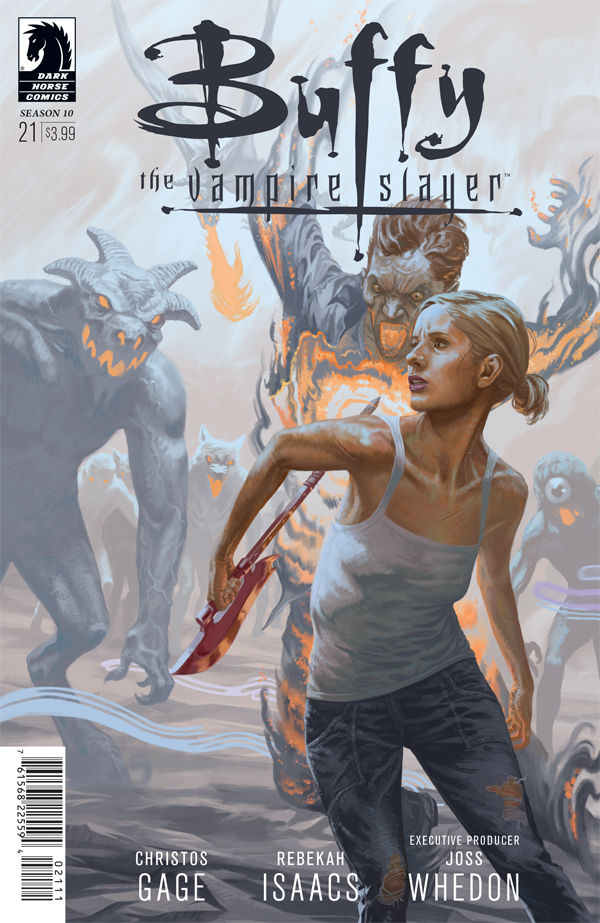 Unlikely alliances and the continued threat against Buffy and Spike's relationship — seems like the world's problems just won't let the couple alone. Hopefully the war won't cause long-lasting harm to their love story. When the world's against you, it's going to be hard to persevere.
Note: This recap may contain spoilers!
The news is full of supernatural creature invasions. Deaths are piling up, as is the monetary damage, and Buffy feels like it's all her fault. If she had been better, stronger, faster maybe they could have prevented these attacks. But they cannot win this battle alone. Good thing an old friend from the past is here to offer a solution.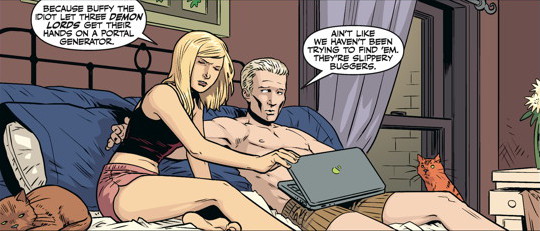 Satsu turns up at Buffy's apartment and asks for the Slayer's help. She wants Buffy to help the US Army with their attacks against the supernatural creature invasions. The military have been fighting, stopping more attacks than the media even knows about, but they still need help. And having Buffy on their side would be extremely helpful. While Buffy's past with the military has not been happy, Satsu eventually convinces her to let the past be the past and look forward to the future.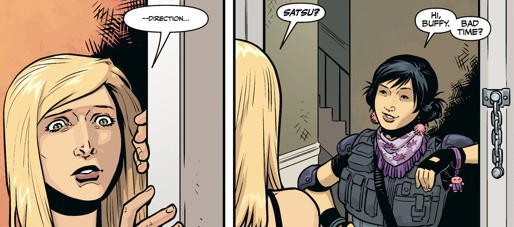 But it's not just Buffy that they need. Instead, they'd like the Slayer to get the vampires on board, too. That means an alliance needs to be formed with both the Old School and the New Breed. This is going to be a bit tricky, but they've agreed to a one-time meet-up in Vegas. What's a bit problematic or advantageous is that the representatives of both sides are Harmony and Vicki. And they've got a proposition. To prove that Buffy and Spike should be trusted, that the alliance is a good idea, they want to have a trial by combat. Buffy against the New Breed representative and Spike against the Old School.

Buffy takes on her competitor, Golgotha, though it doesn't seem like a fair fight considering his size. But she holds her own and proves to be the victor. However, while she's fighting, Harmony's putting doubts in Spike's head over his romantic relationship with Buffy. But her words do have one effect, and that's to make Spike angry and jazzed up. He uses that anger going into his own fight against the Old School representative and wins his battle as well, while Vicki is trying to put doubts into Buffy's mind about her relationship, too. It really does feel like the world's against them.
With the deal in place, Buffy and Spike leave Vegas to return home. There's the implication that the doubts have weighed upon both their minds, though they don't talk about it. And we see Spike the next night out at the pub meeting up with an old friend. The final panel reveals that his companion is none other than Dylan. Will she bring even more doubt into their relationship or will Buffy and Spike prove that their love is strong? I am always hopeful for the latter.
Rating: 4 / 5 Stars