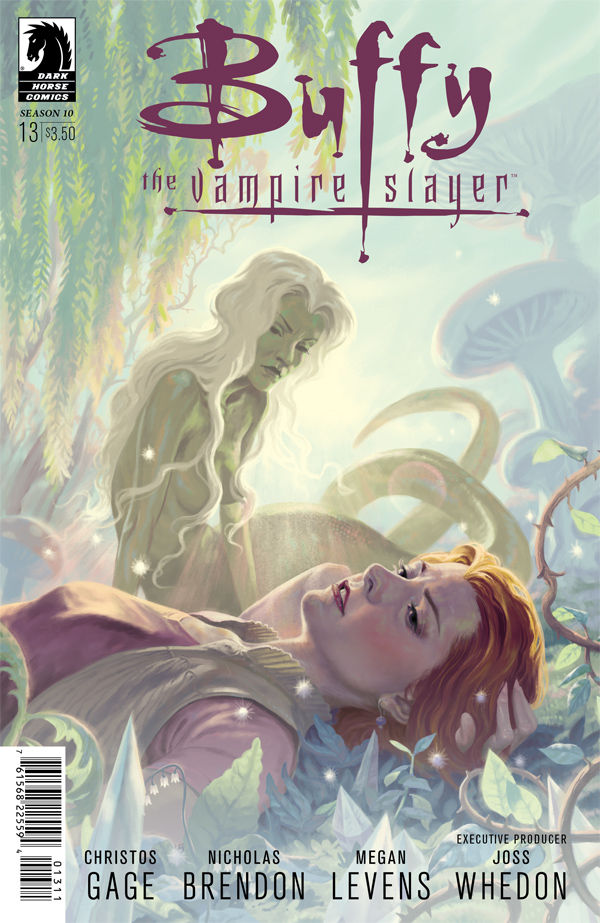 Is Spike turning evil again? Or is he just having prophetic dreams? That's the question of this issue, and you know which side I'm rooting for. Buffy and Spike: I live in hope that their future can be bright.
Note: This recap may contain spoilers!
Spike has apparently remained awake after his nightmare from last issue, as he is conscious when Buffy finally awakens. Their morning after is a bit awkward, thanks to Buffy's inability to stop herself with a joking comparison to Angel, but like all things in their ongoing relationship, she and Spike work through it. If only they could work through Spike's weird dream as easily. But he keeps quiet on that front, leaving her to investigate a call from Dowling about a possible vampire-involved murder scene. But when the victims turn out to be the same people he dreamed killing, he knows he needs help.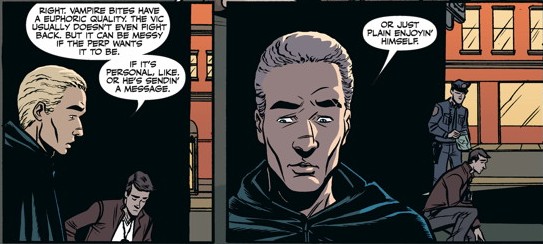 I am very impressed and happy that Spike is no longer keeping secrets from everyone, shutting himself off. He goes straight to Xander and lays out the situation about his dream and the murder victims. Spike asks for Xander's help because he trusts him. But Xander admits that this is bigger than the two of them can handle on their own, so despite Spike's initial reluctance, they're off to speak to Willow and Giles.
Turns out that Spike was right to be wary of this plan, since Giles and Willow immediately hold him up in the Scarlet Bonds because they cannot trust him. They'll work out the reason behind Spike's dreams, but until they do they would rather keep him confined. I did not like the reaction Giles and Willow had when Spike suggested they not tell Buffy yet. Willow says she won't lie if Buffy asks, which I can forgive, but Giles immediately says that Spike's request is for selfish reasons. Seems like Mini!Giles is a bit too volatile for my liking. But Spike agrees to have them go through every test imaginable if it gets to the bottom of the situation, even those that will hurt a lot. I want them to prove his innocence, even if they doubt it at the moment.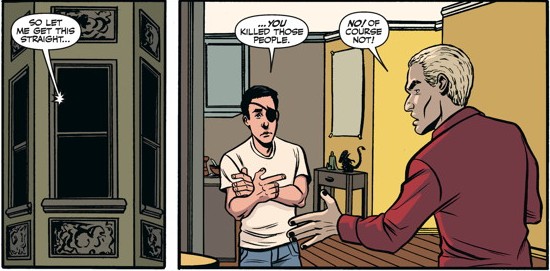 With Spike, Willow, and Giles busy with that, it's Xander's job to take Buffy out and distract her. So, they head over to Andrew's place to try and smooth over that situation. Xander tries to apologize and Buffy assures Andrew that they're cool with him being gay, that they knew all along, but Andrew wonders what that says about him that he didn't know himself. And I get it, but he's got to stop beating himself up and he's definitely got to stop running away when things get tough. Maybe Clive won't like the real him, but Andrew's never going to know until he tries. He's got a chance at happiness, so he needs to take it.
Meanwhile, the secrets of Spike's dreams start to come out. Willow and Giles have gone through every test they can think of, and they're still no closer to a resolution. That is, until Willow figures that putting Spike to sleep might help them uncover his visions. When that happens, they can see that Spike's envisioning a vampire nest, and Giles calls Buffy to check it out. The vampires in question are the victims that Spike originally thought he killed, thus proving that he couldn't be behind it. But it also sets in motion Buffy finding out that the gang has been keeping secrets from her.
She starts out mad at everyone, then zeroes in on Spike, who asks the gang to leave so that he can talk to Buffy alone. They cannot keep secrets from each other if this is going to work. And they're not the only couple that needs some work. While Dawn gets the scoop on the situation from Xander, Willow heads off to break up with Aluwyn because they cannot be who the other one needs. Hint, Aluwyn does not take it well. Thankfully, Buffy and Spike fare better. While Buffy doesn't know where their relationship may lead, they did not break up over this, and she has sworn to find out who's creating these nightmares in Spike's mind. I would like to learn that answer as well. Hopefully we'll get closer to the truth next month.
Rating: 4 / 5 Stars