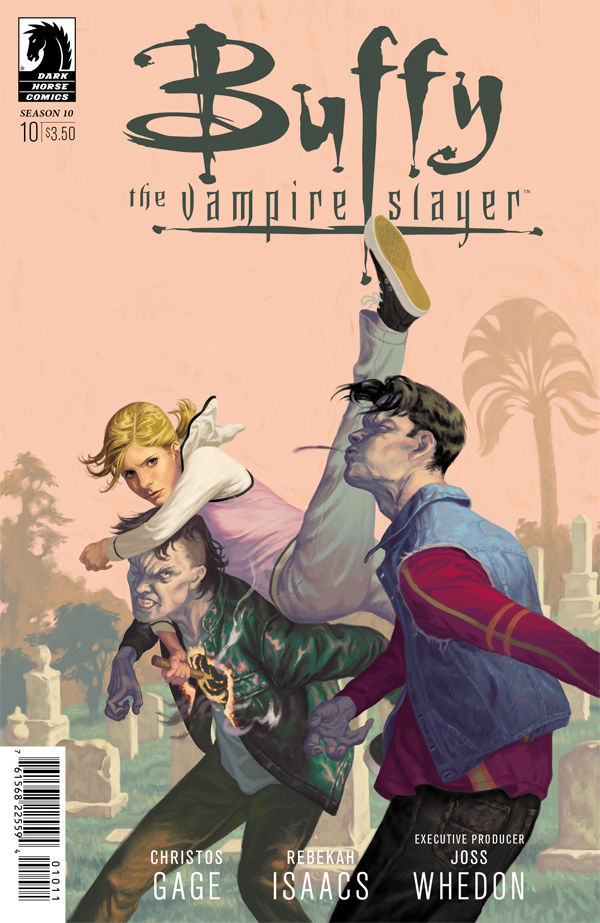 The Book of Magic is still being written, and everyone wants a piece. That leaves Buffy and the gang to mediate between all the different groups and decide what's best for everyone. Not a great position to be in. With all that potential power at your fingertips, is corruption going to be a worry?
Note: This recap may contain spoilers!
This issue seemed to take all the characters in different directions, for good reason. We start off with the girls meeting with a number of supernatural creatures who serve as lobbyists for their kind in order to argue their needs for the Book of Magic. D'Hoffryn is also around to offer advice and help, but in the end it's always falling to the Scooby Gang to do what's right and make informed decisions on what will be written in the new rules. When Vicki, Harmony, and Clem get involved, it has the potential to get really messy, but surprisingly it's Harmony that mediates the situation. She gets Buffy and Vicki to agree that the vampires could retain their new ability to walk in sunlight, but they would lose their powers in it. Sounds good to me, and good to them, as both sides reluctantly agree.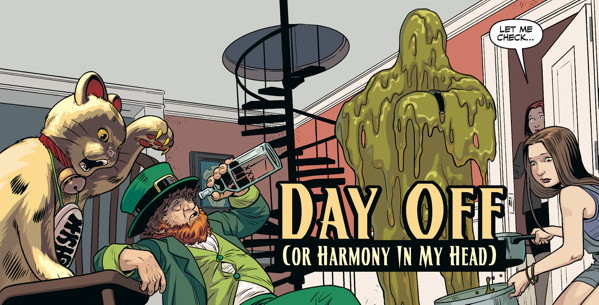 Once the meetings are over, it's time for some relaxation. Theo Daniels, who Willow had an interview with earlier, gave the girls passes to a day at the spa. Is he buttering them up for a reason? Whatever the motivation, they seem to enjoy their downtime. Buffy brings up the matter of Dawn and Xander, pointing out all his good traits and urging her to move forward with him before it's too late. Dawn points out that the same could be said of Buffy and her men (Spike, Angel, Dowling), so Buffy agrees to drop the boy-talk. Back to relaxation!
Meanwhile, the guys are doing their own thing. Xander leaves to go see Dr. Mike, but Spike's not left alone for long. Harmony and Clem show up at the apartment, and they seem to have a pleasant visit. Spike apologizes to Harmony about what happened in London with the hook-up, and she says it was her using him, not the other way around. So, whoever was at fault, or had the upper-hand, it's in the past. Time to move forward. That is, until Harmony whacks Spike in the back of the head with a fireplace poker.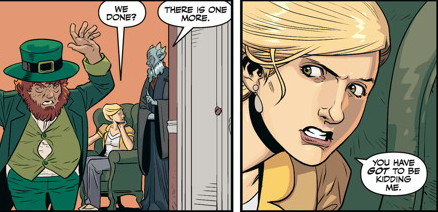 All that good will and happy talk seems to have been a ruse. She wants the book, in order to write the rules to her advantage, and she starts dictating some outlandish terms to Clem — everyone adoring her, unicorns being real, and Buffy, Angel, and Spike being in a polyamorous relationship. But good old Clem, it turns out, didn't write any of it down. So, when Spike comes to, they don't have the deal with the disastrous situation that Harmony was about to create. Instead, we get Clem giving Harmony some heartfelt comments about how others should love her for being her, not because they're being controlled, and how much he adores her. Poor Clem just gets a slap in the face for his efforts. But he will withstand the abuse many times over to be with Harmony. And, it turns out, he didn't completely ignore her wishes. Unicorns, it turns out, are indeed real now.
The book does have a lure to it, as Spike and Xander well know. Both have been tempted to just erase their relationship troubles with a swipe of the pen, but it wouldn't be real. They don't want the women in their lives to be with them because they have to, but because they want to. And, besides, Spike says that now that he and Buffy are real friends, they're in a good spot. The complication of a romantic relationship maybe isn't in the cards for them. But what Spike sees as a good place, an eavesdropping Buffy seems to take as Spike giving up on her. She's still interested, even if she doesn't completely show it, but if he's not trying anymore, where does that leave her? Oh, the angst! Why can't these two ever find themselves on the same page? I want them together, and I've been waiting so long. I guess I'm going to have to wait longer.
Rating: 4 / 5 Stars