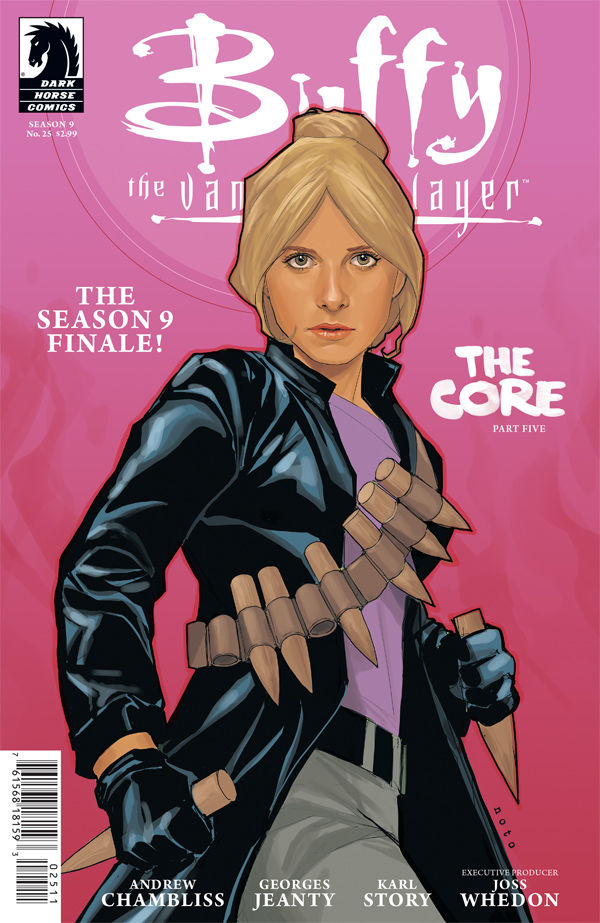 This is the end of Buffy Season 9, and I don't know whether to be relieved or sad. I think I'm more on the relieved side because this season felt like a tiring experience full of exasperation rather than interest. As we draw to a close, loose ends are tied up and a new storyline possibility is revealed. Just what I've come to expect with this series.
Note: This recap may contain spoilers!
When last we left the Slayer, Simone had strung her up at the end of the Scythe for all her friends to see, and Severin was trying to keep the power of the new Seed contained. And that's right where we pick up again, though the conclusion of how this would all turn out felt like it was visible the entire time. I miss the days when this comic had some mystery and unforeseen twists around the corner.
Simone thrusts Buffy down into the waiting crowd below, where Willow patches her up and the battle rages on. After a brief fight with Maloker, which ends too soon, Buffy is temporarily safe and Willow gets her hands on the staff, which will allow her to transport everyone topside before the Seed explodes. The explosion happens pretty quickly, if anti-climactically, taking out most of those in the blast radius. I felt a brief sadness that Ilyria died along with Severin when the explosion took place, but I can't really count her out just yet. I feel like she might return later, in another storyline, if the writing fits.
But Willow can't get them all out before Buffy's in danger again. Simone grabs onto Buffy before she can make it topside, and pulls the Slayer back down into the Deeper Well to fight some more. There was no feeling of danger, for me, because the battle was over almost before it started, with Buffy getting the upper hand and using the Scythe to kill Simone once and for all. Big explosion, magic is back in the world, Buffy crawls out of the hole, and it's onward to take care of the Dawn situation. Lots of tying up loose ends, but not a lot of actual suspense in this issue.

Back in San Francisco, the gang tries to get Dawn back. After all, that was what this whole plotline was about in the first place. Willow can feel Dawn's essence, but there's nothing physical for Dawn to hold onto. Willow needs to use Buffy's blood to help tie Dawn to the real world, and then performs the spell that is supposed to bring Dawn back. There's a little bit of hope, an explosion, but no Dawn. They all think they've failed, though the moment is so brief that it's without much emotion, and then Dawn pops up behind them like nothing's wrong. We all knew it would work out! There was no suspense in this at all. And the ensuing happy reunion happens with everyone, though Xander's a bit restrained and actually escapes to the roof to get out of the crowd. He thinks Dawn knows he betrayed the group and helped Severin and Simone, which means she won't forgive him for his bad decisions. Yeah, well, that's not going to happen. The lovely couple are reunited, they seem happy, and even if the big revelation of Xander's actions comes tomorrow, I doubt Dawn's going to be turning her back on him. Everything's fine.
Or is it? As we tie up the issue, the inkling of a new storyline emerges. Buffy retrieves the Vampyr book from Willow, but when she opens it all the pages are blank. What's going on? And what's up with the zompire nest in Santa Rosita, California that we catch a glimpse of? We see a newly-turned zompire who can withstand light and turn into a bat. Guess we'll find out all about that next season. Until then, relax and hope that the new storylines are better than the old. Or, at least, less exhausting and frustrating.
Rating: 2 / 5 Stars