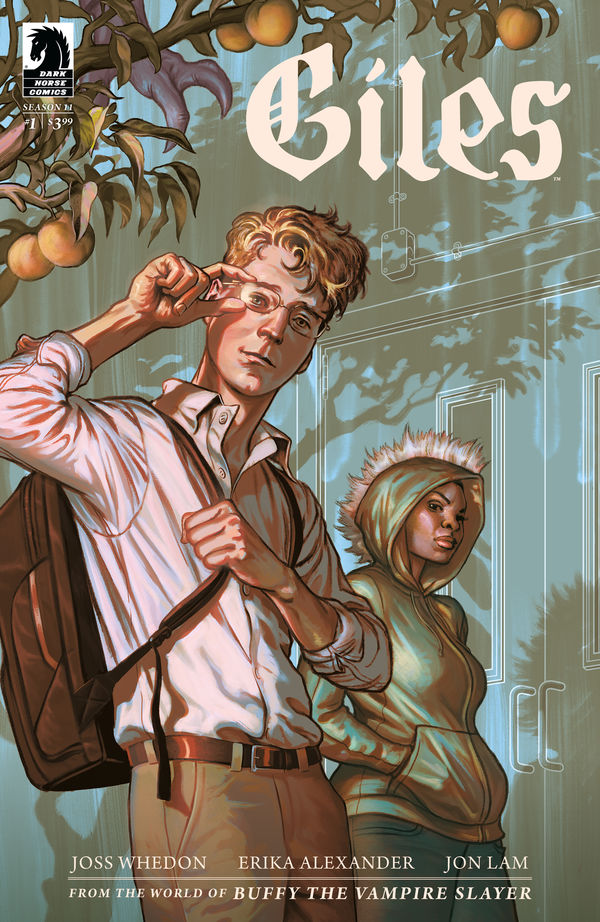 Giles has his own comic series and it's…weird. Complex language, confusing connections, and few touchpoints to former canon make this first issue a little hard to follow, but I have hope that these will clear up as the series continues.
Note: This recap may contain spoilers!
So, we start off with Giles seemingly throwing himself into a suicide mission to save a girl. Great! Action! Except, this is more a flash-forward of things to come because we're then pulled back in time to four and a half weeks earlier at the Living Legend Academy Charter School to witness a shady basement deal gone deadly. We're introduced to a girl named Roux who, it appears, is bringing students down to the basement to feel a purple demon. It's only later, when the pieces start coming together, that you learn she wasn't telling her victim to look up so they would be unaware of their impending death, but instead so she could get better access to the student's neck. But that's a clue that we must wait for. In the meantime, we time jump again! This time, we're one and a half weeks after the basement incident.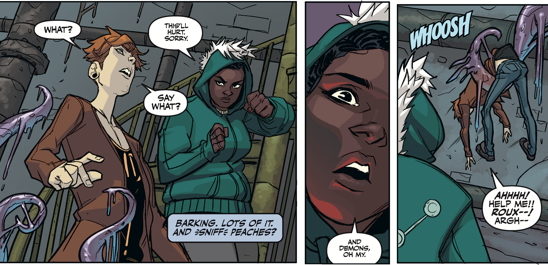 Thankfully, it seems we're finally done with jumping through from future to past to present. At least, I hope so. Instead, we now have to deal with Giles and his complex language skills. Buffy and the gang have set Giles up at the school under a new alias, Ralph Columbo, to go undercover and investigate reports of vampire attacks. I know, it's a horrible alias, but Giles has more than a crummy name to complain about. He's not fitting in well and he's really not liking the whole high school experience. Added to that, he's wiser beyond his years, so his language is more advanced in comparison to his peers. Perhaps a little too complex for even the reader, as it definitely slowed me down once or twice to take in what he was saying along with how the plot was progressing. And the plot was complex enough on its own.

First off, Giles finds Lloyd Addison hiding under his desk at the school. He's definitely gone downhill since the last time Giles saw him. Before he was translating NASA's torrid sting theory, now he's a burned out math and science teacher. But Giles doesn't have time to explore how Addison's career went off the rails because he has to get to class. Too bad that's the last time he will have a chance to chat with Addison, since the purple demon monster got to him first. And he's not the only one, as we soon learn. Two teachers and a student have disappeared, with the only lead being their last sighting in the school basement.

And then we've got the situation with Roux, who Giles literally runs into during his dash to class, causing a bit of tension between them. Rather than clearing up the misunderstanding of who is at fault, the school's security guard just takes them to the principal's office so she can sort it out. That's where Giles overhears about the missing school members. There's a mystery brewing with the disappearances, but there's also a mystery surrounding Roux and Giles is immediately drawn in. Roux is just as intrigued by him and decides to do some digging to figure out who he really is. Cue the inevitable meet-up revelation where Roux finds out Giles is a Watcher and Giles finds out Roux is a vampire. Oh, the drama!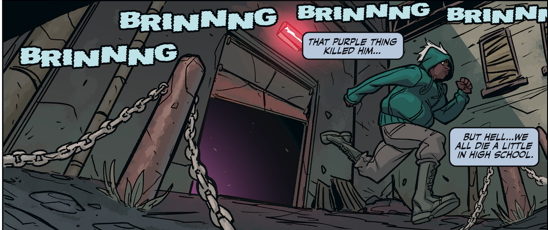 We also find out that Roux wants to deal with the demon just as much as Giles does, so she proposes they join up. This could go very wrong, as we got a hint at during the start of the comic. Giles is on a path of suicidal sacrifice, seemingly to save Roux when things with the demon go very, very wrong. But we won't get to that point yet. I'm hoping that, by the time we do arrive at the present, the plot will clear up a little and the complex language will be toned down a bit. We'll have to see where the path leads of Giles. I'm willing to follow along for a now at least.
Rating: 3 / 5 Stars