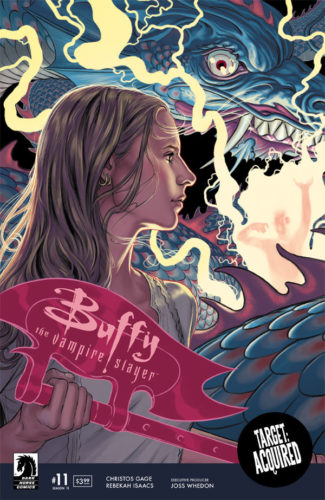 The shady government dealings are continuing and it's up to the Scooby Gang to get to the bottom of it all before the world and all supernatural beings within it are no more. Nobody said it would be easy, though.
Note: This recap may contain spoilers!
The gang find that Ophelia Reyes, Secretary of the Supernatural, is a key player in this conspiracy. If they want answers, she's a good starting place, so off they go to the Land's End (Pandora Project) facility to find her. However, a big, secret government facility is definitely going to have some major security to get through, and this one is no different. But what human manpower cannot accomplish, a bit of magic can, and thanks to Willow's spells they manage to overtake the guards and get inside.
That's where their plan gets interesting. Dawn and Xander are tasked to record everything that happens, while hidden safely away, so that they can expose the truth once and for all. Meanwhile, the rest of the crew will be searching out and interrogating Reyes. At least, that's the plan, but alas, plans often go astray. Turns out that Reyes isn't the only person involved in this little set-up. Press Secretary Joanna Wise is also a key player. And, not only that, she's a bit magically-powered herself with cybernetics helping out her mortal form.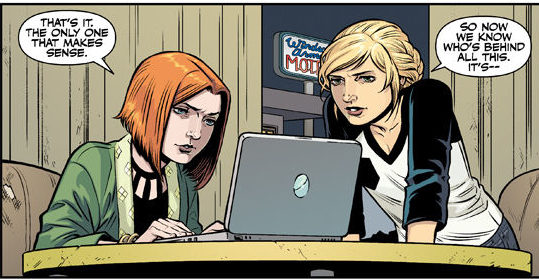 Press Secretary Wise is the main opponent in this issue, causing the team to separate when she casts a spell to bring forth the Shenlong Dragon. Since the only person who has hopes of defeating him is Willow, the witch must take her leave and let the others take up the fight without her. Before she departs, however, she does offer one potential spell that might give Buffy the upper hand. She can bring forth the power of all the Slayers and return it to Buffy. It will leave Faith powerless, along with the other Slayers in the world, but it's the best solution they've got, so they decide to go for it.
This turns into a one-on-one fight between Buffy and the press secretary, with the others being forced to the sidelines as mere observers. And Buffy manages to give as good as she gets, putting up a sustained offense and defense against Wise's maneuvers. When the press secretary realizes she will need more power to defeat Buffy, she resorts to drastic measures. Wise uses the power drainer to take on the dragon's power, and that's where we leave the issue. What kind of damage can she do now? How will Buffy defeat her? We have to wait to find out. Oh, impossible situations, why do you visit Buffy and her friends so often?
Rating: 4 / 5 Stars