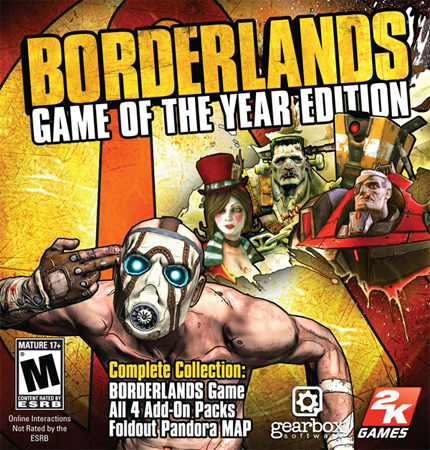 Over the holiday weekend at PAX Prime 2010, 2K Games and Gearbox Software announced that the superextravasplosive, mega-hit Borderlands will offer a Game of the Year edition this fall. Borderlands Game of the Year will be available for the PlayStation 3 and the Xbox 360 for $59.99 and Windows PC for $49.99 starting October 12, 2010.
This new addition to the critically acclaimed Borderlands experience will provide fans with the ultimate outlet to lock, load and face the madness. More than 17 million unique weapons and loot empower gamers to blissfully blast their way through all of Pandora's inhospitable environments and leave behind a bloody wasteland of indigenous monsters, zombies, Claptraps and evil corporate mercenaries. Level up with the Borderlands experience seamlessly by playing alone or with friends through extensive split-screen or online co-op integration for the most ultimate Role-Playing Shooter fun ever created.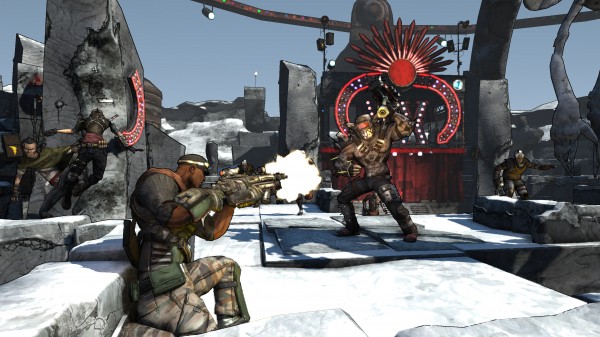 Borderlands Game of the Year edition will come with tokens for download of the recently announced add-on pack, Claptrap's New Robot Revolution, as well as the three previous best-selling destructive downloadable adventures — the living dead-filled The Zombie Island of Dr. Ned, the ultimate video game survival of the fittest test Mad Moxxi's Underdome Riot, and the utterly fantastic The Secret Armory of General Knoxx. Also included will be a complete and comprehensive map of the Borderlands territories.
With this definitive collection, gamers will now have the perfect chance to join in and experience what millions of Borderlands fans already adore. They'll find a highly addictive video game that calls for unleashing furious anger upon a sinister corporation's well-armed armada and Pandora's local inhospitable inhabitants while searching for the secret of The Vault that is chock full of extra bonuses and add-ons.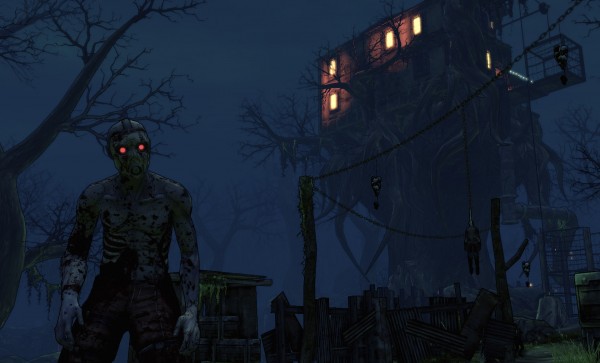 Borderlands, rated M for Mature by the ESRB, is currently available for the Xbox 360, PlayStation 3 system and PC. The Zombie Island of Dr. Ned, Mad Moxxi's Underdome Riot and The Secret Armory of General Knoxx add-on packs are all available separately on the Xbox LIVE Marketplace for Xbox 360 for 800 Microsoft Points and on the PlayStation Network and PC for $9.99 (all require standalone Borderlands product in order to be played).
For more information, please visit www.borderlandsthegame.com.