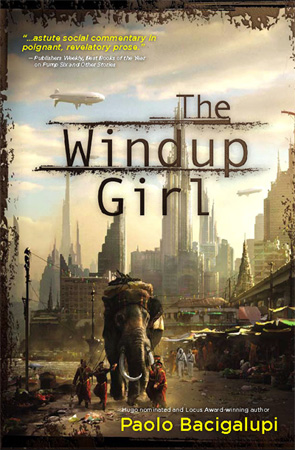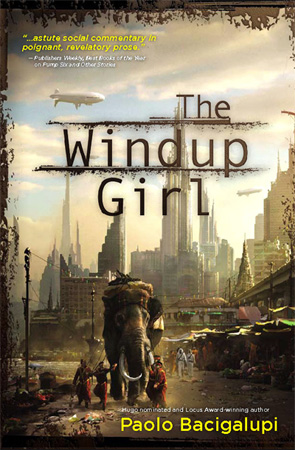 Title: The Windup Girl
Author: Paolo Bacigalupi
Publisher: Night Shade Books
Release Date: April 20, 2010
I know I am a bit behind on this bandwagon, but I have to admit, when I see a bandwagon forming I like to step back and watch where it is going. That was the case with this book — I heard praise for it everywhere, and I inherently get skeptical at that. Why? It's hard to say, maybe because I find I rarely agree with the popular opinion, or something gets overhyped and when I do read/watch/whatever, it can't possibly meet those expectations. This book was different, and in fact I had been putting it off for a while until my father thrust it in my hands and told me I needed to read it.
He was right! He raved about the first few pages of the book, and let me tell you, he was right to rave. Within the first pages, Anderson Lake, the main character and calorie man, describes a piece of fruit — a fruit new to him and apparently free of the various super diseases and parasites that have ravaged the near future's food supply. The description is so compelling I felt my mouth watering and knew that I was wrong to hold off reading.
The writing style is vivid, lush, exotic. You can taste the moist fruit and see a declining Thai landscape where petroleum technology is almost a thing of the past. This is a dazzling example of biopunk science fiction from its genetically engineered food to its windup people (essentially androids made to look and act as humans and question what it means to be human). The Windup Girl is rich in political intrigue, apocalyptic grittiness, and megadonts — HUGE ELEPHANTS! I'm trying hard to compel you to read this, without giving away the plot; I mean, if you want a review that summarizes it, you can look elsewhere.
The setting is foreign enough to be new and exciting to an audience who may never have visited Thailand, adding an element of newness to a subgenre that very often focuses on more developed nations technologically. The fact that there's a supernatural element which is a cultural superstition of the spirit haunting or helping a person after it has died doesn't take away from the believability of the story. It was easy to get lost in the story and spend several hours reading without even noticing. I have to go back to the word lush — it is a book that will fill your senses and a story you will think about after you've finished reading.
The Windup Girl is a superb book, certainly one of the best I have read in a long time. It is very deserving of the Hugo Award for Best Novel it received back in September and I very much look forward to seeing what Mr. Bacigalupi has in store for us in the future. I think he has the makings of a science fiction master, based on this novel alone. Sure, there is a moment or two where it fails to be perfect, but I look forward to seeing more from this author.
Rating: 5 / 5 Stars