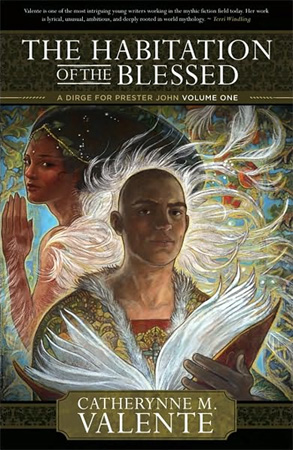 Title: The Habitation of the Blessed
Author: Catherynne M. Valente
Publisher: Night Shade Books
Release Date: November 1, 2010
In the 12th Century, a letter appeared from a man known as Prester John, and stories made their way around medieval Europe about the fantastical kingdom that he had discovered and of which he had become the ruler. The letter was eventually deemed a hoax, but not before rampant speculation about the kingdom's location sparked many a quest to India or Ethiopia looking for it. In Habitation of the Blessed, Catherynne M. Valente has taken up the legend and imagined what John's kingdom might have been like.
Pentexore, as the land is called, can only be reached four times a year when bridges open up to allow passage through a terrible desert. The lucky few that make it through find themselves in a place of many wonders, including a river of rocks, groves of trees that grow from whatever is planted in the soil (including people) and a fountain of youth. The inhabitants of the land are no less wondrous — they run the gamut from familiar mythological creatures such as the gryphon and phoenix to hardly imaginable races of beings like the Panotii with their huge ears and the headless Blemmyae, whose faces are in their chests. "Pentexore brings to mind every old story," says Prester John, which is as true of Valente's novel as it is of the land that novel describes.
We learn the story of Prester John and Pentexore through the eyes of Hiob, a monk and scribe who is sent some five hundred years later to try to find the land of which the letter spoke, if not John himself. In a small village near the Himalayas, a mysterious woman takes Hiob to a tree whose fruit is books and bids him take only three. Later, when he sets out to copy the texts before mold overtakes the words and the pages rot away, he discovers the significance of the volumes he chose, seemingly at random. One is called The Word in the Quince, written by John himself, a description of how he came to Pentexore and what he found there. Next, a volume written by Hagia of the Blemmyae, wife of John, and finally, The Scarlet Nursery, a book of fairy tales told by a nurse to her royal charges, the three children of Queen Abir. In order to get as much out of all three texts as he can, Hiob chooses to read and copy each for an hour before moving on to the next one. Thus, the tale of John, Hagia, and Pentexore unfolds one chapter at a time, occasionally interrupted by Hiob's musings and commentary. At first, the constant change from one volume to the next seems disjointed and strange, but I quickly fell into the rhythms of each story. I enjoyed the suspense it created, and also the thrill of enlightenment when something from one story finally showed up in the other writer's tale and the pieces began to fall into place.
Valente is a wonderful writer with a great command of language and a way with description. One thing that particularly struck me was the way each writer in the story had a distinct voice and writing style, rather than Valente's voice alone. John's book reads like I imagine a medieval priest's memoir would sound, heavy on the remembrance of theological rhetoric and often focused on his search for God's forgiveness when he fails to convert the people of Pentexore and indeed, becomes one of them himself and forsakes priestly vows for marriage and kingship. Hagia's voice is altogether different, definitely feminine and filled with a sense sometimes of sadness, sometimes of regret, and always of long ages of memory. Imtithal's tales seem to be the least heavy and momentous, with their charming descriptions of the children and their questions that prompt and interrupt her stories, but they are more connected to the other two volumes than is immediately evident.
This is a thought-provoking story as well, and the three books-within-a-book serve to highlight vastly different viewpoints and opinions on topics such as the nature of faith, love, forgiveness, and eternal life. Above all, Valente's telling of Prester John's story reveals one man's journey to reconcile everything he thought he knew about God and the world with the reality of a place where none of that knowledge seems to apply. The story unfolds, layer by layer, but unlike a conventional mystery story, all is not answered in the end. The subtitle of the book is "A Dirge for Prester John, Volume One" so I imagine that many of the loose ends will be tied up in subsequent novels. I am quite satisfied, however, with this novel by itself. It leaves the reader with things to ponder, things to imagine, and things to wonder about, and thus it stays in the mind much longer than the typical story that is wrapped up all nice and neat.
Rating: 4 / 5 Stars