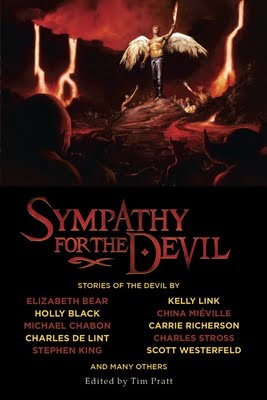 Title: Sympathy for the Devil
Editor: Tim Pratt
Publisher: Night Shade Books
Release Date: August 1, 2010
The Devil takes on many forms, many names, and he takes his turn in this new anthology. Hugo award winner Tim Pratt edits his first anthology with Sympathy for the Devil, sharing thirty-five stories that take the Devil through the underworld and multiple adventures topside. With stories both new and old, he has brought together a collection that is sure to become a favorite for fans of the genre.
I've always been a fan of fictional exploration of religious myth. When given the opportunity to review this book, I eagerly jumped in. Stories about the Devil, heaven and hell and everything in between? I'm there! And I was quite taken by a number of the stories included. Some were classics, some were brand new, but they all carried with them their unique take on just who this recognized, but perhaps not well-known, icon really was.
In "Beluthahatchie" by Andy Duncan, we are treated to a journey taken with singer John; a thinly veiled reference to well-known blues singer Robert Johnson. In this story, the view of the Devil and Hell is through the culture that John knows, so the authority figures are cast as reflecting the social acceptances of the day. However, John doesn't just take the Devil's authority lying down and at times is right down sassy with him; unexpected, but well-done. And, of particular amusement to me, of course the Devil drives a 1936 Hudson Terraplane. How could he not?
"A Reversal of Fortune" by Holly Black has a unique contest set up between the Devil and Holly, our protagonist. What bet would she propose to save the life of her dog Boo? Why, that would be an eating contest; gummy frogs to be more exact. Not a bet the Devil has heard multiple times before, to be sure. And when you're dealing with the Devil, a little cheating is a given. It's going to take a level of cunning to defeat him at this game and Holly may well have what it takes.
In "The Power of Speech" by Natalie Babbitt, we get a short story that is so very funny. See, the Devil likes goats. I mean, he really likes goats. And he's got his eye on a particular one named Walpurgis. However, his owner doesn't want to just hand him over. When the Devil gives Walpurgis the power of speech to speak his mind, his owner has no choice but to abide by his wishes. But the problem with giving something the ability to speak is that they never shut up. This might not have been a well-thought out plan on the part of the Devil.
"On The Road To New Egypt" by Jeffrey Ford is perhaps the most warped one in the collection, which makes me like it more. Our protagonist picks up Jesus, who is hitch-hiking. Jesus has a certain fondness for McDonald's Quarter Pounders with cheese and chocolate milkshakes, we learn quickly, and he's got a little something going on with a lady a few towns over. He's also buddies with the Devil himself, who joins them on their journey. So, riding in the car with Jesus beside you and the Devil in the backseat smoking a joint. Definitely the weirdest day you've ever had.
I wanted to give a special mention to David Palumbo's cover illustration. With Archangel Michael holding high the Flaming Sword, he stands above the lowly demons who reach for him. This was a perfect cover for the book and I was much-pleased to see it as a welcoming image before I began my literary journey.
If you're a fan of the genre or just want something a little different, be sure to pick up this book. There's such a variety of stories here that you'll be sure to find something that hits the spot. And along the way, you'll make some pleasant discoveries.
Rating: 4 / 5 Stars