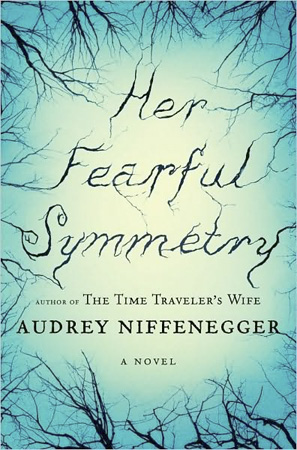 Obviously, I love Audrey Niffenegger. When I saw a lonely promotional copy of her next novel Her Fearful Symmetry, sitting on the freebie shelf at work, I jumped at the chance to be the first person I knew to read it.
As a fan of The Time Traveler's Wife, The Adventuress, and The Three Incestuous Sisters, I was expecting to read a chilling story, sublime in its terror and mounting dread, and moving in its tale of love, history, and time. Fortunately, Niffenegger does not disappoint with her newest release.
Her Fearful Symmetry tells the story of two sets of identical twins: Elspeth Noblin and Edie Poole, and Edie's daughters, Julia and Valentina. Edie and Elspeth grew up in England, and are estranged after a mysterious falling-out threatened to upend their lives. Edie and her husband live with their daughters in a comfortable existence in the suburbs of Chicago, while Espeth has stayed in London, and eventually worked as a caretaker for the historic Highgate Cemetery, the final home of Karl Marx, George Eliot, and Christina Rossetti.
The story begins as Elspeth is dying of cancer, in the care of her eccentric neighbors and Robert, Elspeth's younger lover. Upon her death, we learn of some strange conditions in her will: all of her personal papers are to belong to Robert, while she leaves her flat and its entire contents to her nieces, provided that their parents do not visit for an entire year. Much of the daily existence of the residences of Elsepth's building is dictated by the cemetery, the ghosts within, and the secrets on the outside.
Valentina and Julia are not your typical identical twins — they are mirror twins, so that Valetina's body is an exact reflection of Julia's; their minds are just as opposite. They have a contentious, yet co-dependent relationship, and their move to London brings new opportunities both to be explored and to be avoided.
As Julia and Valentina settle into their new lives, their new flat, and their new neighborhood, they learn that much of their new existence was carefully crafted by their aunt Elspeth, who is not as dead as they would think.
Niffenegger creates a chilling, gothic story much in the same vein as classic Victorian horror, evocative of The Turn of the Screw. As we come to the same shocking conclusions as Elspeth, Edie, Julia, Valentia, and their beloved Robert, Niffenegger forces us to confront the true meaning of love, family, trust, and death.
Her Fearful Symmetry will be released September 29.