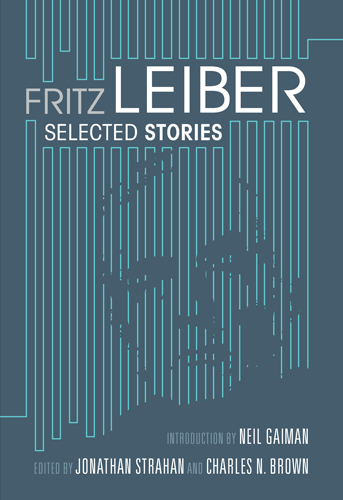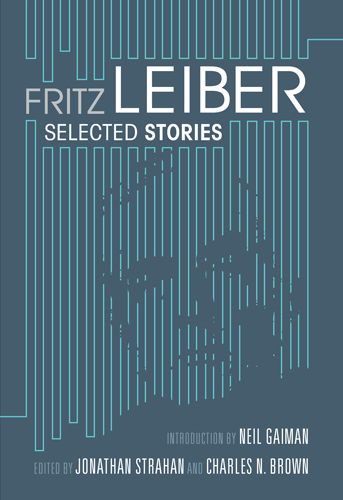 Title: Fritz Leiber: Selected Stories
Author: Fritz Leiber
Editors: Jonathan Strahan and Charles N. Brown
Publisher: Night Shade Books
Release Date: May 11, 2010
I was not familiar with the writings of Fritz Leiber upon receiving this book to review. Considering I grew up on a steady diet of King, Poe, Lovecraft and Vonnegut, I honestly have no idea how I missed him. But I knew I was in for a treat. One, the large number of friends whose response when seeing me read this book was, "Ooh, a new Leiber anthology? Can I borrow that when you are done?." Two, Neil Gaiman's fan-boy outburst over Leiber, otherwise known as the introduction to Fritz Leiber: Selected Stories.
For those of you who also spent your formative years under a rock, here is a brief biography about Mr. Leiber.
Fritz Leiber (pronounced LIE-ber.) was born on Christmas Eve 1910 in Chicago, Illinois. He was a science fiction, urban horror and fantasy writer who deservedly earned the title of one of the top authors of fiction in the 20th century. He was a visionary whose mastery of storytelling chilled the bones and inspired the minds of many of our popular science fiction, fantasy, and horror authors today. His most famous works include the Fafhrd and the Gray Mouser series, The Big Time, and Conjure Wife. He passed away September 5, 1992, in San Francisco, California, the cause of death listed as "organic brain disease."
"Smoke Ghost" begins the anthology and quickly engulfs the reader in a world of paranoia and suspense that makes the heart race right to the ending that proves to be more than what it appears to be.
"Ill Met In Lankhmar," where Fafhrd and the Gray Mouser, two of Leiber's most famous characters, meet for the first time, is included in this edition. It's a wonderful story that reads like a well thought out Dungeons and Dragons campaign. (I highly recommend this origin story as well as the rest of the Fafhrd and Gray Mouser tales to any fan of role-playing games.)
The reader must keep in mind that these stories come from a different generation of writers and society. The men are definitely men and the women are dames, broads, and harbingers of evil. Not every woman is evil, but the majority of the evil characters and characters that lead to the protagonists' trouble tend to be women. Fans of Lovecraft and pulp fiction novels from the forties and fifties will definitely enjoy these short stories.
Overall, this collection of Leiber stories is a wonderful representation of his body of work. It is a fantastic sampling of the best of his science fiction, urban horror and fantasy stories. Strahan and Brown have brought together seventeen Leiber stories in a volume that is a great start for anyone new and unfamiliar with his style, but also great for the long time fan wanting a more varied sampling at their disposal. Read the introduction by Neil Gaiman before you dive into the rest of the book. There is something about seeing Mr. Gaiman expose his inner fan-boy that makes this collection even more enjoyable.
Rating: 4 / 5 Stars