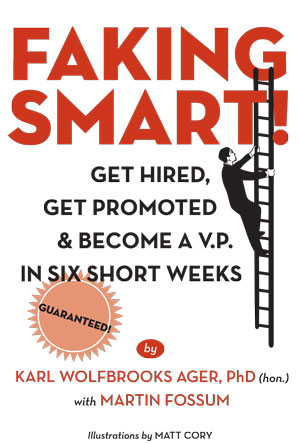 Title: Faking Smart! Get Hired, Get Promoted and Become a V.P. in Six Short Weeks – GUARANTEED!
Authors: Karl Wolfbrooks Ager, PhD (hon.) with Martin Fossum
Illustrator: Matt Cory
Publisher: CreateSpace
Release Date: January 13, 2011
Have you ever wants to get on the fast track to success? Stuck in a dead-end job and want a change? Or maybe you're unemployed and know that a cushy title is just what you need to motivate you to succeed. If this sounds like you, then you have to get the new book Faking Smart: Get Hired, Get Promoted, & Become A V.P. In Six Short Weeks. In six short weeks you can go from loser to leader!
This self-help guide will take you through the six steps needed to move your way up the corporate ladder. Where to begin? Getting employed, and that's what the first chapter will help you with. You'll learn how to pad your resume, ace the interview, and dress for success. Or you could skip all that and just show up at a workplace and start working. Show initiative, even if you aren't supposed to be there!
Once you're in, you're on the way up. This guide will teach you how to outfit your cubicle so you appear both accessible and motivated. And once that façade is in place, you can go about hiring an assistant and making yourself appear to be more important than you already are. No need to be a hard worker as long as you pretend to be. Also, start using those around you for your own benefit. If you can't manipulate them into doing your bidding, start spreading rumors about your higher-ups. Getting them kicked out will let you slip into their roles and you're on step closer to the top.
The writing by Ager and Fossum, coupled with the brilliant illustrations by Cory, draw you in and make you think "yes, I can" rather than "this is crazy." Crazy like a fox, maybe! If you're a fan of amusing satire and mockery of the corporate structure, then you can't lose with this book. And who knows, maybe in six short weeks you can be a V.P. All you have to do is start faking smart.
Rating: 3 / 5 Stars