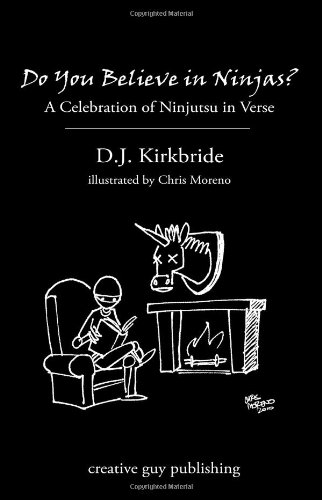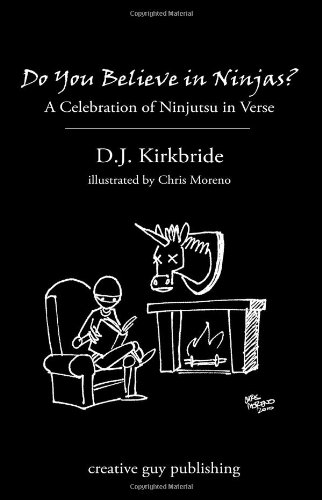 Title: Do You Believe in Ninjas? A Celebration of Ninjutsu in Verse
Author: D.J. Kirkbride
Publisher: Creative Guy Publishing
Release Date: November 15, 2010
Do You Believe in Ninjas? is a book of poetry that celebrates ninjas, or those who practice the traditional Japanese technique of espionage characterized by stealthy movement and camouflage. Released last November by independent publisher Creative Guy Publishing, Do You Believe in Ninjas? is the brainchild of POPGUN comic book writer/editor D.J. Kirkbride, who simply describes the book as "poems about ninjas." Kirkbride was nice enough to send us a copy of Do You Believe in Ninjas?, and I had the privilege of reading the author's rhythmic take on ninjas and their way of life.
In reality, Kirkbride's Do You Believe in Ninjas? is far more than just "poems about ninjas." Kirkbride's verse plays with both poetic form and diction while presenting readers with playful and entertaining subject matter. Do You Believe in Ninjas? utilizes myriad forms of poetry ranging from free verse style to the highly structured form of haiku. Unlike many contemporary poets, Kirkbride bends the language to fit the poetic form, rather than vice versa, using the phonetic spelling of vernacular terms — and in some instances even creating his own words — in order to do so.
Although the majority of the poems take an irreverent tone, Kirkbride's poetry comes across as humorous rather than flippant. Inevitably readers will feel as though they are on the receiving end of an inside joke when they read Kirkbride's poems, even as they are scolded that "Ninjas DO matter, son."
Do You Believe in Ninjas? is composed of more than sixty poems, each of which address various "universal truths" and concepts about ninjas, such as "Ninja Hunger" and "Ninjas Don't Jazzercise." Although Kirkbride's poems are at times contradictory, the collection as a whole presents several ideas over and over in slightly different ways. For example, readers will discover not only that ninjas are people, too, but that ninjas are better than most people…  and that they face some of the same problems that the rest of us have to deal with on a daily basis.
As with any poetry collection, certain selections from Do You Believe in Ninjas? will resonate with some readers, while other poems will be favorites for other readers. Personally, my favorite poem in the book is "Officer Ninja," a short, simply constructed work about a ninja that becomes a cop. "If a ninja becomes a cop,/ You know crime in his town would stop," writes Kirkbride, "A ninja upholding the law./ The other cops would watch in awe."
Kirkbride's book is a refreshing read given its subject matter, especially when we take the proliferation of fiction and poetry about zombies and vampires over the past several years into consideration. Running 110 pages (you'll have to take my word for it because the pages are numbered in Asian symbols), Do You Believe in Ninjas? is a quick and satisfying read and an excellent example of the creative power of poetic verse.
Do You Believe in Ninjas? is available in paperback or ebook format from Amazon, Chapters, Powell's and Barnes & Noble. The paperback version is illustrated by Chris Moreno, whose drawings only serve to increase the hilarity of Kirkbride's verse. For more information on Do You Believe in Ninjas? A Celebration of Ninjutsu in Verse, D.J. Kirkbride, Chris Moreno, and other books published by Creative Guy Publishing, visit the publisher's web site at www.creativeguypublishing.com.
Rating: 4 / 5 Stars