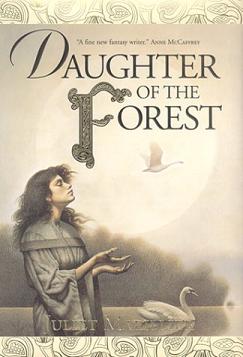 I have always enjoyed fantasy, and I absolutely adore historic fiction, so one would think that I would naturally gravitate towards Juliet Marillier's Daughter of the Forest. However this book and I were several years in the making. I would go to the bookstore, be attracted by its cover, and then shy away from the idea of "another" Celtic fantasy. Not that I had ever really read any, but for some reason or another I held this strong opinion about the subject. Finally one day I broke down and bought it, and in many ways was surprised.
Summary: (Spoilers)
Sorcha is the youngest of seven, and if you asked her father she should have been the seventh son of a seventh son, but instead she had to mess things up and be, well, a girl.  Her mother died in childbirth, another thing her father never could forgive her for so she was practically raised by her brothers. She and her brothers were all very close, but she was closest to Finbar. With him she shared a telepathic bond with which they could have whole conversations and share thoughts and feelings. Despite her father's distance life seemed ideal for Sorcha and her six brothers. That is, until Lord Colum brings home the Lady Oonagh.
There is clearly something sinister about this mysterious lady and her hold on their father, but the children seem powerless to do anything to stop her.  In their desperation they join forces in an attempt to call forth the Lady of the Forest to aid them in their time of need.  However, instead of calling forth a benevolent spirit they bring the Lady Oonagh crashing down on them.  By fate Sorcha escapes, but her brothers are turned into swans in the Lady Oonagh's attempt to rid herself of the children.
Soon Sorcha is visited by the real Lady of the Forest who informs her that all is not lost.  If Sorcha can make thread and weave it into six shirts, which she then places over her brothers necks, they can be saved.  But there's more; no task set down by the fair folk is that easy.  The fiber she must use to make the shirts is a thorny vine which will ruin her hands.  She must not speak from the moment she begins until the last shirt is made, and of course, she may receive no help in creating the shirts; she must make them all herself.
The story continues with one bad turn after another for Sorcha.  She does, however, find a friend in one of the most unlikely places. After nearly drowning she is saved by Red, a large Englishman, and together they help each other survive the continuing catastrophe that follows Sorcha around.  Returning to England with Red, she continues her work, but is treated like an outcast and eventually becomes the target of Red's evil uncle who goes so far as to try and burn her at the stake for witch craft.  Calling to her brothers to find her, in what seem to be her last minutes, she puts on the shirts, except that the last one isn't finished…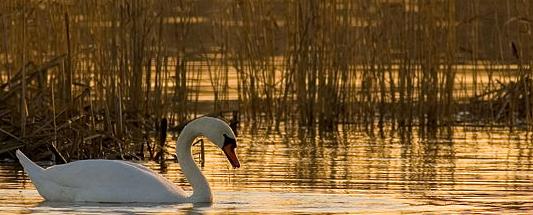 Review:
I cheated and stopped the synopsis before the end.  If you liked it that much, you should really read it.  Fans of Celtic Fantasy or really any form of Historic Fantasy will likely love this tale.  I should also mention I could have very well reviewed this when I was covering fairy tales.  Daughter of the Forest is a retelling of The Six Swans.  The Six Swans is a fairy tale told most notably by the Brothers Grimm and Hans Christian Anderson.
As much as it relies on the fairy tale plot, the story is really about Sorcha and the hardships she must face to bring back her beloved brothers.  There were certainly some parts where I felt that Marillier may have gone a bit too far in pointing out that Sorcha was perhaps the most unlucky person on the face of the planet, but overall it was an enjoyable read.  I can certainly say it didn't live up to my apprehension. I enjoyed it far too much for that.
While there were parts that dragged, I was compelled to continue reading to find out if she could possibly finish her task in time to save her brothers.  I wanted to read on to find out happened between her and Red.  Overall the characters really drew me in and made me care about them.  With all of the grief that Sorcha had to go through she still remembered what she was doing it and didn't give up.  Perhaps she was stronger than any person could really be, but that is where the fairy tale aspect comes in.
Overall Daughter of the Forest was an interesting read, and I am glad that I picked it up.  Again, if you're a fan of the fantasy genre and are looking to shop around styles this will be a good one to introduce you to historical fantasy.  If you're already a fan of the subgenre, why haven't you picked it up? There are certainly parts that feel a bit cliche, and those sections of the story seem to be the ones dealing most heavily with the fairy tale weaved in.  I'd score this a 7 out of 10.