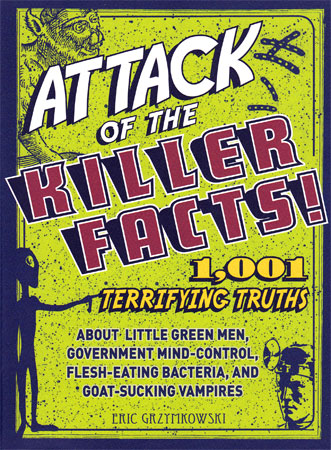 One of the inherent components of geekhood is the acquisition of knowledge. Whether it's a memorization of the Star Wars Imperial rank pin designations, the masses of celestial bodies, or every line from the Buffy musical episode, knowledge is geek power, and the more esoteric and weird the better. Eric Grzymkowski recognizes this need, and he has assembled 1,001 bizarre nuggets of wisdom in his book Attack of the Killer Facts!: 1,001 Terrifying Truths, in stores May 18.
The facts collected here range from the mildly strange to the outright bonkers, many of them stretching the limits of credibility. Grzymkowski always annotates the facts with bibliographic references to his sources, but even he admits in the introduction that "all 1,001 facts contained in these pages are 100 percent probably true. Maybe." Most of the facts are plausible, though, and point out bizarre statistics, strange behavior, or incredible circumstances.
The book is divided into fifteen categorized chapters, each containing an array of themed facts. The lineup gives a hint at the sorts of craziness described in each section:
Microscopic Mayhem
Extreme Insects
Freaky Food
Circus Freaks
Insane Asylums and Crazy People
Human Abnormalities
What's This Thing Do?
Myths, Urban Legends, and Hearsay
Animal Oddities
Paranormal Phenomena
Aliens and UFOs
Death by Lava Lamp
Let's See What Happens
Weird Worldwide Customs
Even Crazier Phenomena
Each fact is presented with a bold headline, followed by the fact itself. Either beneath or to the side of each fact is the fact's credited source, with outlets like Gizmodo, Time, and How Stuff Works being cited. Every fact entry concludes with an italicized comedic zinger as commentary, but most of the facts are funny or weird enough on their own that the concluding remarks seem unnecessary.
This is not the sort of book you're apt to read cover to cover in one go. Rather, it's the sort of thing you'll keep around to look at every once in a while, and it'll provide some awesome conversation starters for the next time you're hanging out with your fellow geeky friends. For example:
Inherent sadistic streak in dentists confirmed! The electric chair was invented by a dentist, Dr. Alfred Southwick. Not surprising; dentists have been perfecting torture devices for centuries.
Doctors can't create freaks! It is illegal in the United States for doctors to perform any body modification surgery that alters the physical appearance of the patient beyond societal norms. Correct me if I'm wrong, but I'm pretty sure there aren't too many women with quadruple D breasts floating around in nature.
Aliens all around us! One in five adults believe aliens are hiding out on earth disguised as humans. I believe they're disguised as lemurs. Poorly.
Attack of the Killer Facts! is published by Adams Media and is in bookstores now.