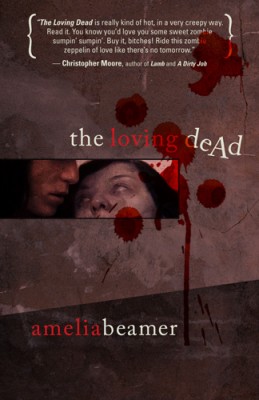 Title: The Loving Dead
Author: Amelia Beamer
Publisher: Night Shade Books
Release Date: July 1, 2010
When Kate and Mike planned their house party, they had no idea that the event would be one of the last times they would see many of their friends alive. As they watch a mysterious disease strike their friends one by one, Mike and Kate reach one simple but unbelievable conclusion: zombies. The two find themselves at the center of what appears to be a steadily growing zombie outbreak, but these zombies are unlike any they've ever seen depicted in the movies or on TV. These zombies aren't just hungry… they're horny.
Although author Amelia Beamer's debut novel, The Loving Dead, gets off to a slow start, it picks up after the first 30 pages or so, proving to be a humorous and stomach-turning journey through a very realistic 21st century zombie outbreak. Even stranger than a disease that turns the Average Joe into a flesh-eating monster, however, are the unusual side effects that Kate and Mike witness, specifically the increased sexual drive and sexual promiscuity that the victims display as the disease manifests. As Kate and Mike painfully discover, the zombie disease can affect anyone and everyone at any time, even people with "zombie contingency plans" kicking around in the back of their minds. When push comes to shove, however, the likelihood of surviving a real life zombie apocalypse is slim-to-none at best, regardless of how many times you've watched Dawn of the Dead.
When Kate and Mike become separated, The Loving Dead turns into a story that balances compelling and frustrating, as the two friends play phone tag with shoddy cell reception and continually fail to meet up with one another. The characters' effort to find each other makes The Loving Dead a page-turner that will have readers wondering with each passing chapter whether Kate and Mike will survive the zombies and lawless thugs that roam the streets, or die trying.
Beamer does an excellent job conveying the emotions of her characters and painting a picture of the devastation and gore that they encounter as they try to make their way out of San Francisco to the safety of Alcatraz. Readers will feel firsthand the frustration and foreboding that Kate and Mike experience as they are forced to fight for their lives and confront the repercussions of the decisions they make, their feelings for one another, and their fear of commitment. Yet readers will never predict the surprise ending that Beamer has in store!
Amelia Beamer's The Loving Dead is set for release in July, but the novel is also being serialized on ameliabeamer.com. Currently, chapters 1 through 13 are available online, and the entire novel will be published on Amelia's web site prior to its official release date. Check back each week for a new chapter, and read the entire novel before it even hits the shelves!
Amelia Beamer works as an editor, reviewer and photographer for Locus: The Magazine of the Science Fiction and Fantasy Field. She has won several literary awards, and published poetry and fiction in Interfictions 2, Lady Churchill's Rosebud Wristlet, and Red Cedar Review. She plans to follow her debut novel with another zombie tale titled The Living Dead 2. For more information on Amelia Beamer or The Loving Dead, visit Amelia's web site.
Rating: 3.5 / 5 Stars