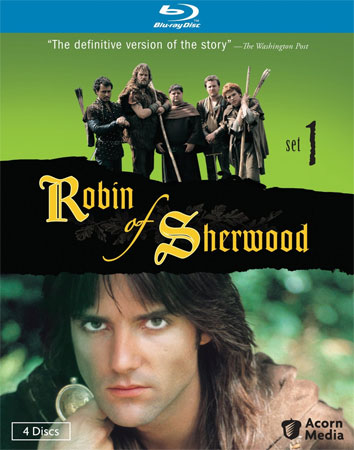 Folklore and legends long have inspired adaptations as movies and TV shows, and a handful of these tales tend to show up every few years with a new retelling. The story of Robin Hood is one of the most popular legends that has borne countless adaptations, from Robin's first appearance on screen in 1908's Robin Hood and His Merry Men through 2010's lackluster Ridley Scott film. Through the decades of Robin Hood movies and series, a select few titles stand out as truly innovative and important in the maintenance and evolution of the folk hero. HTV's mid-'80s TV show Robin of Sherwood stands tall in the field of adaptations, and Acorn Media celebrates this important series with their new Blu-ray release, Robin of Sherwood: Set 1.
Robin of Sherwood premiered on ITV in 1984 and ran for three seasons before being canceled due to the production studio's waning budget and the show's high per-episode cost. The first two seasons, arguably the best years of the show, are collected in this Blu-ray set. Michael Praed stars as the titular Robin of Loxley, and these first two seasons chronicle his adventures with the Merry Men of Sherwood, his conflicts with the Sheriff of Nottingham (Nickolas Grace) and his men, and plenty of robbing from the rich to give to the poor.
Unlike its predecessors, Robin of Sherwood presents the Robin Hood legend in a realistic setting of pre-Christian Britain. Tonally darker and more atmospheric than earlier adaptations, it takes risks with the legendary characters that previously were unseen while still recounting the familiar tales. It's a tonal and developmental choice that would influence not only future Robin Hood adaptations but also the entire genre of folklore-based movies and TV shows. The romanticized gallantry and daring do are replaced with a more believable world where history and pagan mysticism somehow coexist to create an immersive and engaging fantasy.
The first two seasons comprise 13 episodes overall, all of which are assembled on the three Blu-ray discs included in this set. The Blu-rays also feature audio commentary tracks on five of the episodes, as well as a behind the scenes documentary and a massive photo gallery. The Irish folk band Clannad provided the music for the entire series, and four episodes are presented here with the option to watch with only the music tracks playing. In addition to the Blu-rays, there also is one bonus DVD included, featuring two extensive making-of documentaries, three shorter episode-specific featurettes, and 16 minutes of outtakes. Alternate credit sequences complete the bonus materials on the DVD, rounding out a truly definitive set.
Robin of Sherwood gained something of a cult following after its three seasons ran in the 1980s, and its devotees will love having their beloved series on Blu-ray with a great selection of bonuses. Fans of folklore and the Robin Hood legend also should check this series out, both for its own merits and for its visible influence on the future of Robin and his cronies.