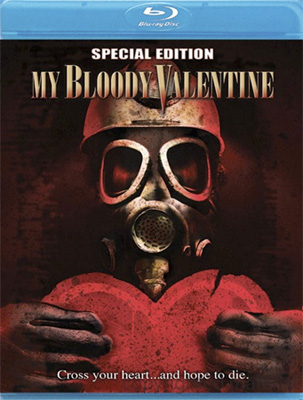 Title: My Bloody Valentine (Special Edition)
Release Date: November 24, 2009
Valentine's Day is a very special holiday — one where you let that certain someone know how much you love them by showering them with many Hallmark favorites like cards, candy, jewelry, bloody hearts… what? You've never showed your girlfriend how much you loved her by giving the gal a human heart in a chocolate candy box? Jeesh, kids these days.
Here's a synopsis of the film from All Movie Guide:
It's Valentine's Day in the tiny mining town of Valentine's Bluff, Nova Scotia, and for the first time in two decades the residents are planning a holiday dance. The long hiatus is due to the tragic events of 20 years earlier, when a pair of mining supervisors were too busy enjoying themselves at the dance to prevent an accident from killing a large contingent of their workers. The lone survivor, Harry Warden, took his revenge the next year by removing the hearts of his bosses and promising similar carnage if ever another Valentine's dance were held. Unfortunately, the town's horny early-'80s youngsters aren't big on tradition, especially since Warden is locked up in an insane asylum. They go ahead with plans to celebrate the holiday.
That's when the pick axe-wielding miner kicks off the real carnage.
My Bloody Valentine (not to be confused with the 2009 3-D remake) is a fantastic horror classic filled with an equal share of comedy, romance and gore. Finally this horror gem is getting its uncensored justice. After John Lennon's death, the MPAA demanded the removal of much of the film's gore. Last year, almost 30 years later, Lionsgate Home Entertainment got the rights to re-release this classic on DVD with all of its brutal and blood-drenched scenes added back into the film. MBV has finally become what it has always meant to be. For horror fans, this is like finding buried treasure! Almost like finding out about new kills in John Carpenter's Halloween. A classic practically redefined.
One year after the DVD re-release, Lionsgate is putting out a Blu-ray version of MBV on November 24th. All I have to say is "WOW!" Let me go on record by saying that I own a lot of Blu-rays but I have to give a hand to Lionsgate for making some of the best looking Blu-rays out there, this film especially! I noticed some scratches on the DVD re-release, but not on this Blu-ray transfer. It's crystal. Even though the added gore scenes are the same as they were on the DVD, they still look damn good. Actually, when you see a scene turn a reddish/pinkish tint you know you're in for a bloody good time! (Pun intended.)
Extras are exactly the same as the DVD re-release, including the special featurette "Bloodlust: The Rise of the Slasher Film," interactive horror film history, and deleted footage with director, cast and special effects designer introductions. Not a whole lot new here, but it's not like the movie needs it. The film is packed with fantastic and unique kills that would make even Jason Voorhees blush. On top of that, this film had a decent makeup FX budget. And it shows with its 1080p perfection! This is one classic that horror fans shouldn't miss on Blu-ray.
Blu-ray Rating: 4.5 / 5 Stars