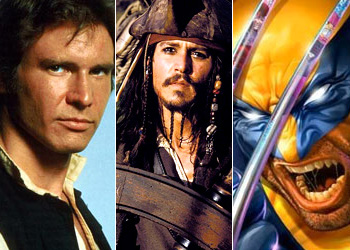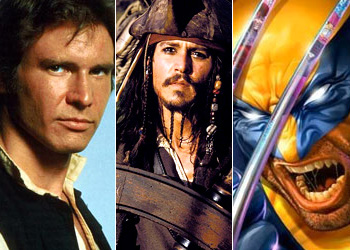 What do you get when you take a bad guy persona and inject it with good guy core values? You get the Reese's Peanut Butter Cups of genre fiction. Here's a list to show you what I mean.
Robin Hood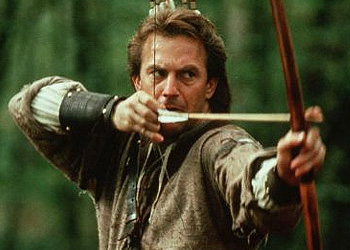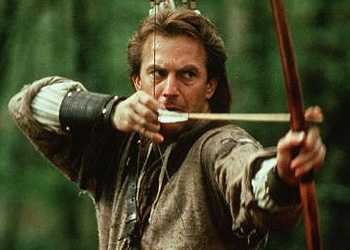 On the one hand, he robs from the rich. Robbing people is what bad guys do. On the other hand, he gives to the poor: that's what good guys do. This walking contradiction illustrates the whole concept. He's the Sheriff's nemesis, so he must be a bad guy. And instead of letting a poor maiden marry a rich king and live happily ever after, he seduces her like a rakish cutpurse and convinces her to live amongst a bunch of unruly men with no chaperone. So he must be bad!
But it turns out the Sheriff is evil. And the King is Evil! So, in Robin Hood's topsy-turvy world, you have to be a bad guy in order to help people. Perfect for Robin Hood, the icon of bad guys who do good.
Captain Jack Sparrow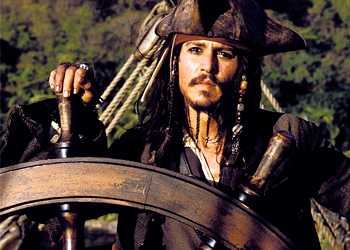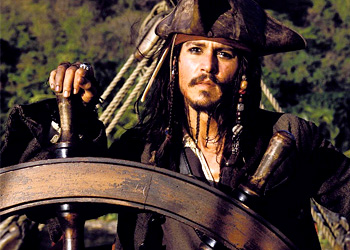 In real life, pirates are bad guys, naval personnel are good guys, and with privateers, it depends. But in the movies, pirates can be good guys, as long as they pretend to be bad guys first. Nobody does it better than Jack Sparrow (at least since they switched to color).
Wolverine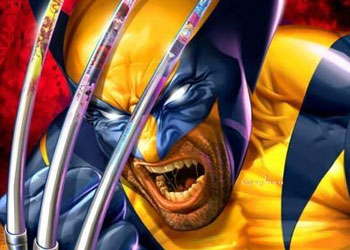 The ultimate good guy with bad guy appeal. He curses, he smokes a cigar, and he has way too much facial hair. Must be a bad guy, right? Wrong. He dabbles a bit in bad behavior, but that just makes him more effective in dealing with duplicitous bad guys. Professor X lets him baby-sit the kids. He must be good.
Hellboy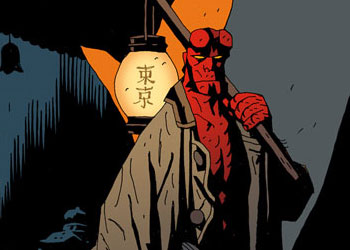 The guy is a demon from Hell. But he saves people. That's all I got on Hellboy.
Barnabas/The Vampire Lestat/Bill Compton/Angel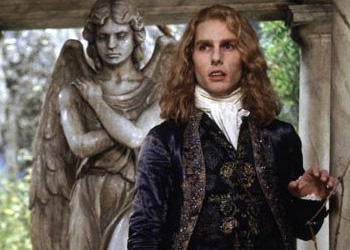 Another oldie but goodie: the vampire who's actually a good guy. The Vampire Lestat is one of the early adopters. Sure, he relishes in his evil role. And he doesn't mind that a midnight snack means killing innocent people and slurping up their blood. You could even say he's cruel. But by the third book, you realize that's just part of his charm.
And charm takes you a long way in the "bad guys who are really good guys" field. Subsequent vampires have moved further along on the good guy scale, and lost a lot of charm because of it. But the idea is the same: most vampires are evil, but [insert your favorite blood sucking good guy] wants to be good, so he's all conflicted and stuff.
The Fonz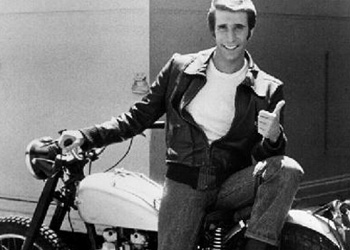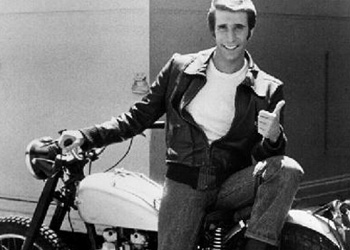 Nowadays, if you have a lot of product in your hair, wear t-shirts and jeans, and ride a motorcycle, you're probably a yuppie. But back in the day it meant you were a rebel, hell-bent on causing trouble for trouble's sake. That is, unless you were Arthur Herbert Fonzarelli. At first, he wanted to beat the snot out of Richie. But then he befriended him and became a protector. Then he became a role model. Then he jumped the shark.
Han Solo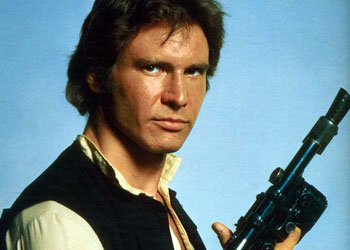 The classic bad guy who's really good, Han Solo's got it all: looks, charm, and a seven-foot walking rug to cover his back. We first meet him in a seedy bar (so seedy, in fact, they don't even allow droids) when our young hero with a lot of potential and even more to learn needs to hire a ship. You'd think a smuggler is a bad guy, until you realize that his smuggling breaks the rules of an evil empire. In a topsy-turvy galaxy like that, a smuggler might be exactly the hero you need to rescue the chosen one when all seems lost. Even if he thinks hokey religions and ancient weapons are no match for a good blaster at your side.