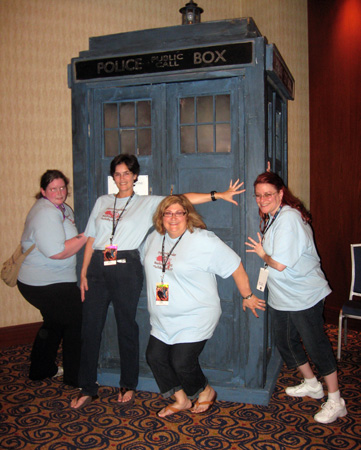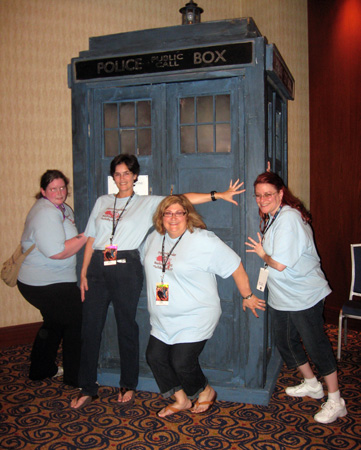 Dragon*Con 2013 officially opened Friday morning. Excitement permeated the halls as convention-goers prepared to brave the experience of navigating the pathways through the venues and the inevitable hurrying to stand in a line and then waiting for an hour or more before any panels started. But the payoff is worth it to fans. Where else can one rub shoulders with the actors who portray our favorite TV or movie characters? So here's to sharing our best and worst times at Dragon*Con 2012. Because we all know that what happens at Dragon*Con gets posted online.
Our first destination was the Torchwood panel line. Lines are an unavoidable part of cons. Be sure you pack some amusements. Nowadays, we have our smart phones that have all sorts of shiny time-wasting apps. Other choices are books, notepad & pen, snacks, or chatting with friends or other people. I have met people who have become friends while standing, or sitting, if allowed, in convention lines.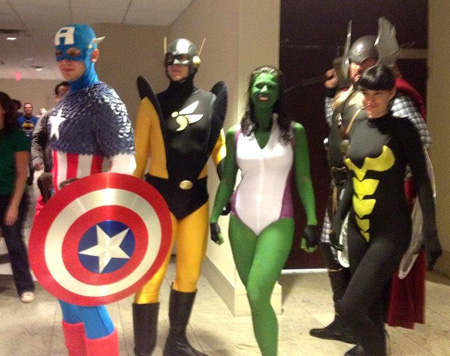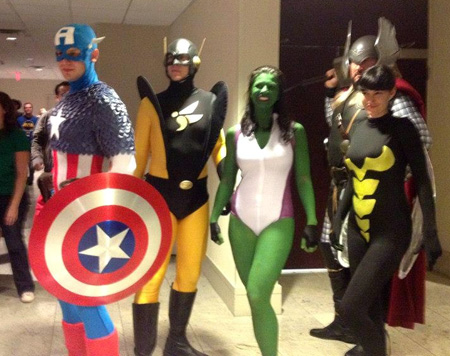 The convention staff at Dragon, all volunteer, does a great job placing and monitoring the lines for panels. However, that means the lines exit the buildings as soon as possible and the majority of each line is outdoors. Labor Day weekend in Atlanta can be sweltering, storming, or shivering, plus there's the famed Georgia humidity. If one is not used to that environment, it can feel like stepping unaware into a sauna. Traditionally, we try to line up for panels around an hour or so in advance. By that time, the line is well-formed and, sometimes, snaked around the block, even though the "official" time is 45 minutes before the start. Depending on the panel, I have known people who lined up three to four hours before the start so they could get a seat close to the front.
When we reached the end of the line for the Torchwood panel, we weren't in a bad position, but we were outside as the threat of rain loomed. Nothing like getting soaked at a convention, then having to sit in a cold ballroom-size meeting room for an hour. Not to mention that one will usually have a photo op scheduled after and no time to repair hair or makeup. Though it looked iffy for a while, the rain held off. At least the temperature was nice, in the lower 80s. We nabbed a good spot under a covered part of the sidewalk, so our wait was nice, and we talked with each other to pass the time. Loading the room proceeded smoothly. To our delight, we were able to get good seats.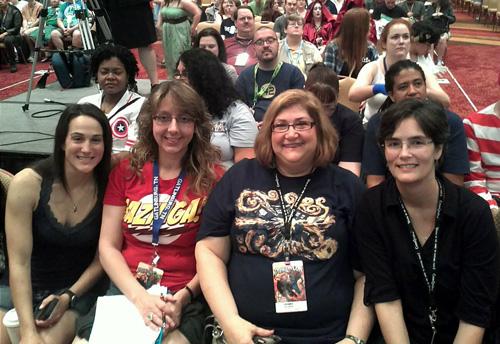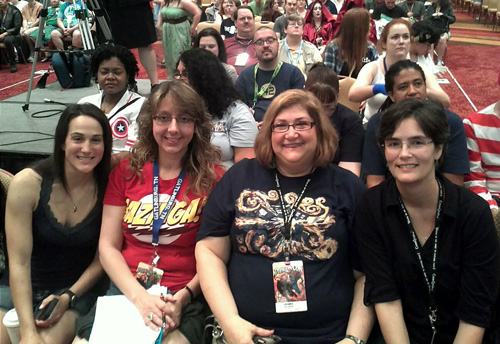 As the guests were announced, John Barrowman not only entered to rousing applause and cheers, but also treated the crowd to a little show of his own. He stood on a chair, dropped his pants and wowed the audience with a bit of a booty dance. Guess he was proud of his Megatron briefs. We all know the answer to "boxer or briefs" for him! Soon after, he greeted his Torchwood co-star, Kai Owens, with a lip-smacking kiss. Let's just sum up the antics by saying he's a born performer and understands how to entertain his audience! By his own admission, he's a self-acclaimed nerd/geek and fan boy who enjoys attending conventions almost as much as fans.
Panels at Dragon*Con are fan-based Q & A style. I like that style because it gives fans and celebs a chance to interact one on one with each other in an environment that is comfortable for both sides. Well, that can depend on the questions or even the answers. If panels had a rating like movies, most would be a high PG-13. If you choose to take younger children with you, be sure you understand words, phrases, and innuendoes might be said that you don't want your child hearing yet. Somehow, to the general masses, conventions have garnered a reputation as an activity for teens and college-age people. That might have been true 20 years ago. Now, the vast majority of attendees are definitely the over-21 crowd, and the majority of that group tends to be well over 30. There are some activities at conventions geared toward the under-16 set, but, by and large, it is an adult-oriented event.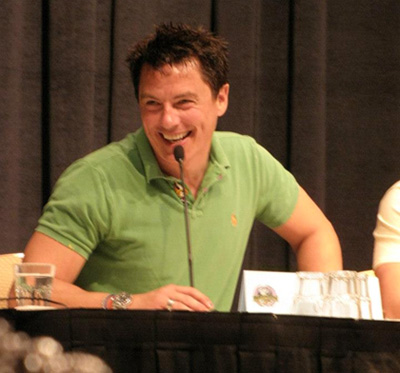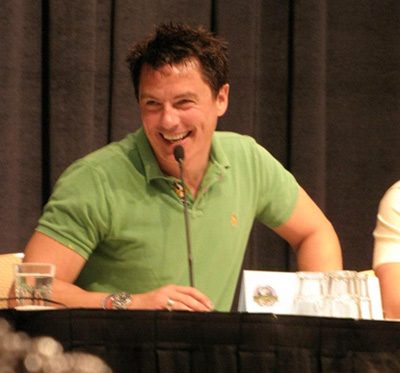 A well-known facet of John Barrowman's personality is his love of fans. He acknowledges that he wouldn't have been successful without his fans and expresses his gratitude to them. He is delighted to meet fans as much as fans relish meeting him, and it shows in his attitude. It's a quality I, as a fan, certainly appreciate in a celebrity. In general, guests I've encountered at conventions value and respect the personal contact with their fans. For most, the fans make the hassle of attending a convention worth the effort. Sure, there will always be a few who come for the money or the adoration. In my experience, that's been very few and it's the main way to lose my respect. This appreciation and respect of fans is the reason some fandoms have acquired rabidly loyal followings.
Previously, I mentioned that the "Squirrels" are foremost a part of the Stargate fandom. Everyone was excited by one of the guests appearing for the first time at Dragon*Con: Richard Dean Anderson, Col. Jack O'Neill in the flesh. RDA, as he's mainly referred to among fans, doesn't do a lot of convention appearances in each year, so it was a rare opportunity to meet him. Personally, I remember him from early in my own life as Dr. Jeff Webber on General Hospital, and of course, his most famous stint as the lead character from MacGyver. His solo panel was scheduled early Friday afternoon. Our group had to break up at this point because Kristy and I had a photo op scheduled with John Barrowman.
I like to participate in as many photo ops as I can afford each year. The pictures are my main "souvenirs". For the fan girl side of me, photo ops are an opportunity to get an extra hug from my favorite guests, too! Photo ops for some guests have a high price tag. Other than price, the downside to photo ops at Dragon is you pick the day for the photo session, but the time schedule is done by the photographer. Therefore, your session isn't always at a time you would prefer, such as smack in the middle of a panel you'd really like to see. Basically, the two of us didn't get to attend the RDA solo panel because the JB photo op was scheduled at the same time.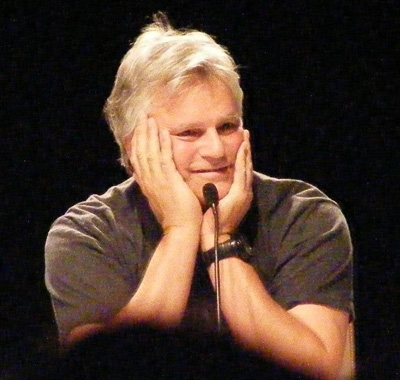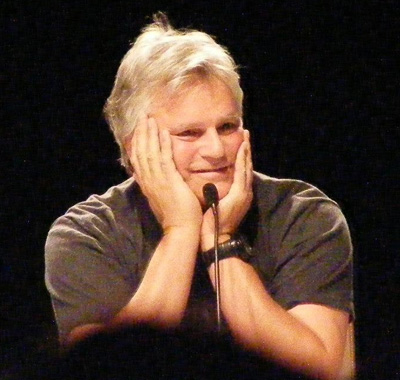 The schedule of events is the catalyst for many of the complaints heard during the weekend. With so many panels and events and a limited number of rooms to hold these gatherings, sessions that are at the top of many attendees' must-do lists end up back-to-back or at the same time in different venues. Again, like visiting a major theme park, one is forced to make choices one might not have expected. I'm not always happy about what is scheduled against each other, but I understand why it's done that way. The main way the schedule adversely affected me this year was I could only be at one Stargate panel the entire weekend. At least Dragon*Con has a policy of clearing all ballrooms between panels. This policy gives people the fairest chance of getting into or scoring a good seat for high attendance panels.
While our friends were having fun with RDA, Kristy and I were once again standing in line for our photo op. As I stated before, lines are a fact of all conventions. In my experience, photos at Dragon are less of a "cattle call" than other places. Some guests get longer lines, and with only a set amount of time for each session, the staff does try to keep the line running quick and smooth. Each photo I've done, there has been time to mutually greet each other with a couple of sentences, not just, "Hi there!"; Click; Move On. Some guests try to make the wait more bearable by having fun with fans during the sessions. Barrowman definitely falls into this category. His session was like school recess — noisy, crazy, and general mayhem. At his instigation, most of the picture poses were crazy ideas. The one I remember most was a petite woman who asked if he would pick her up during the photo. He not only obliged, but promptly turned her upside down, too, and then peeked up her shirt. He did the shirt-peeking to a lot of people of all genders. He turned what could have been a tedious amount of time into a time of fun that became a favorite memory for those involved.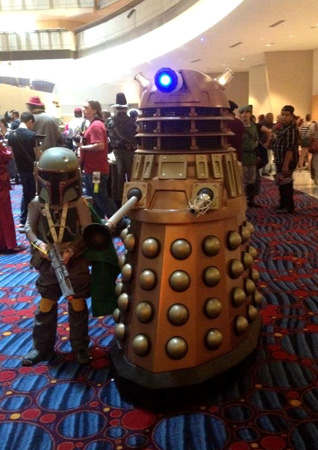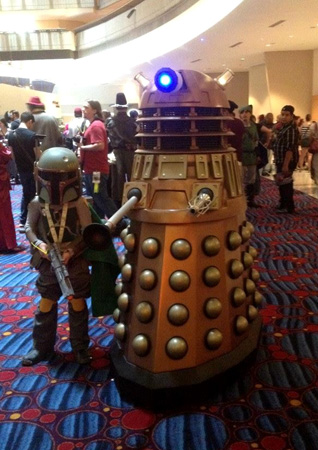 An actor I like from two of my favorite shows, General Hospital and Supernatural, was a last-minute addition to the line-up. After the Barrowman photo, I dragged Kristy off to one of the other hotels to wait in yet another line to get a photo op ticket with Sebastian Roché. My daughter and I had tickets to attend a Supernatural convention a few weeks after Dragon*Con, and I thought it would be fun to get the photo taken at Dragon and signed at the other convention. My mind does work like that. I was able to purchase a ticket for the session on Friday, a couple of hours later. In return, I agreed to attend the True Blood panel that Kristy wanted to see. We needed to get in line for it, but it was now well after noon, and we were too hungry to ignore eating any longer.
An item one shouldn't forget about when attending a con is meal-planning. So much is going on and there's going to be so many things you want to do or see, time for meals during the day can easily slip through the cracks. Some of the group packed all their food until dinner. This time, Kristy and I had decided on packing snacks and buying meals. For lunch, we decided to buy sandwiches from the small store in the Marriott Atrium and eat while waiting in line, since the panel was slated for the Marriott. As we made our selections, we giggled over the size of the pickles that were packaged with the sandwiches. One could choose a half pickle side or a whole pickle side. The pickles were probably a good 5-6 inches long. We would be consuming them in a crowded public area, too, so we chose half-pickles. Throughout all the venues, the hotel staff also sets up concession lines serving sandwiches, hot dogs, fruit, chips, and other items so patrons can grab a quick meal. I know many people are on tight budgets for food and trinkets, but considering the place and event, the prices aren't terrible — cheaper than a theme park or stadium and healthier choices.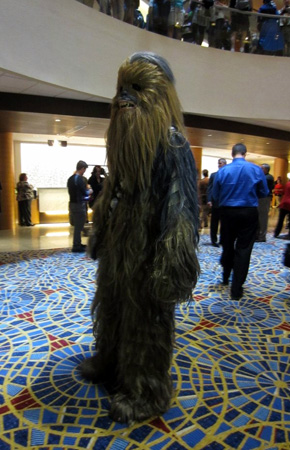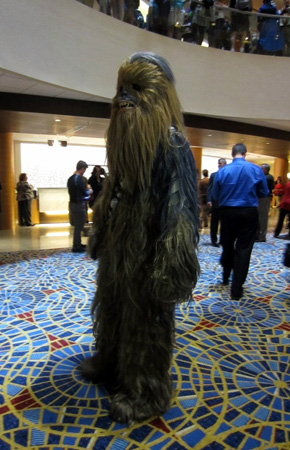 We wandered around the outside of the Marriott for about 2 ? turns of the block before we found the end of the True Blood panel line. Fortunately, we were beside outdoor steps so we could sit and eat our lunch in relative comfort. After we started eating our lunch, we found the sandwiches were quite sizable and we could have easily shared one sandwich pack. In this case, we each were left with a ? sandwich for later eating, which can also be a good happenstance. The clouds had cleared by this time, but the temperature was still mild for Atlanta at the beginning of September, so eating outside was a nice experience.
Compromise is another thing it's good to bring to a convention, especially if you come with friends who don't completely share your interests. I've never watched a single episode of True Blood. For Kristy, it's one of her favorite shows. Since I had invited and convinced her to accompany me to Dragon*Con and since it was the first convention she'd ever attended, I didn't want to abandon her. She knew I needed to leave early for the next photo session. Right after we were seated, after waiting all that time in line, I double-checked the time and discovered I had it wrong. The photo session began 30 minutes earlier than I had been thinking. I had to leave Kristy alone at the panel in order to make the photo op.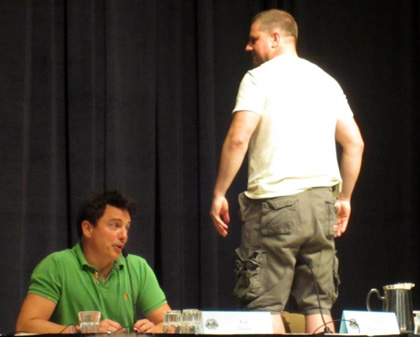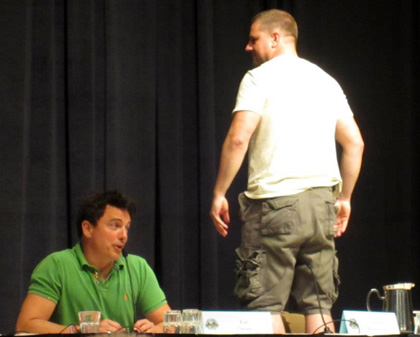 To me, celebrities I'm a fan of are people to admire for their talents and other assets. When I meet one, it doesn't have a huge impact on my life although I enjoy the encounters as fully as possible and some turn into favorite con memories. I tend to joke around or ask about upcoming projects, not have deep personal or philosophical conversations. Conversely, I know about and have witnessed encounters between fans and favorite celebrities that produce a lasting effect on that fan's life. It's a great thing when celebrities show themselves to be people with real character and genuine caring about their fans. Because not all of them do treat fans well or with respect.
I was happy to have the chance to politely introduce myself and get my hands on… I mean, pose in a respectable manner with Sebastian. Hey, he is Jerry Jax on General Hospital, after all, and he's one of the main reasons I started watching Supernatural. About eight people were in line to get a photo with him, all women. I was number four. When he arrived, he greeted and chatted with us as a group for a few minutes before the start of the photo-taking. He carries a reputation for being charming and rather naughty. He was on good behavior that day. Besides being a lovely man, both in personality and other ways — the complete opposite of most of the characters he plays — my encounter with him was normal. I did get a much-appreciated hug out of it.
But he impressed me in a completely different and beautiful way during the session. The young lady first in line was obviously shy and very nervous. She didn't have any companions with her, yet she admired him enough to find the courage to come on her own to meet him. As the photos began, her courage failed. She couldn't make herself move to stand beside him and looked on the verge of unhappy tears. Noticing her state, Sebastian came over to her, gently placed his arm around her, and led her to the photography area while telling her how glad he was to meet her. The entire time he displayed genuine caring and concern for her, the kind that is impossible even for an actor to fake. I would venture to say it was probably one of the most memorable moments of that young lady's life.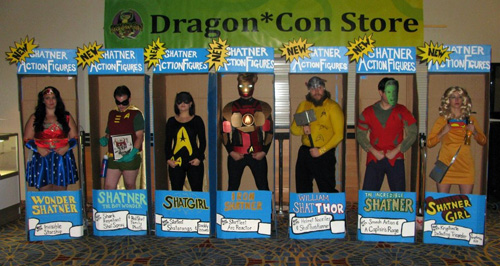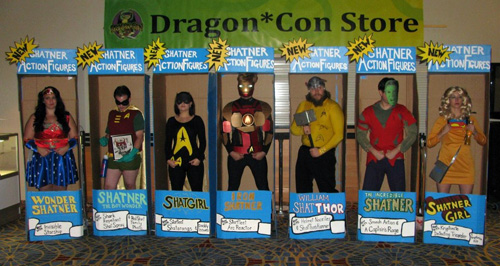 One slight aside — at the later Supernatural convention, he was surprised that my photo to sign wasn't from that convention. (We would pick that one up later, plus it had my daughter in it, too!) He asked where we had met before. Even though he didn't remember which event the photo was from, he appeared delighted that it wasn't the first time we had met. I wasn't offended or even surprised that he didn't remember. I'm more surprised when a guest does remember me, even from day to day, let alone year to year or convention to convention. The numbers of people they meet each day at a convention is staggering. I have trouble remembering people year to year from school and family reunions. But it was a fun "gotcha" moment.
Once Kristy and I reunited, we were tired and it was later in the day, so we headed to the hotel for a break. When we arrived, everyone else in our group was also there for a break. None of us had any other must-do items scheduled for the rest of the evening. We walked up to the Peachtree Center food court to grab take-out food from Moe's. My family loves to eat at Moe's, but there is only one location in the entire state of Texas! Anytime we find ourselves in the Southeast we plan to eat there. Yes, it was the second time on the same trip I had Moe's food. We stayed outside, not wanting to force our way through the ever-increasing crowds inside the Marriott and Hyatt. We circled the building looking for the entrance and, basically, took the scenic route. After everyone got their orders, we discovered an outside door right next to Moe's with an escalator that went up to street level.
Kimberly and Misty invited everyone to eat in their room. The night turned into a crazy girl gab session, the atmosphere of a teenage slumber party. Several people couldn't understand all of Jackie's words because of her accent. Kiwis use a slightly different vowel pronunciation than most of the other English-speaking countries. So when she said things like gag reel, it sounded more like, "gayree" or the name Heather sounds like "Hithr". Having her say different expressions and words caused much giggling.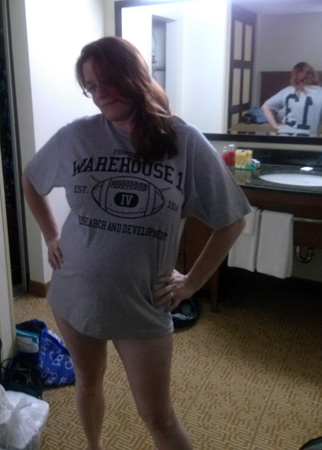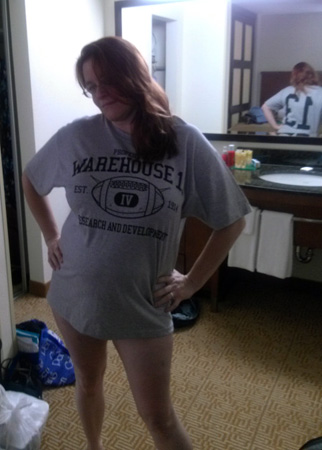 Angie purchased an Eddie McClintock original design Warehouse 13 t-shirt earlier on Friday. Eddie plays Secret Service agent Pete on the show, but is also an artist. He has designed a Warehouse 13 t-shirt to sell at Dragon*Con for the past few years. Angie owns a complete set. The Warehouse 13 cast's arrival was delayed until Saturday because of a shooting schedule change. The t-shirts had already shipped, so Eddie gave permission to go ahead and sell them at his table in the Walk of Fame. It was like a moth to a flame. As soon as she knew the shirts were on sale, she went to purchase one. At the Friday night gathering, she proudly showed off her new prize. On Twitter, Eddie announced he was holding a t-shirt contest: Send in a pic of you wearing the t-shirt you bought on Friday, and win a signed-by-him Season 3 DVD — an irresistible prospect for Angie. She needed assistance in the picture-taking, so who else would one turn to except friends?
While she was holding the shirt up, she noticed it was a bit long and the proverbial light bulb went off in her head. She came out to model it and all she was wearing was the t-shirt — no pants. A big, mischievous grin on her face, she asked, "Hey, guys, what do ya think? No pants. Do you think I should send this to Eddie?" We reacted as only true friends will, with encouragement and a dare to actually send that picture. Lots of pole dancing jokes and remarks abounded during the process, but finally, a photo we were all satisfied with emerged. The night ended with the posting of a picture of Angie in the Warehouse 13 t-shirt wearing no pants, only the t-shirt, to Eddie's feed and lots of good laughs shared with friends, old and new.