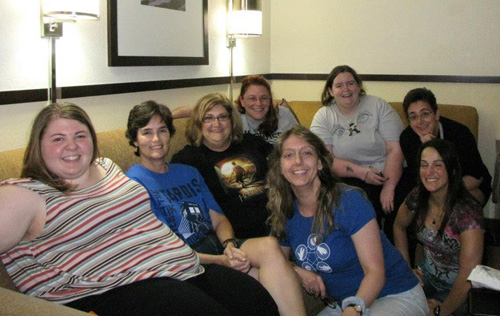 Meeting up at Dragon*Con gives everyone a focus and goal for getting together. It's our definite time once a year to party with each other. We save, plan, and plot all year for that one weekend. We escape our normal lives and don't have to worry about spouses, kids, or jobs. We drop the grown-up façade and act like we're preteen fan girls. Squeeing is not only allowed, it is encouraged.
Most of us haven't seen each other for a year or more. Everyone plans to arrive on Thursday; the event officially begins on Friday and runs through Monday afternoon. Our group reserved rooms on the same floor of the hotel, and our hall quickly reverted to college dorm status. Running between each other's rooms at all hours and playing pranks on each other, like knocking on the door, then running away. The friends I was hanging with this year are Angie (Ohio), Katie (Missouri), Kimberly (Florida), Misty (Georgia and the world), and Jackie (New Zealand). Other friends like Mary (Nova Scotia) and Krystal (Illinois) also dropped by for visits. The numbers of our entire group of friends and acquaintances who attend Dragon*Con usually runs well into double digits. We're all part of a larger, global group known as the "Squirrels".
The "Squirrels" are connected into the Stargate fandom. Specifically, we are, above all else, fans of actor David Hewlett and supporters of his projects. Several years ago, David launched his own website as a forum for like-minded geeks to chat about all the geeky things they love. Initially, this website is where we all "met". David is the one who coined the name "Squirrels" to describe the members of the website. He remarked in a post that you lot chatter like a bunch of squirrels. Plus, he has an affinity for and a family history with squirrels. The name stuck and the members bonded into a community, with many people forming real-life friendships that transcend the boards and geographical boundaries.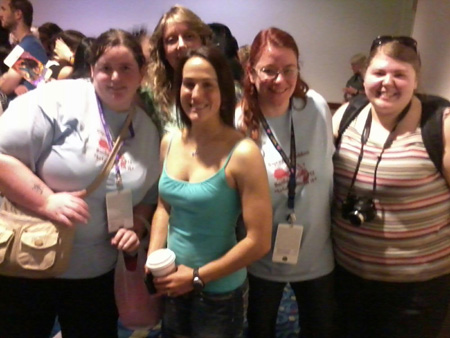 Squirrel friends talked me into attending Dragon*Con a few years ago. Before that, I hadn't been to a convention since between graduating college and becoming married. The strange thing is the one I had gone to most was Dragon*Con, in its early years. Once one has been converted to repeat convention-goer status, it becomes a life mission to witness to and convert your friends into Dragon*Con attendees. This year, I had a minion — I mean, my friend Kristy — attend with me from our town in North Texas. She's a Doctor Who and Torchwood fan and has an affinity for those vampire shows. Also, it was her first true visit to Atlanta, whereas my family lived in the Atlanta area for sixteen years before we moved to North Texas.
Other than the fact that I have to take drugs when flying and that we didn't want to eat a lot of breakfast before the flight, our trip from Texas was uneventful. Except when we checked in and my suitcase was overweight, and we had to transfer some of my clothes to Kristy's luggage. That was the only blip on the radar. By the time we arrived in Atlanta a couple of hours later, I was fairly drunk from the meds and Kristy needed a pick-me-up, so we indulged in a coffee break before we left the airport. The cashier at the shop helped us create our own "custom blend" from the available flavors. It was tasty. When we arrived at the hotel in mid-afternoon, the first people we encountered were several of our group — Angie, Katie and Kimber. They arrived early in the day and were waiting on the shuttle to pick them up for a Publix run, an important first day stop for supplies.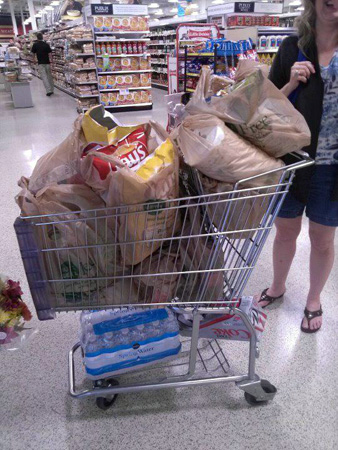 None of us can go anywhere without causing a series of adventures, and word is, the Publix trip was no different. There was a deliberation over buying guacamole. Katie and Kimber couldn't make up their minds. Angie had to settle it, after being asked in unison stereo: "Do you like guacamole?" It's an understandable situation because Squirrel minds do think alike. They spent time getting friendly with the van guy. When they were ready to leave, he tried to convince them he didn't know how to get back to Publix, even though he was the same guy who dropped them off. When he arrived, they were waiting with a couple of carts full of food, drinks and other items, close to enough to feed a family for a week. But one can be inspired to overbuy in Publix. If your area doesn't have one, it's one of the best grocery chains in the country. Shopping in their bakery and deli should be on the list of deadly sins. The bags took up all the storage space in the back of the van. Kimber climbed in the van and started to shut the door, only to discover Angie wasn't in the vehicle! She had gone to put the cart in the rack. The driver told Angie that Kimber had bribed him to leave her.
Unfortunately, Kristy and I were unable to accompany them on the Publix field trip and missed that mayhem because we had business to take care of, like hotel check-in and convention registration. Plus, we were in need of some relaxation time after our trek from Texas, the hike through and subway ride from the airport, and another hike from the train station to the hotel with my heavy baggage. We had to wait a while at check-in. A guy (and obvious fellow Dragon*Con attendee) was arguing with the front desk clerk because the charge was higher than he expected. As people are wont to do in the convention environment, he had packed more people into the room than he had stated on the reservation. When we got to our room, it was nice to sit on the bed for a while and listen to the quiet, unlike our homes — no kids or husbands to make noise! After our break, we set out for the Sheraton to tackle registration.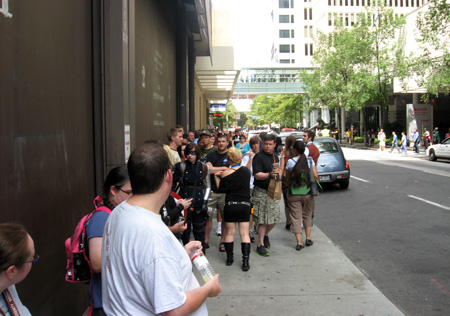 In the past, Dragon*Con has been notorious for its registration system. The line to register has been known to exceed the length and wait times for Space Mountain. People line up to register before they even check in to their hotels. One to two hours was considered a reasonable and not bad wait time. Registration is inside the Sheraton. It's always been a good idea to bring a drink, and an item such as a book or an iPod to help pass the time. The line often wrapped around the entire block where the Sheraton is located before one even got inside. Once inside, you followed a colored line to registration, then found yourself lined up in yet another queue. This one wound back and forth across one of the larger ballrooms, wending its snail's pace way from the back to the front where the actual registration occurred. But, the Dragon*Con organizers have successfully reformed this process. We were prepared to wait a while even with the new, improved version of registration. It was around 3 p.m. Thursday when we arrived to register, and we walked straight through the ballroom and right to our table. The whole process took less than 15 minutes. The longest wait time I heard from anyone was around an hour. Kudos to the Dragon*Con staff for actual improvement to the registration process.
Since registration took up such a short amount of time, we had a bit of extra time on our hands. We needed a bite to eat, so we headed over to the food court at Peachtree Center. Destination: Moe's — Southwestern grilled tacos and burritos with a whole bag of chips, literally. Moe's is one of the places our family misses from the Southeast. There is one in Texas and it isn't near us. Yes, I mean the entire state. We both chose tacos, and we did have a full bag of chips left over. The real surprise — we sat alone at a table in the food court, the only time that would happen over the rest of the weekend.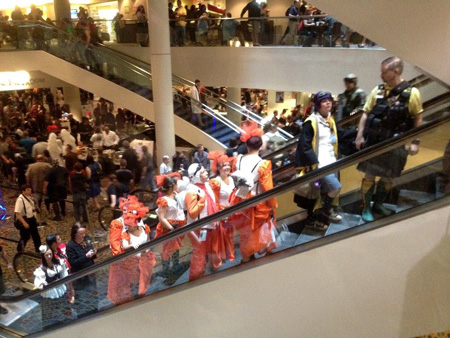 During all this time, I gave Kristy a walking tour of the convention area and that part of downtown Atlanta — all the hotels, sky bridges, and escalators we would be utilizing during the next few days. After, she was thoroughly confused about what was where. Dragon*Con isn't held in a single convention center. It's spread out through a somewhat square several-blocks-long area in the heart of Atlanta. The main host hotels are the Marriott Marquis, the Hyatt Regency, and the Hilton, which are connected by a series of sky bridges. Other host hotels are the Sheraton and the Westin Peachtree Plaza. The Westin is one of the most famous buildings in downtown Atlanta. It's fun to ride the outside elevators up and down, and one sees a great view of downtown.
If it's one's first visit to either Dragon*Con or Atlanta, sorting out each location and its relationship to the others can be a daunting task. It's another good reason to arrive on Thursday if one can. You'll have time to get oriented before the weekend crowds arrive. We are unwilling to reveal the hotel we stay at, other than to say it's not a host hotel. The first time I went back in recent years I stayed at the Hilton with Angie and Katie. Even with the con rates, the host hotels are quite expensive, but they're luxurious and in the heart of the action. It's good to have the full experience at least once.
As we made our way to the food court, Kristy saw people advertising for the Blood Drive and decided she wanted to participate. That took up much of later Thursday afternoon. Even though it was a bit of a wait, it's a great cause. In this case, the wait wasn't really a pain because a long line in support of a charitable cause is a good thing. Plus, by doing it on Thursday, it doesn't interfere with any convention activities like panels. Besides the knowledge she helped people in a real way, she also got a cool geeky T-shirt. The Blood Drive is open the entire time of the convention. Over the four-day weekend, several from our specific group, and many of the Squirrels, participated in the drive.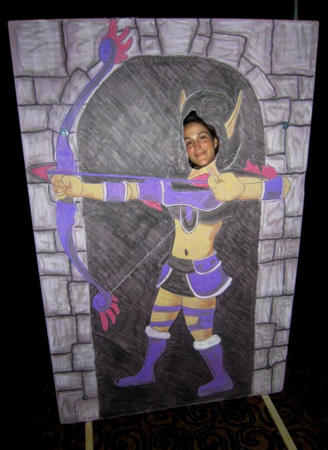 At the hotel, we met up with our friends for a group dinner. For the first time, I met Jackie and Misty in person. Jackie is from New Zealand, and this was the second year she had traveled to Dragon*Con. Misty is our soldier Squirrel. She and her husband, Matt, serve in the Army, active duty. When she first joined the ranks of the squirrels, they were in the middle of a tour of duty in Iraq. They are part of the signal corps. Definitely want to give the two of them and their platoon a shout-out for their willingness to defend our freedoms all over the world.
By the time all of us headed to the Metro Diner Café, it was quite late for dinner. Even so, the restaurant overflowed with people. Seemed like at least half the Dragon*Con attendees had the same idea for dinner. After a couple of false starts, we finally were seated about 40 minutes after arriving. Angie passed the time by drooling over the display of the signature cakes. The restaurant is known for its karaoke bar, a popular activity. It was fun to watch and listen. Some were bad, some were atrocious, and a few were quite good. We sang along from the table, but none of us was brave enough to sing in front of the crowd. There was a crowd sing-a-long to Weird Al's "The Saga Begins", a Star Wars parody of "American Pie". Most of the customers knew all the words to the Weird Al version.

Ordering and receiving our food took forever. At first, we thought it was because of the crowds. On a second visit later in the weekend, we discovered it was just due to bad service. The food was mediocre at best when it did arrive. Well, everyone's food except Kristy's came, and she needed food more than anyone. She was close to crashing by that point because of her earlier blood donation. Angie and I were ready to take down the waitress, both standing and shouting to get her attention. The two of us may act the craziest and silliest of the group, but when our friends are wronged, we're also the first to come to their aid and defense. Just part and parcel of the Squirrel attitude. So, under duress, we were able to finally get Kristy her plate. Jackie snurched her drink glass, or as she dubbed it, a souvenir. Angie capped off the evening by ordering a slab of chocolate cake with mint icing.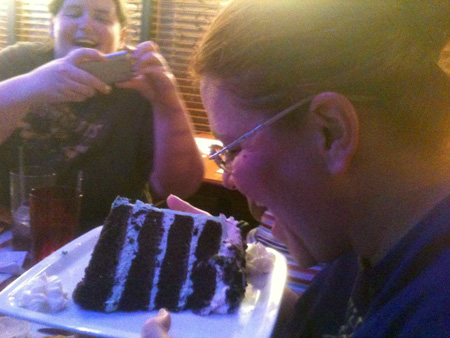 As we made our way back to our hotel, via some of the host hotels, we noticed people already parading around the common areas in costume and that the areas seemed more crowded than usual for a Thursday evening at Dragon*Con. We noticed, but didn't give it much thought. Little did we know, the crowds would, to a great extent, set the tone for this year's time at the convention once it officially opened into full swing.