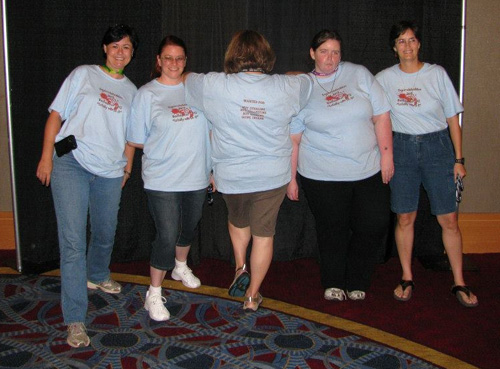 Some friends have yearly weekend get-togethers in Vegas or at the beach. Each year over Labor Day weekend, my geeky friends and I meet up at Dragon*Con in Atlanta. It gives us the chance to leave our lives and responsibilities behind and let our inner fan girls come out and play. If you've never been, Dragon*Con is a great place to play for the geeky and nerdy. Sort of like Disney World for geeks, but without the rides, unless one counts riding the escalators or elevators.
Dragon*Con is one of the largest multimedia pop culture conventions in the world. The convention boasts more than 35 fan-based tracks, over 3500 hours of panels, workshops, gaming, film festival, art show, comics and pop art, nightly shows and parties, dealers and exhibitors, and costume contests, and it's all topped off with a parade. It can be overwhelming, but it can be the four most fun days of the year, too.
The event keeps growing every year. Reported attendance for this year stands at 52,000, the most ever for a single year.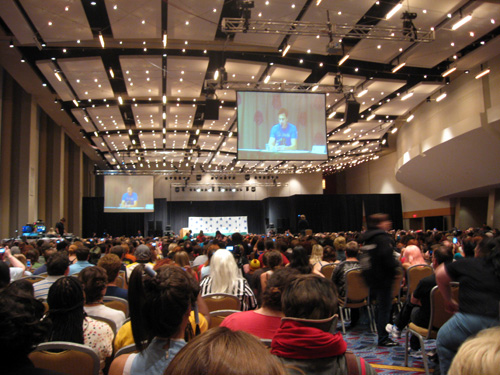 Just like a visit to most major amusement parks, one can't do everything offered at the convention. You have to pick and choose what you most want to see or do, and sometimes panels you want to see are scheduled against or next to each other. For most people, the media guests and panels are the big draw. It's a chance to meet your favorite actors/writers/artists and connect with them in an environment that's comfortable for everyone. Panels tend to be funny and highly PG-rated. The ones at Dragon are based, by and large, on fan Q&A. If you ask a stupid question, the audience tends to let you know. It's your one chance to ask the question you've always wanted to ask that person — wield the force well. For even more close-up and personal fun with your favs, there are photo-ops and the Walk of Fame, where most of the guests sign autographs. Attendees can meet and greet the guests one on one for about five minutes. But for some people, these brief contacts are life-changing, inspired by their heroes to reach for their own dreams.
Dragon*Con has built a reputation for showcasing great costumes. The Marriott's Atrium and the Hyatt's main floor provide a beautiful and spacious setting for cosplayers to display their handiwork. People come to see and be seen. In this setting, it's a great thing. Some of these artists have spent the entire year planning and constructing their creations. A popular activity for many attendees is "camera safari". They spend their time photographing and being photographed with those in favorite character costumes. Some of them are characters!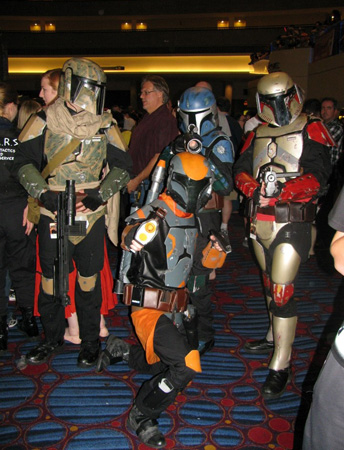 The shared experience means no one is a stranger. Well, at Dragon some are stranger than others, but I've found everyone is always friendly and open to a bit of camaraderie. I had met many of my friends online before I met them in person and became great friends a few Dragon*Cons ago. This year, I met more members of our group, the "Squirrels", so even more nuts to hang on the friend tree. I've become acquainted with people at Dragon*Con in panel lines, stayed in touch with them, and remained friends with them. There's an atmosphere of acceptance for everyone's personalities and quirks. Convention attendees are also bonded together by the fandoms they're passionate about. However, there are some conversations one should never discuss openly at Dragon*Con: Kirk vs. Picard; DC vs. Marvel; Jedis vs. Zombies. You get the idea.
Dragon*Con has become notorious for the numbers of people there. Moving around among 30,000-50,000 people can be intimidating. One can spend a good 15-20 minutes waiting on an elevator. If one opens and has space, get in. If you ride a few floors up or down, at least you have claimed elevator space. Many people attempting to ride an escalator can turn it into a thrilling experience. One time, the line stalled while we were on the escalator. Escalators don't stop moving, even if the line of people stops. This year, the crowd was almost more than the venues could handle. The sky bridges backed up and the slow-moving progress of the lines made me think of the crowd scenes from "Metropolis". Of course, it means lines for panels get very long, very quick. The staff, which is mostly volunteers, did a good job seating great numbers of fans in panels. None of the lines for panels my friends and I attended had to be cut off. Even though I was far from the stage in a few panels, I wasn't in the back for any panels, either. On Saturday, the Fire Marshal did close down the Walk of Fame for a time because of overcrowding. Dragon*Con's staff will have to figure out better ways for crowd control if they want to continue to be loyal to their current venues.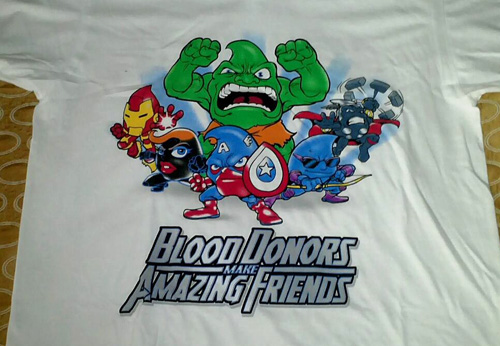 Every year, Dragon*Con tries to include community service projects for con attendees to participate in. The Blood Drive has become an annual event, and each donor receives a custom Dragon*Con T-shirt. Each year, a local charity is selected as the beneficiary of the annual auctions.
In this series, I hope you will get a sense of what attending and experiencing a science fiction convention is like as you follow the adventures of my friends and me from Dragon*Con 2012. Well, all the experiences that it is legal to put in print. Events can become quite interesting when fans come together in an environment where it's okay to let one's geeky and nerdy tendencies out in complete and total freedom of expression.
Photos by Ava DiGioia, Jennifer Peacock Gregg, and Katie Miller