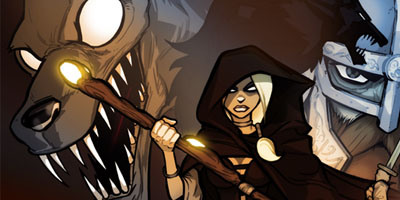 Grant Gould is a name that has become more and more known among comic and trading card fans over the past few years. He's a personal friend of mine and also is the artist who designed the mascot for my toy blog, Mechazilla. You can check out his official website and art portfolio at GrantGould.com. It's been a busy year for Grant, and freshly back from the San Diego Comic Con, he was able to take some time to talk with me about what he's been up to and what new and awesome things he has in the works.
Fandomania: To start off, can you tell me some of the places where readers might have seen your art in the past?
Grant Gould: I've worked on a bunch of trading card sets for Topps, Rittenhouse and Upper Deck – various Star Wars sets, Lord of the Rings, Heroes, Halo, DC, Marvel, Indiana Jones, etc. Comic fans may have seen pin-ups of mine in books like "Oddly Normal," "Wormwood: Gentleman Corpse," "Children of the Grave," "Super Real," "Abyss," and "MidKnight." I did a short story in Josh Howard's "Sasquatch" graphic novel. I've done some RPG illustrations for Mutants & Masterminds… I think maybe the thing I'm most known for at this point is my work for StarWars.com. Over the past few years I've illustrated a lot of their kids' features, such as "How To Draw R2-D2," "How To Draw LEGO Star Wars Characters," "How To Draw a Jawa," Star Wars Valentine's Cards, back-to-school book covers – stuff like that.
Fandomania: You've had a great year so far, between your own upcoming comic and your recent news from Lucasfilm. First, can you tell me about your comic?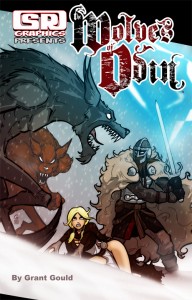 Grant Gould: Definitely – Yeah, I'm really excited about it. It's an original graphic novella called "The Wolves of Odin" (wolvesofodin.com), and it's being published by Super Real Graphics (superrealgraphics.com). It'll be in the September issue of Previews (for November solicit) and hitting stores in November.
The tagline for the book is: Vikings vs. Werewolves! Odin's followers are starting to discover new religions and turn their backs on the old ways, and this frustrates him to the point of madness. He selects three of his most loyal, fearsome berserkers, transforms them into unstoppable beasts, and unleashes them on the north-men as punishment for their betrayal. The story follows a small group of humans that ultimately must face and destroy the wolves. It's tied to Norse mythology, the legend of Tyr and Fenrir, and has all sorts of magic and action and epic goodness.
I'm creating the book in its entirety – I wrote it, drew it, colored it, lettered it – everything. So it's really a labor of love, and I hope people pick it up and enjoy it.
I've been posting sneak peeks and updates over at WolvesofOdin.com, so people can check it out over there.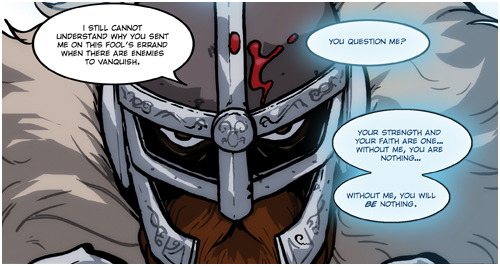 Fandomania: That sounds fantastic. I'll be sure to follow up with more about the comic as the release nears. As if Wolves of Odin were not enough, after this year's San Diego Comic Con you had some big Star Wars related news. What can you tell me about that?
Grant Gould: Lucasfilm announced that there will be an ongoing, weekly Clone Wars webcomic on StarWars.com that will accompany the new animated TV series, and that I'm one of the four artists that have been hired to illustrate it (the other three are Tom Hodges, Katie Cook, and Jeff Carlisle). It won't be in horizontal b&w strip format – It'll be full-size comic pages, full color, five pages at a time. It's gonna be really cool. Fans are gonna love it.
Needless to say, I'm super thrilled to be part of it. I've been in love with Star Wars since I saw the first movie in '77, and it's always been a dream to draw Star Wars comics.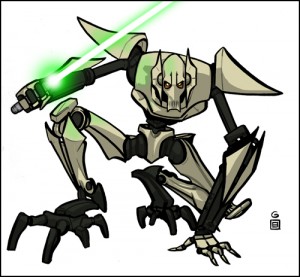 Fandomania: I've been a huge Star Wars from the beginning, too, so I can only imagine how awesome this opportunity must be for you. Comic Con sounds like it was amazing for you this year. How do you like conventions in general, and what's it like on the other side of the artist's table at these things?
Grant Gould: I love going to conventions and I wish I could attend twice as many as I regularly do, but they get to be pretty expensive. Between flight cost, hotel cost, table cost, printing sketchbooks and signs and whatever else, it's tough just to break even. But I find that most conventions pay off in other ways – Networking, making friends in the industry, meeting fans face to face. Even shows that aren't financially rewarding are rewarding in other ways.
Comic-Con is its own beast. It's unlike any other convention I've ever been to. It's a zoo. I don't mean that in a bad way – it's just on a completely different level than Wizard World or any of the smaller local shows. Personally, I get claustrophobic in shoulder-to-shoulder crowds, so at Comic-Con I'm kind of happy to be stuck behind a table.
For the most part, my convention experiences are all very positive. Occasionally there'll be that stranger that stands at your table for two hours straight and makes you feel a little uncomfortable, or the guy who's wiping snot from his nose then wants to shake your hand… But that stuff comes with the territory.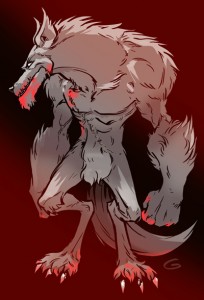 Fandomania: I've personally been a fan of your art for a long time, and I really love your ability to draw in a somewhat cartoony way while still maintaining the integrity of the likenesses and characters you're drawing. What are some of your artistic influences, and how did you eventually come to develop your own unique style?
Grant Gould: Thanks! It's hard to say, honestly. When I was a kid, I was heavily influenced by Wendy Pini's "ElfQuest" art and Art Adams' X-men/Longshot work. In high school, I became obsessed with people like Jim Lee – I remember trying to draw exactly like him. And then later Joe Mad came around, and Campbell – those two guys were huge influences. So I don't know, I think I just swiped different ideas and styles from different heroes of mine at different times, and at some point in my adult life, my art started drifting away from straight-up copycatting to something that was a little more my own.
I still feel like I'm trying to find my style. Sometimes I draw extremely cartoony things, and sometimes I try harder to nail an almost photorealistic look. So I'm still learning and growing and evolving as an artist. I suspect I always will be. I'll never be completely happy with where I'm at stylistically, and maybe that's a healthy thing.
Fandomania: Did you always want to be a professional artist? What was your path that led you to doing this full time?
Grant Gould: When I was a kid, I definitely wanted to be an artist. I wanted to draw comic books or create cartoons – something along those lines. Especially since my dad was an artist himself. By the time I graduated high school, however, I'd kind of fallen off the art path and was more interested in partying and hanging out with friends. I spent a lot of years not really thinking too much about my career or what I wanted to do – I just worked retail jobs and lived day to day. Then in the late '90s I sort of woke up and wanted to do something with my life, career-wise. I went to Brown College in Minnesota and got a degree in Visual Communications, and then spent several years working as a graphic designer, and later a production artist. Illustration was still just a hobby at that point, but it was definitely creeping back into my life. I started getting ideas for comics, and would spend my nights doodling stuff instead of going to bars.
Then in 2004, my pal Tom Hodges told me that Topps was looking for artists for the "Revenge of the Sith" card set. He put in a good word for me and helped me get my foot in the door. Lucasfilm liked my stuff, and it just began to roll from there. The "Sith" set led to more card sets, and those card sets led to other work. Over the course of a year, my illustration jobs were starting to take up more time than my day job – I was up all night every night drawing. So in 2006, I made the frightening decision to quit my day job and take a chance on fulltime freelance illustration. Let me tell ya, it's scary suddenly not having regular paychecks. But it's been two years now and I'm not homeless yet – I've been very fortunate thus far. I feel like I'm on the right path. Hopefully I'll get to keep doing this for a long, long time.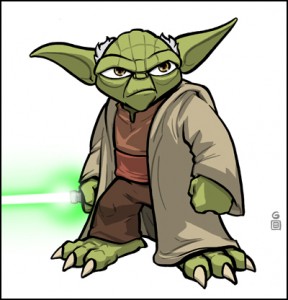 Fandomania: Your portfolio boasts a lot of diverse interests. What fandoms are you the most into yourself?
Grant Gould: Yeah, there's a lot of stuff that I'm into… I'd say the Lord of the Rings and Star Wars are my two big movie ones. I'm also big into Conan, Clint Eastwood westerns, zombie movies… My favorite show on TV is Battlestar Galactica, closely followed by Lost. I'm a big Farscape fan. I recently fell in love with "Y: The Last Man." Man, I could sit here and list stuff for three hours. I'd better stop right there.
Fandomania: In your little bits of offtime I know you've built a great online community for Battlestar Galactica fans. Can you tell me about that?
Grant Gould: Definitely – It's called Battlestar Blog and can be found at either battlestar-blog.com or community.livejournal.com/battlestar_blog
I created it way back when the new series was first starting up, just as something to do – a way to show my love for the show I guess. And it's really exploded since then. We have over 2,300 members now, and discuss everything from episode reviews to convention appearances to fan art. I've had the honor of interviewing some of the actors from the show, such as Aaron Douglas and Tahmoh Penikett. It's been a continuously rewarding experience and I'm constantly amazed by how popular it's become – it's now one of the top fan sites for BSG. Everyone there is awesome. :)
Fandomania: You have your comic and the Star Wars project coming up. What else is on the burner for you right now?
Grant Gould: To tell you the truth, I haven't planned too much beyond "Wolves" and "Clone Wars." I feel like I've got so much to keep me busy right now, I can't fit anything else in my brain. But we shall see… There may be a "Wolves" sequel (or prequel). I'm also contributing some art to Jason Martin's "Pulp Girls" comic, which will be published by Super Real Graphics. I'm just going to wait and see what happens, and hopefully give myself a little more room to breathe in the coming months. This has been an insanely busy summer for me, and I need to relax a little before jumping into any more huge projects.
Fandomania: If you could pick any one comic series you'd love to draw for, what would it be?
Grant Gould: I'd say pretty much the same things that I'm really into – Star Wars, LOTR, Farscape, Battlestar, stuff like that. I'd love to draw comics for any of those licenses. I've also had this fantasy of drawing "The Further Adventures of Jack Burton" (from Big Trouble in Little China). If they ever make a comic like that, I'm gonna beg and plead to be on it.
For some reason, I don't have a big itch to draw superhero comics. Don't get me wrong, I wouldn't turn down a chance to draw Batman or X-men or Iron Man or any of those guys if they offered it to me. But I probably wouldn't actively pursue a superhero gig. Maybe Rocket Raccoon… I do love Rocket Raccoon.
Fandomania: Thanks so much for taking the time to talk with me.