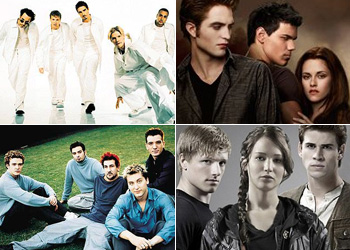 Tweens screaming, collecting everything a cutie's face is on, and fits of the shakes when near them… for a character in a book? For generations, teenybopping was reserved for heartthrob actors in cutesy movies and TV shows and skillfully-crafted boy bands. Something changed when a trio of friends appeared in the pages of the successful Harry Potter series. Yes, technically teeny boppers are still going nuts for celebrities, but the Beatlemania-like actions that ensue for books that have turned into Blockbuster goldmines seem to be taking the place off boy bands in a way due not only the bananas behavior on behalf of their fans young and old (we'll get to the age later), but also the merchandise ideas and so called "teams" between each series and also within the books/movies themselves. Not to mention these things seem to happen overnight after months of plotting, making today's young adult authors and movie studios bigger-budgeted Lou Pearlmans.
We already established the insanity that comes along with these Twilight supporters. And in no way am I saying this fandom is stupid or unnecessary. I too was/still am crazy for Backstreet Boys. I have the Nick Carter ornament to prove it. Being obsessed is a normal adolescent stage to me; it's the adults who scare me. "Twimoms" and the older women who live vicariously through Bella or Katniss do cross a line when they get an attitude with a child who cuts them in line at a midnight release, but hey… whatever floats your boat. And with the Internet not being a huge part of my reality when my prominent teeny bopper days happened, I can't say if there were 30+-year-old women lusty over Justin Timberlake. But then meeting a woman 20 years my senior with a Timberlake pillow, I guess we had them too.
With Harry Potter, a sea of merchandise was expected, for I consider it the Star Wars of this generation. But we can't deny things are taken to an extreme when people are turned into a brand that include more than the typical t-shirt. Even my grandma has a Twilight board game. But can I judge? In my storage sits a Backstreet Boy one. And with Hunger Games already looking to continue the series with more movies, I can only imagine the Valentine's Day cards that'll hit shelves by next January.
"Team Peeta" has quickly replaced the barrage of "Team Jacob" hashtags in recent months. And that brings us to the next boy band comparison. I remember heavy debates on the school bus with girls who thought *NSYNC were better than BSB. Great dancing vs. great harmonies, and let's face it… *NSYNC will always be second because they had Chris Kirkpatrick. Anywho, not only do people place Twilight against The Hunger Games — "NO, The Hunger Games is NOTHING like Twilight" — both place the leading men against one another. We all know the battle for Bella's heart with the wolf and the vampire, but in right now it's all about the boy-next-door-looking Peeta vs. Gale (excuse me while I drool over his chest region) in Hunger Games. This is no different than when the boy band banter stayed on the home front and you had to choose between the baby, the heartthrob, the bad boy, the shy one, and the older brother.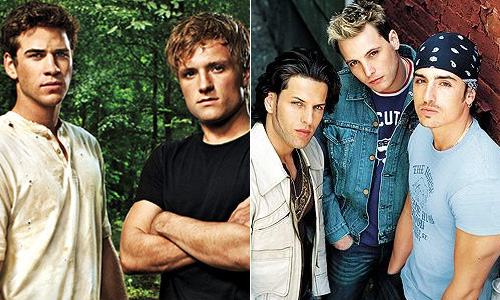 One more note and then I'm out of here to go call my mom and make sure all my Backstreet merch is still okay with her. The way that these movie-based-on-books take off almost overnight simply scares me and could possibly be the work of wizards… wait a minute… With Harry Potter, a series of eight movies was a slow process, and the books seemed to be something we kind of knew about before Daniel Radcliffe became a commonplace name in pop culture. But Twilight and The Hunger Games? Those seem to be under the radar and then boom, it's all anyone with hormonal issues could talk about. Only one person on my personal Twitter even mentioned Hunger Games months before the movie hit the mainstream. Now I can't even look at a timeline without Josh Hutcherson or Liam Hemsworth on it. Not complaining about the Liam posts though (wipes drool). It just seems that the movie executives' plot these out too meticulously to make sure that when it drops, it makes a splash… an over 150 million dollar splash. And anyone who knows the backstage world of boy bands knows that Lou Pearlman worked hard to make BSB and *NSYNC make him a lot of dinero, which he later screwed up, but that's another story for another day.
Boy bands are still around — the UK's One Direction have girls wrapped around their mediocre sound fingers — but in no way are they at the level of a late '90s boy band, or in this article's case, a book series. Books aimed at a young audience who battle with the good and bad side of life, have a female amongst a sea of good looking guys, and then translate well enough (with an amazing abundance of marketing) to the movie world, well, they've become a generation's Tiger Beat loves. Not hating, just stating and it's not a bad thing — at least it's getting kids to read, for the most part.