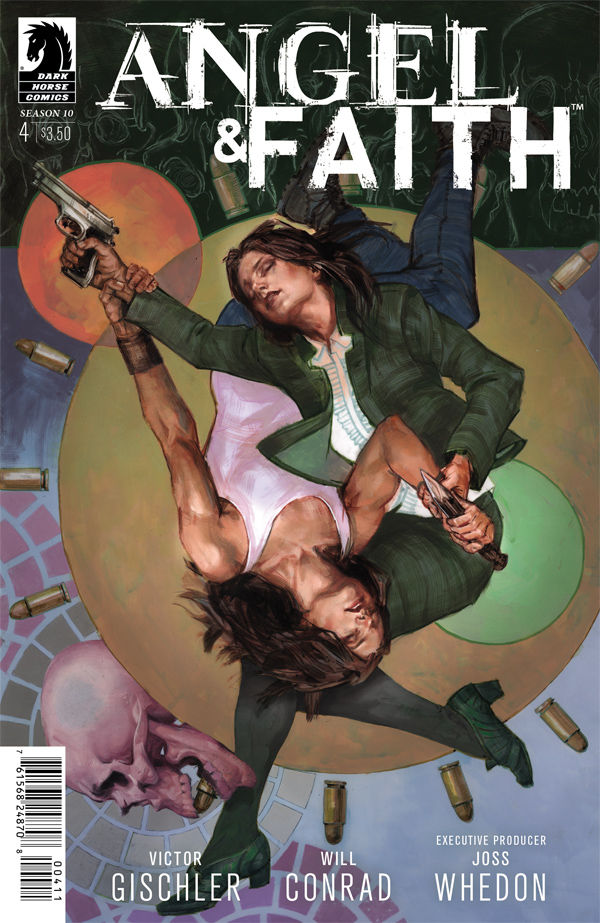 This month we got an Angel-heavy issue, some revelations, and a fight scene that seemed to go on for much too long. What works on the screen maybe doesn't translate that well to the page. Hopefully next month we'll get more Faith and more answers.
Note: This recap may contain spoilers!
As we learned last month, Pearl is alive and working for Corky. He's given her the perfect opportunity to get her anger issues out on Angel. She's mad over her brother's death and wants to make sure someone pays. While she would rather have Faith there to beat up, Angel will have to do in the meantime. And because of that, we got a rather time-consuming fight that spread over too many pages and didn't forward the story enough for me. Pearl gets in a few good shots, but expectantly Angel gets the upper hand and blinds Pearl in her good eye. With her down for the count, Angel turns his attention to Corky and his band of pixies. The vampire fights them off and kidnaps Corky to bring him back to Nadira. The surprises in all of this were minimal.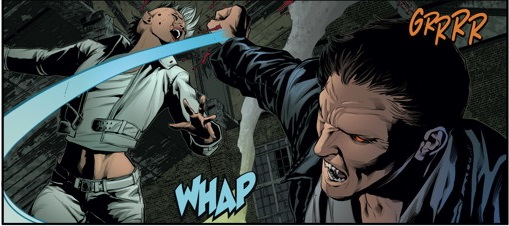 Finally, we got some development in the way of storyline. Angel brings Nadira a bottle of pure magic and she listens to the voices in her head who tells her to pull the cork, effectively pulling Corky back into the bottle and trapping him there. Good thing that turned out well for them, since it's the only bottled magic they'll get their hands on for a while. When Angel returns to the stash with Brandt, there's nothing there anymore. That's because the pixies have been manually hauling them away to their final destination. That is, to the home of Amy Madison, who has a whole stockpile of them. Good to see some familiar faces from way-back-when.
Another blast from the past came in the form of Faith's storyline, what little focus it got this month. She's decided that Deepscan isn't for her, so she's leaving that job and striking out on her own. Well, she was, until Kennedy talks to her. Kennedy tries to get Faith to stay at Deepscan, and when heartfelt pleas don't get the job done, she hauls out her secret weapon. Kennedy has a file on Riley Finn, who is now missing. That's a temptation that Faith doesn't seem likely to turn down, so hopefully she will get on that case and let us follow her wherever it may lead.
Next month, I'm hoping for a more balanced storyline and more twists than we got this go-around. More Faith, please.
Rating: 2 / 5 Stars