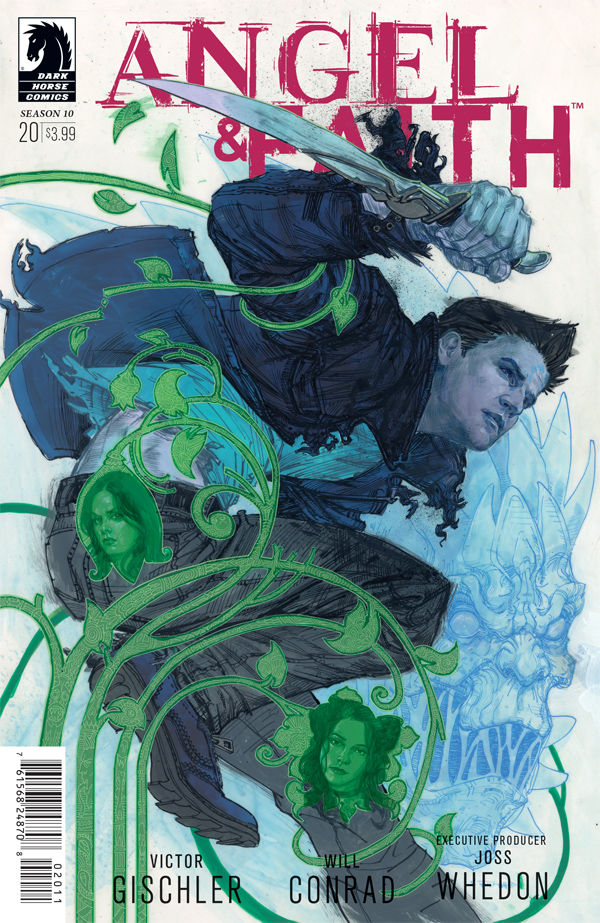 Dru has control of Nadira and Angel is left to try and find her. But what's the secret behind her kidnapping? Do Archaeus and Dru have evil plans for her? Or does Nadira have a plan of her own? Whatever the answer, Magic Town is in danger, and there might be a whole lot of casualties before it's all over.
Note: This recap may contain spoilers!
We start the issue with Angel facing off against Dru. She has Nadira, but the powerful woman isn't making much of a fuss. And while Angel and Fred are kept busy fighting off Dru's minions, she slips off with Nadira to locations unknown. Now it's up to the gang to try and find her, before Archaeus and Dru's plans get put into action.
Angel and Koh team up to ask for information around town, while Fred and Faith are tasked to go touch base with Brandt. While heavy-handed information-gathering doesn't work out well, Brandt comes through with a lead. He informs Faith that he has an address for them to check out, which she passes on to Angel. The team is ready to figure out what plans Archaeus and Dru have brewing.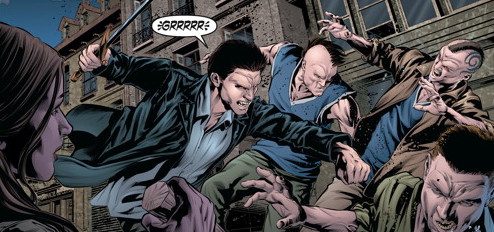 Whatever they are hoping to accomplish, it's clear that Archaeus is growing in strength and stature. He wants Nadira to make introductions between himself and Magic Town as an entity. Perhaps he thinks allying will gain him the power that the town houses, but Nadira knows that it won't be quite that simple. She allowed herself to be taken on purpose, claiming that she did it in order to save them all. The magic of the town is untamed, childlike, and is beginning to lash out. Without control, it will destroy everyone.
As expected, warnings of bad things to come are not heeded by Archaeus, and that just makes Nadira mad. She tried to be helpful, but now it's time to use her strength to make her point clear. Once a Slayer, always a Slayer. She manages to slay a couple of the minions before Archaeus grabs her and slams her to the ground, unconscious. What will become of her? That fate is left unknown through the rest of the issue, but we know that she will play a large part in the outcome of this dangerous mission.

The group has escaped by the time Angel and his team gets there. What they do find is a whole host of bodies hanging from the ceiling, and a warning painted on the wall in blood. "Daddy's come to take you home, Angel." The vampire escaped Archaeus's power once before. Can he be assured that he can do it again? Or will his own friends and allies be put in danger when next they face off against Dru and Archaeus? We shall have to wait and see.
Rating: 3 / 5 Stars