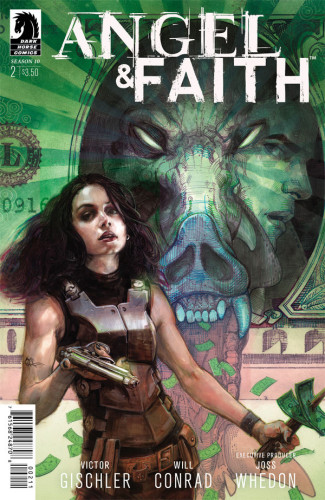 With separation comes dual storylines for Angel and Faith. The problem is that we all know they will converge again soon, so it's a waiting game for Faith's return to the only life she seems to get to have. If only Angel could provide her happiness along with a destiny.
Note: This recap may contain spoilers!
I am glad to see that Faith is striking out on her own and making her own path. She's agreed to start a new job with Kennedy's crew, leaving Angel behind in the UK and Mini!Giles in the US. But as we saw in this issue, the corporate route is not going to jive with her "act now, ask questions later" sense of self that she's always had. The HR paperwork alone at Deepscan is enough to push her buttons, so I can only speculate what hoops she's going to have to jump through to document the outcome of her first case. And it started out so tame, too.
Faith was sent to be protection detail for rocker Billy Rage. It isn't as glamorous as killing vampires, but it pays the bills. But soon after her arrival on scene, the drama started increasing. First it's her job to head off an angry father of a 17-year-old groupie when he bursts backstage with a gun demanding revenge for what Billy's done to his underage daughter. Billy's a creep, but Faith's job is to keep him alive, so she does just that and subdues the attacker. But just when you think this is going to be a run-of-the-mill job and everything's tied up in a neat little bow, you find out that Billy is not quite as human as one may think. Rocker by day, big pink bird beast by night. What a twist!

Meanwhile, Angel's got his own problems to deal with. When last we left him, he was facing off with a power-laden woman, who we now recognize as Nadira. The grudge she held against Angel has played out and now she's ready to move on. In fact, she wants Angel's help to defeat the fear that's gripping Magic Town. Can all this be too good to be true? I'm not quite sure how much we can trust her, since she's seemed to have tapped into some higher power voice that is guiding her actions. Well, that or she's had a mental break. Either way, this can't end well.
For now, Angel's sent off with the lead to track down The Glass Blower. He's also continuing to track Corky and the pixies, though that didn't need much help since they found him. After a quick battle where Angel's now got the upper hand, Corky and his crew disappear and an Inspector Brandt is in their place. He's got the backstory on Corky and can help Angel, if the vampire will let him. What is it with all these people wanting to lend Angel a hand lately? At least with Brandt we see a purpose. The cops have turned their backs on Magic Town and Brandt still feels like he needs to do something to police the streets. Enter the vigilante Angel. Will this be a match made in Heaven or a bad time coming? We'll have to wait to find out!
Rating: 3 / 5 Stars