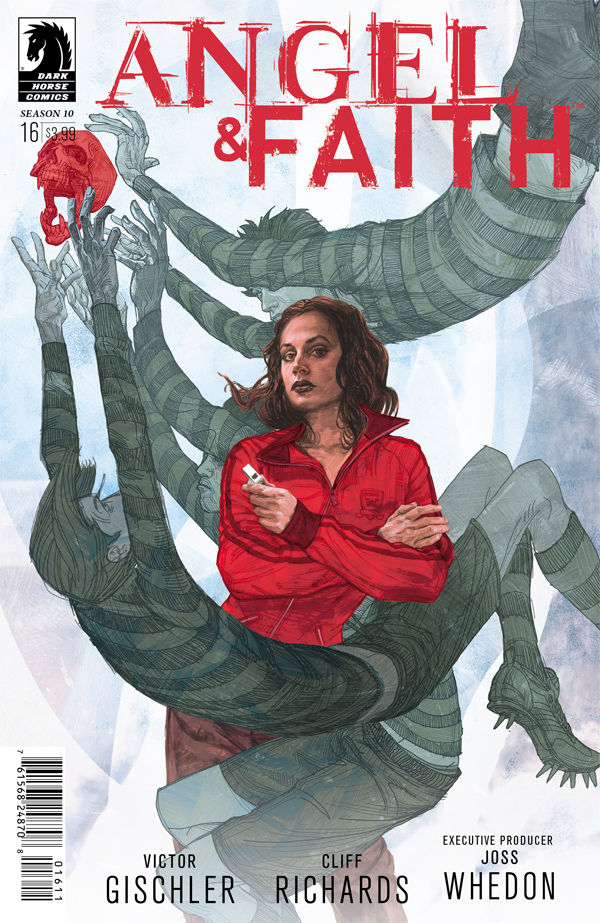 With Angel off helping the Scooby Gang, Faith and Fred are left to deal with issues across the pond. But the absence of the vampire doesn't mean trouble takes a break. In fact, the research that Fred's been working on has a direct connection to the case Faith's become involved in. It's going to be an adventure, that's for sure.
Note: This recap may contain spoilers!
We start the issue with Faith settling into her barren place, which doesn't look so homey yet. Taking a break for moving in, she heads to the local coffee shop and that's where Brandt meets up with her. He's looking for Angel and Faith knows just where the vampire is, so she uses that knowledge to her advantage. In exchange for sharing the information, she gets Brandt to help her move a bed into her apartment. Hey, she's a good negotiator. But even though Angel's nowhere in the vicinity, Brandt knows that Faith can help out just as well.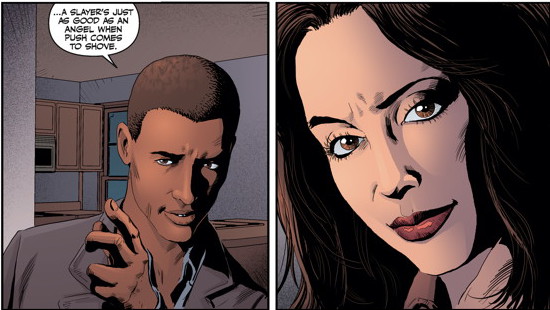 There was a dead girl found at the local high school, which we got a sneak peek at earlier. Fred and Faith head out to a local hang-out to get more information, but what they get is a whole lot of trouble. First up, Fred gets hit on by a prep school boy, even though she's much too old for him. He's not one to take no for an answer, and actually follows her into the bathroom where he proceeds to attack her after revealing that he's a vampire. Cue Faith who enters into the situation and helps Fred fight him off, then dust him off.

After Faith calls Brandt to give him the scoop, they all meet up and arrange for Faith to go undercover at the school to get more information on what's going on. She pretends to be a gym teacher, and gets close to both Mary, who we saw prior being bullied, and her tormentor. It could've been a touching moment, where Mary opens up and talks about being bullied, but instead it's no talking and more mystery. Even moreso when Faith finds Mary later in the girls' locker room, sitting on the floor hovering over her tormentor's dead body. The dead girl has black splotches over her body, which may be blood or may be some icky other clue. We'll have to find that out later. For now, we've got a whole lot of murder and not a lot of answers. What's going on? I'm once again intrigued by this storyline.
Rating: 3 / 5 Stars