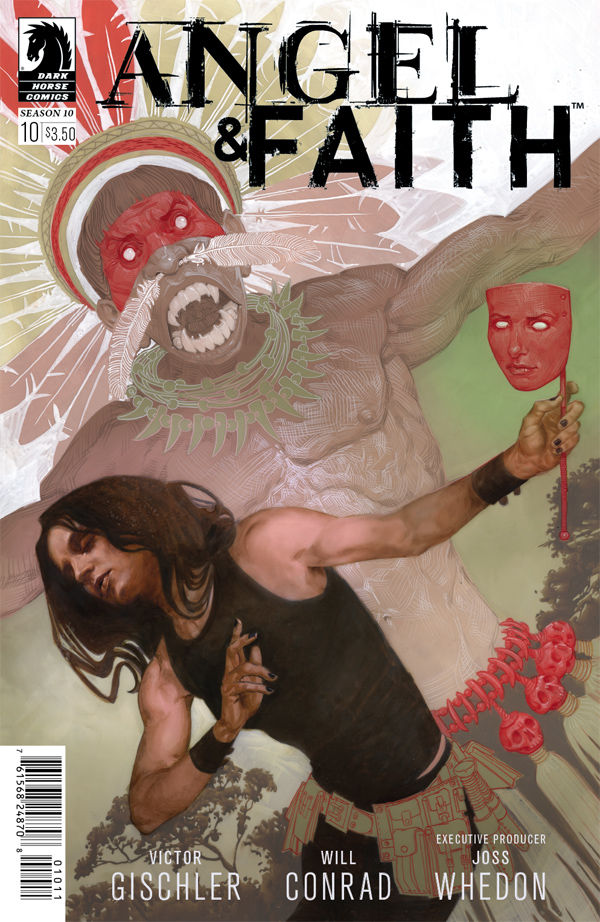 Finally, it seems like the two storylines of Faith and Angel will be intersecting. But, alas, it won't be until at least next issue, since this time around was all about tying up loose ends. That's okay, though, if we can get these two characters in the same city.
Note: This recap may contain spoilers!
Faith's storyline concentrates on her jungle mission. Walt Zane is a creepy human-turned-vampire hell-bent on ruling the world. Or at least the mortality of it. He explains to his daughter how he met a charming woman on his trip down and she ended up turning him. What should be a feared status was actually a turning point for him, because it gave him inspiration and perhaps fed into his power-hungry nature. He's got a group of followers with the tribesmen and is planning on using them to make a much larger move. He wants to do it, though, with his daughter by his side, if only she will let him turn her.
You just knew that this wasn't going to turn out well for Walt, but I wasn't expecting his daughter to just haul off and stake him through the chest. But her act of courage allows Faith and her team to make their escape and eventually get to safety, as the Deepscan group sends a helicopter out to their rescue. After a satisfactory goodbye between Faith and Riley, it seems like back to business as usual, but first Faith's got a proposition to weigh. Walt's daughter wants Faith to head the security team in her company's new London branch. It will take Faith back to a place she left for a reason, but perhaps it's time. It would certainly help my interest to have Faith in the same area as Angel again.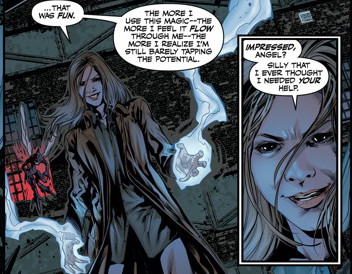 The vampire's got a lot to deal with at the moment. We start off with him in the middle of the showdown with Amy, but neither he nor Brandt and his men can stop her. For their own safety, they retreat to regroup. This is all going according to Amy's plan, though, because she thinks that this will cause Angel to call on Willow, thus bringing the witch to her so they can have their showdown. Good plan, but not quite the follow-through Amy was expecting.
Angel goes to consult with Nadira, who points out that if Amy wants Willow, she should get her. And Amy does indeed think Angel brought the witch to her when he returns, but instead it's Nadira. Amy tries to take her down, but she fails, and Nadira turns her back into a rat. It seems like the situation is resolved, with no one getting too hurt. Or is it? We end the issue with a new revelation. Angel is out walking in the foggy night only to discover Fred. What's going on? We'll have to wait until next issue to find out!
Rating: 3 / 5 Stars