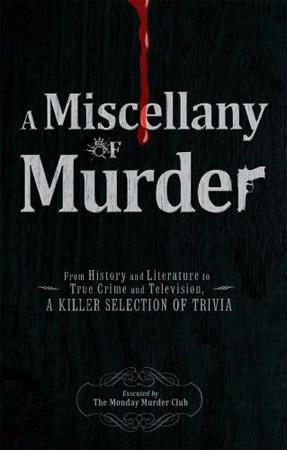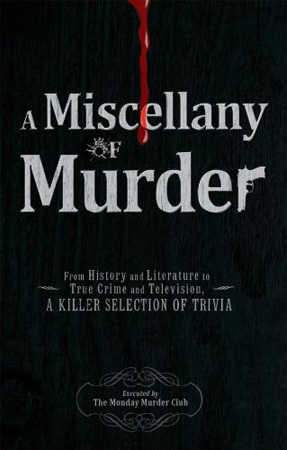 Title: A Miscellany of Murder
Author: The Monday Murder Club
Publisher: Adams Media
Release Date: October 15, 2011
Draw the curtains, lock the doors, and light the candles. It's time to give in to all seven of the deadliest sins. It's time for A Miscellany of Murder. The Monday Murder Club has put together a tome of trivia, quizzes and real life tales meant to satisfy the most macabre of appetites.
A Miscellany of Murder is a collection of various murder-themed bits of trivia. It's divided into seven sections: lust, gluttony, greed, sloth, wrath, envy, and pride. Each section focuses on crime, murder, and mystery trivia that corresponds with said deadly sin. Lust focuses on crimes of the heart, gluttony on appetites too big, greed on, well, greed — you get the general idea. The trivia is a mixture of true crime facts, famous quotes, film and television information, and mix and match quizzes.
Once you pick up a copy of A Miscellany of Murder, it will be hard to put down. In fact, once I received this to review, I had such a hard time putting it down, I forgot to contact my editor to let him know I'd received the book! It's a fun read, full of great little bits of macabre trivia that forces you to keep reading, wanting to know more and more.
Now, it isn't without its flaws. I wouldn't consider myself a mystery buff by any accounts, but I found I already knew quite a few bits of the trivia. It's still a fun little read, and quite hard to stop reading once you start. However, if you are thinking of picking up a copy for the mystery and crime thriller buff in your life, best to do so with the understanding that they won't be stumped by the contents of this book. At most, they will use it as a quick reminder for smaller bits of trivia, instead of a reference for information they aren't familiar with just yet.
Not to say this wouldn't be a good gift. Are you the cool aunt or uncle? This would be great to help encourage your niece or nephew's blossoming interest in crime trivia. Part of a Tuesday night trivia team? Buy a copy and be the one that helps your team earn that twenty five dollar bar tab by matching female killers to their nicknames. Long road trip coming up? Help your fellow passengers pass the time with entertaining bits of crime trivia.
I do like this book, and think it is great for the casual fan of trivia, crime and mystery facts, and just straight up knowledge. But for the serious fan, I don't know. I think they would be disappointed with this book. Maybe I expected too much. It is of course my fault for assuming this was going to be filled with obscure and fascinating bits of trivia I didn't already know. It is a good book for someone just starting out.
I propose a challenge to The Monday Murder Club. Consider A Miscellany of Murder to be an introduction into crime and mystery trivia. Get started on putting together a second volume, one sure to stump the biggest of mystery and crime trivia buffs. I believe it is possible and I believe you have what it takes to do it.
Rating: 3 / 5 Stars