Part of being a fan is ruining things. You can't very well let this intellectual property that's given you hours of joy get off without knowing how it's failed you. No, we must punish the things we love, usually by suggesting how they could totally be better if all the things the creators decided to do with their game/movie/TV series/porn parody were actually the OPPOSITE of those things! WHAT IF MARIO WAS SECRETLY BOWSER THE WHOLE TIME!!?!?!
When you understand that essential sadism, a lot of fandoms start to make more sense. We live in a world of literally endless media possibilities, where I can boot up Mongolian throat rap just as easily as the next season of No It Totally Gets Better! a.k.a. The Walking Dead, and I still somehow have this bizarre, pathological need to pretend that my opinions on a series are more important than the opinions of professionals who actually made money writing it. I want to write things for these people. Because I love them, but I also hate them a little bit.
With all that said, it's important to at least be creative with the way we lovingly attack our favorite things. Here are a few ironic interpretations that we all need to stop pretending are clever:
1. "So-and-so has been in a coma the whole time!"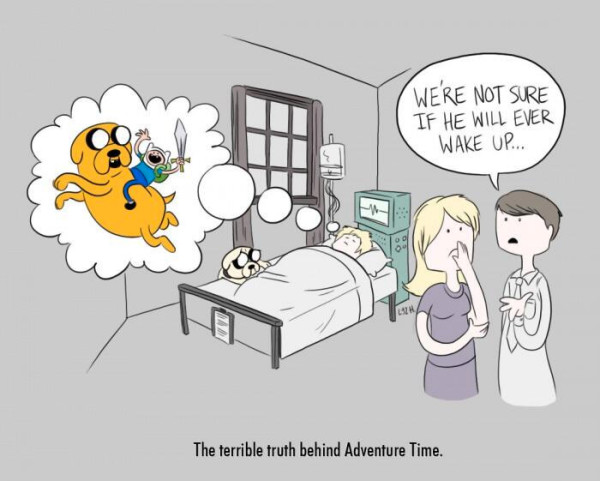 This one's especially lazy and it's absolutely everywhere and I'm sick of it because you can apply it to anything that isn't a documentary. Fiction is ALWAYS, in some way, fantastical. Even if we're talking about something "realistic" like The Wire, you're still going to have to take some liberties with reality. The mere presence of suspension of disbelief does not mean everything's a dream. It means everything's a story. That's what stories ARE.
I've seen the "coma dream" hypothesis on everything from Adventure Time to Doctor Who to The Simpsons to goddam 30 Rock. It's high time we put this one to bed. "It was all a dream" is such a lazy plot device that sitcoms have been parodying it for longer than it's actually been taken seriously. Fan theories are supposed to ADD to the story, not subtract, and claiming the fantastical elements of a story are all the product of a fevered imagination does nothing but dump a big dose of nihilistic angst onto what should be an interesting moral tale.
The only time dream theories are appropriate is when the story is explicitly about our perceptions of reality. The fundamental message of Inception changes drastically if it turns out Cobb is just imagining his kids giving him a hug at the end. Total Recall's message hinges on whether or not you think Arnie dreamed some or all of the movie, turning it either into a magical sci-fi tale about wish fulfillment or a depressing allegory about the dangers of self-delusion. But when you pretend Finn is actually on his deathbed, pining for his dog who he's dreaming has stretchy powers for some reason, you're just taking a dump on canon and calling it clever. Hell, Adventure Time's already post-apocalyptic. How much more darkness do you need?
Speaking of which…
2. "It's all post-apocalyptic!"
No. No it isn't. Aladdin is not set in a distant apocalyptic future that just so happens to look like ancient Arabia. There's no indication of this anywhere except for Robin Williams's contemporary impressions. This is just another blatant attempt to cheapen artistic license by giving it a dark explanation. I've heard some people try to explain to me that the Spongebob cast is made up of irradiated mutants created by nuclear fallout, and that Ed, Edd n Eddy is about the last surviving enclave of children in an atomic wasteland, distracting themselves with childish pranks before they die of radiation poisoning.
I'm willing to chalk this one up to our apocalypse-obsessed culture, and I've thought of a great way to combat this particular fan theory: any time someone tries to tell you that Series X is set on a post-apocalyptic Earth, you counter by trying to explain that a series that ACTUALLY takes place post-apocalypse is really just a bunch of crazy survivalists trolling through a bad neighborhood for months at a time. The Road Warrior is just a bunch of meth heads who got lost on the way to Burning Man, and After Earth is just a depiction of one of Will Smith's Scientology-funded space vacations. Seriously, I think it makes much more sense that the characters on The Walking Dead are the only ones stupid enough to not move out of the fifty square miles of the United States where zombies exist and the rest of the country is functioning perfectly well without them. It's just that no one's bothered to save them because they are all idiots, and Carl wouldn't be worth the fuel they would waste on the helicopter ride.
3. "These two characters are secretly gay!"
This one's a bit odd because I absolutely believe we could stand to see more positive representations of gay characters in media. Gay relationships are just as passionate, vital, and pure as straight relationships in stories, and we deserve to explore the broad range of sexual and romantic interest that humans are capable of beyond stuffy old binary.
This is not accomplished by giggling and suggesting that Frodo and Sam are secretly doing it.
Queer readings of classic stories have actually been pretty popular in academic circles for the past century or so. You can find gay interpretations of the works of Shakespeare, The Great Gatsby, or Achilles and Patroclus if that's what you're into, because apparently literature professors are just as confused by the concept of male affection as the rest of us. The reason so much old literature seems gay is because homophobia as we understand it today is a pretty recent invention. Male bonding has been celebrated in various ways throughout history, from the Celts openly practicing homosexual relationships to more modern practices of "skinship" in various Asian countries, where men bond by touching each other, just, everywhere. I'm not saying the past was a more tolerant place, only that this modern idea that straight men should not express affection for each other, touch each other, or support each other emotionally is a very recent and very Western conception of manliness. Men in the past and elsewhere were far more willing to express love for each other and not have that be considered gay.
So whether you're talking about Batman and Robin, Frodo and Sam, or Butch and Sundance, you're only reinforcing a heteronormative paradigm by suggesting that the genuine affection these men feel for each other will naturally lead to gay sex. Do Frodo and Sam love other? Absolutely. Deeply. Passionately. They would slay a thousand Balrogs for each other. Are they having tiny Hobbit sex under those Elvish cloaks? God no, and you're just cheapening their love by thinking that.
4. "So-and-so is secretly a Time Lord!"
This one's popular enough that it has its own TV Tropes page, and it's only appropriate in two series: Doctor Who itself, and The Magic Schoolbus. Ms. Frizzle is absolutely a Time Lord. Everyone else is a ghost.