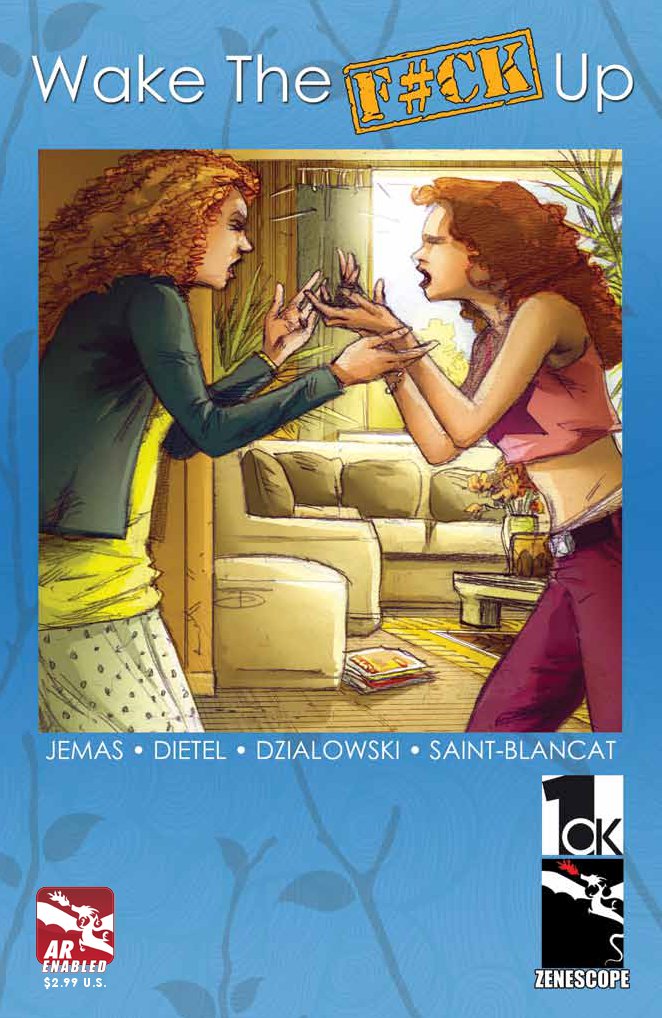 Issue: Wake the F#ck Up
Release Date: November 2012
Writers: Bill Jemas and Eric Dietel
Pencils: JJ Dzialowski
Colors: Cyril Saint-Blancat
Letters and Production: Michael Martucci
Editor: Bill Jemas
Publisher: Zenescope
In the fine tradition of Go The F#ck To Sleep comes Wake The F#ck Up! The kids are older now, wanting to sleep away their teenage years and waste their lives. Well, no more of that! Parents are fed-up and they're not going to take it anymore. Or they'll just complain enough until the kids listen for once.
The format of this comic is reminiscent of a child's book, in that there is a single image on each page and a rhyming message as the moral is introduced. The story takes us through the lives of what I presume are two siblings, a boy and a girl, who spent their youths playing video games, staying up too late to play online, and wearing inappropriate clothing. And we see the outcome of their wasted youth as they turn into adults who have no potential, no future, and are stuck in their parents' basement doing the same things they've done all their lives. It's in the best interests of the parents to intervene early.
However, I got lost mid-way through because the first storyline seemed to close and a second open, but with the same panels. This time, the kids aren't siblings, but friends? And there is dialogue between them. It reveals that while the parents thought their kids were wasting away their lives, they were actually being thoughtful about their homework and coming up with new theories to challenge the educational structure. Those late nights online weren't spent playing, but instead working on term papers. All those video games were played while discussing deeper topics such as evolution. And when mom was pushing her daughter to play soccer, she was doing so to live vicariously through her rather than encouraging the daughter to pursue an interest she really cared about. And their future is much different than the former storyline made it seem. They are victims of the economic downturn, not their own laziness.
I liked the concept of the comic, but I felt that the second story was too weighted, too forced. The jauntiness of the parental storyline was clean and straightforward, while the kids' point of view made it seem like they were more intelligent than their parents and were merely victims of their control. I think it would have worked better to break this one up into two comics over two months and then the anticipation of "the other viewpoint" would have had much more impact. As it stands, I'm still siding with the parents no matter what point of view we're in.
Rating: 3 / 5 Stars
In her youth, Kimberly could be found in the library, devouring books that covered everything from WWII History to Dr. McCoy's latest adventures aboard the Enterprise, with some X-Men thrown in for good measure. Saturdays were often reserved for PBS re-runs of Doctor Who and Red Dwarf. More recently, she's been riding along with the Winchester brothers, and she hopes the Impala doesn't run out of gas for a long time.
0
Likes